Early Deadline
December 20, 2023
Enter Now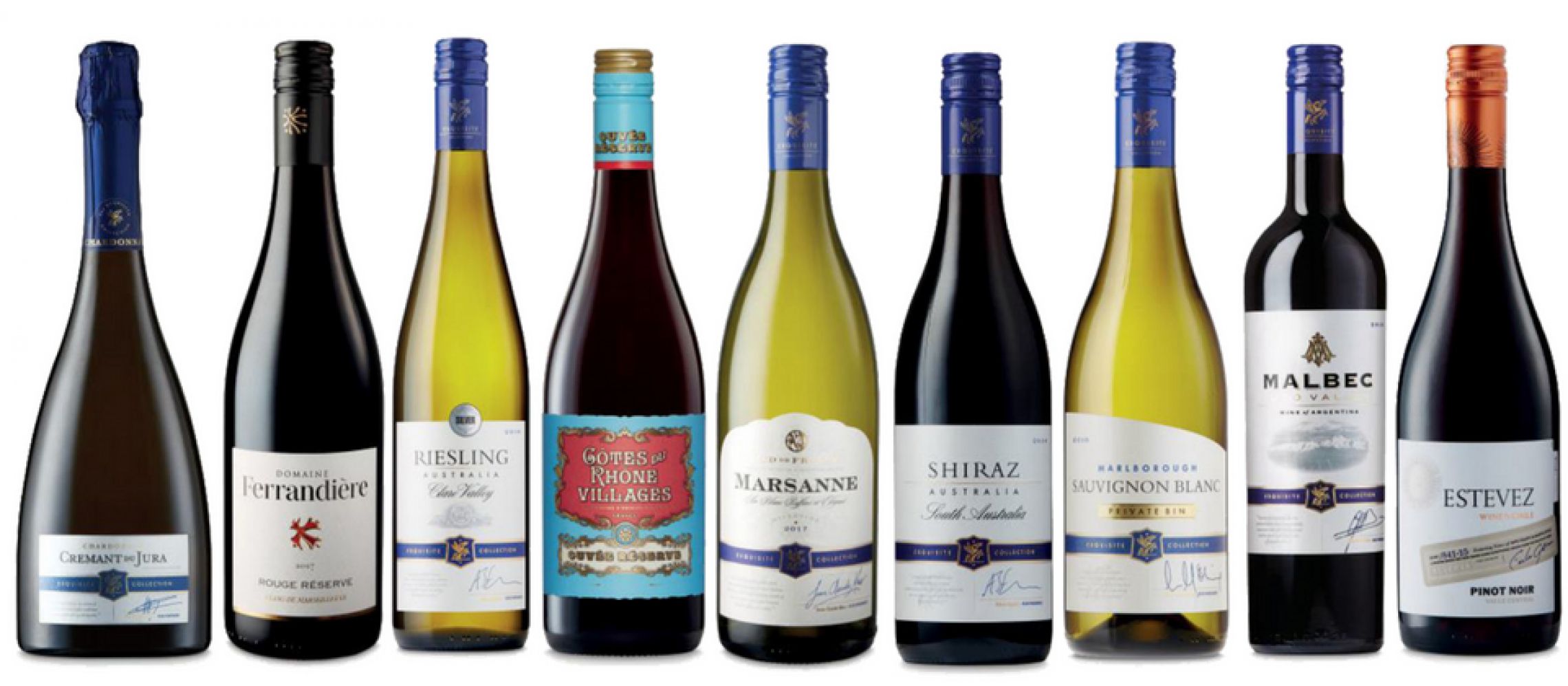 Meet the Award-Winning Wines of Aldi UK
The German retailer Aldi offers a broad assortment of award-winning affordable wines for every occasion. Know more about this wines in this article.
Aldi wines the perfect choice for learning about new wine regions, new grape varietals and new winemaking styles. The selection below includes a comprehensive listing of the red, white, rosé and sparkling wines that Aldi is currently featuring as part of its UK Wine Cellar collection.
With aromas of blackcurrant leaf and white stone fruits, this Exquisite Marlborough Sauvignon standout also includes flavours of lime-drizzled nectarine. The wine has a soft texture and a long, thoughtful finish. It's perfect for matching with summer salads and seafood.
Region: Marlborough
Country: New Zealand
This Sauvignon Blanc is packed full of intense flavours, including zesty citrus and tropical fruit. This wine is from legendary winemaker Thys Louw, who fermented a portion of the wine in French oak barrels. If you are looking for a wine of great character, this is it. The name "Leaf Plucker" is a reference to the early morning sheep that meander through the South African vineyards, plucking the leaves from the vines.
Region: Western Cape
Country: South Africa
This is an accomplished red-fruited and savoury Pinot Noir, fragrant with ripe cherries, raspberries and plum flavours. The wine has an unmatched elegant character, due to the mineral-rich soils and cool climate of New Zealand. The wine has freshness, complexity and a long finish. Pair it with lamb or a full-flavoured Beef Bourguignon.
Region: Wairarapa
Country: New Zealand
This expertly crafted Bordeaux-style blend boasts flavours and aromas of cassis fruit, cedar and spicy chocolate. It is made in Hawke's Bay, renowned for its unique climate and innovative approach to winemaking. Enjoy this wine with roast beef, winter casseroles or strong cheese.
Region: Hawke's Bay
Country: New Zealand
Made with grapes from the superb 2003 harvest, this truly special vintage champagne will help you celebrate life's best moments. This champagne has aged, more concentrated honey, spice and toasted brioche character than other champagnes. This champagne looks and tastes great, with a golden colour and a very fine effervescence.
Region: Champagne
Country: France
Vanilla oak and dark plum flavours lend this deep, rich red wine from South Africa a distinctive flavour and aroma. It is a sophisticated taste that can be enjoyed at dinner parties or any time you are serving red meat dishes with family. You can trust in the winemaking expertise of Stellenbosch, which is renowned for its Cabernet Sauvignon and Merlot grapes. These grapes have been expertly combined in this Cabernet-Merlot blend.
Region: Stellenbosch
Country: South Africa
Juicy blackcurrant and berry flavours provide a smooth finish to this well-balanced, medium-bodied wine from Australia. This wine is unique in that it is 100% carbon neutral, giving you the peace of mind of knowing that you are doing the right thing for the environment when you enjoy this wine. Several grapes – Cabernet Sauvignon, Shiraz and Merlot – are expertly blended to provide juicy flavours. The wine is a perfect complement for moussaka or a hearty stew.
Region: South Australia
Country: Australia
This bright, vibrant and easy drinking white wine pairs well with any fish dish. It also has a crisp, fresh, floral and zingy taste that makes it great for enjoying on its own. This wine, made from the Viura grape, is another great white from Toro Loco.
Region: Utiel-Requena
Country: Spain
Refined, velvety and rich, this Merlot blend combines red and blackberry flavours with plum and cocoa notes. You can pair this red with BBQ chicken. The Merlot grapes used to make this wine are from the vineyards of Domaine de la Ferrandiere, which is nestled on the bed of an old saltwater lagoon.
Region: Languedoc
Country: France
Crisp and elegant with aromas of green apples, this wine gives you a great way to experience the very best of French winemaking. You'll love the perfect acidity and persistent bubbles. Made from 100% Chardonnay grapes, this wine offers fresh citrus notes and a floral, fruity finish. Chill this wine and then serve as an aperitif.
Region: Jura
Country: France
This fruit-packed Spanish red is full of life. In Spanish, "Toro Loco" means "Crazy Bull," and you will be immediately transported to mythical Spain when you serve this Rosé, which is a 100% made from the distinctive Bobal grape from Spain. You can comfortably pair this wine with lighter dishes, such as roast chicken, seafood salads and fruit salads.
Region: Utiel-Requena
Country: Spain
Crisp and dry with gooseberry aromas, this Sauvignon Blanc is also delightfully vibrant and rich. This is a classic Sauvignon Blanc that is characterized by hints of ripe tropical and citrus fruits. Pair this wine with fish and white meat. Serve chilled to get the perfect combination of grass and gooseberry aromas.
Region: Western Cape
Country: South Africa
A high-quality champagne, this French crowd-pleaser has always been a bestseller and highly acclaimed by UK wine drinkers. This champagne has been expertly produced by the small Champagne house of Philizot & Fils, which has aged this combination of Chardonnay, Pinot Noir and Pinot Meunier grapes in cellars for maximum complexity and elegance.
Region: Champagne
Country: France
Citrus fruit tastes and floral aromas are the distinguishing features of this Italian sparkling standout. It pairs well with appetizers, delicate fish, white meats and fresh cheese dishes. Best served chilled, this Prosecco makes for a delightful aperitif.
Region: Northeast Italy
Country: Italy
Honeysuckle, peach and pineapple aromas lend this Australian Chardonnay a very distinctive taste and flavour. This wine is dry and full with a beautiful balance and refreshing texture, partly the result of maturation "on the lees." You can confidently pair this wine with an entrée or a light meal. Serve chilled to bring out all the citrus and melon aromas.
Region: Limestone Coast
Country: Australia
Aromas of plums and blackberries give this Malbec plenty of character. It is bright, intense, and ruby red with hints of youthful fresh fruits. The best Malbec wines now come from high altitude elevations, and this Malbec from the Uco Valley is representative of what talented Chilean winemakers are producing today. This wine has great structure and a long and intensely fruity finish. It pairs well with grilled meats, pasta, spicy dishes and cheese.
Region: Uco Valley
Country: Argentina
Smooth with lush berry flavours, this Pinot Noir from France is both soft and fruity. It boasts red fruit aromas and lush berry flavours, making it a great complementary pairing for a hearty meat dish like lamb. This medium-bodied wine is best served at room temperature.
Country: France
Deep and dark with black fruits, this Aussie Shiraz is a real crowd pleaser. You will immediately notice the flavours of juicy black cherries, ripe black plum and blackberries. This is a beautifully rich wine that boasts unique traces of sweet spice, eucalyptus and liquorice. You will love the complexity and character of this wine, which pairs perfectly with rich pasta dishes, as well as premium beef dishes.
Region: South Australia
Country: Australia
Estevez Chilean Pinot Noir
Elegant strawberry, cherry fruit and spiced red berry notes characterize this very distinctive Pinot Noir, made from the finest grapes of the Central Valley in Chile. This is a wine that is both smooth and elegant, made by vintners in one of Chile's premium vineyards. You can pair this Pinot Noir with chicken, tuna, salmon or cheese.
Region: Central Valley
Country: Chile
Fruity notes characterize this award-winning Riesling. The Clare Valley of Australia is world renowned for its spectacular growing conditions, and this Riesling is simply extraordinary. It combines green apple, lime and grapefruit notes with an underlying steeliness. As well, there are subtle tangerine and citrus notes, both of which are combined with a refreshing minerality. Don't hesitate to pair this wine with seafood, salads or mild Chinese and Thai dishes. It's best served chilled to draw out the green apple and lime notes.
Region: Clare Valley
Country: Australia
Flavours of plums and dark cherries characterize this Toro Loco standout from Spain, which has been aged for 12 months in oak barrels. You will love the balance of ripe fruits, velvety tannins and flavour complexity. Pair this Tempranillo blend with duck breast, pasta, roasted meats and mild cheese.
Region: Utiel-Requena
Country: Spain
Mouthwateringly fresh, this medium-bodied red Tempranillo is juicy and full of strawberries, red currants and black cherries. Complementary notes include hints of white pepper. Powerfully silky tannins result in a very drinkable wine with a long finish. You can serve this Spanish standout wine with red meats, tomato-based pasta dishes and all varieties of cheese.
Region: Utiel-Requena
Country: Spain
Floral pear, vanilla and dry fruit aromas characterize this award-winning French wine, which offers the perfect balance of fruit and acidity. Experience the winemaking craft of famed winemaker Jean-Claude Mas, one of the most famous vintners in the French wine region of Languedoc. You can serve this white wine with seafood, white meats and fruit desserts.
Raspberry and blackberry aromas make this French wine made from the Rhone Valley's best Grenache grapes an instant classic. It boasts attractive fruity aromas, intriguingly spicy notes and a long finish. You can enjoy this wine alone, and it pairs especially well with a steak or ratatouille.
Region: Rhone Valley
Country: France
Red fruits and black cherries are the distinguishing flavours of this unique Spanish Tempranillo wine from the legendary wine region of Ribera Del Duero, which boasts fifty-year-old vines. The wine has plenty of structure and freshness, as well as an intriguing note of cocoa, partly the result of being aged three months in oak barrels. Don't hesitate to pair this wine with any red meat dish.
Region: Ribera Del Duero
Country: Spain
Bursting with dark fruit flavours, this sophisticated Shiraz also has flavours of creamy chocolate and cracked pepper. If you need a pairing for a full-flavoured red meat dish, this Shiraz is a great option. This is a full-bodied wine that is also smooth and supple, packed with flavours of blackberries and dark cherries.
Region: Barossa
Country: Australia
An organic earthy red wine, this Toro Loco favourite is also the winner of the Decanter Bronze medal award in 2017. This wine is full of life, and fully reflects the unique climate of the Utiel-Requena region in Spain. Best of all, this organic red made from the Bobal grape is organically certified. You can enjoy this wine with everything from pasta to burgers.
Region: Utiel-Requena
Country: Spain
A fantastic eco-friendly option, this fizzy Prosecco with pear and green apple aromas are sourced from a famous Italian family estate just 30 kilometres from Venice. Absolutely no pesticides or herbicides are used in the vineyard, making this Prosecco a smart choice for anyone living an organic lifestyle. As an added bonus, the winery on the Corvezzo family estate uses only renewable energy, and all Glera grapes used to make this Prosecco are hand-picked.
Region: Veneto
Country: Italy
Crisp, fresh and brimming with tropical fruit flavours, this Sauvignon Blanc is refreshing, crisp and delicious. You can be confident pairing this white wine with white meats, salads and fish.
Country: New Zealand
Blackberry and rich spice notes characterize this special eco-friendly Shiraz. The wine is 100% carbon neutral, meaning that it has zero impact on the surrounding environment. You can pair this Shiraz with pizza or spicy chorizo dishes.
Region: South Australia
Country: Australia
Elegant with intense aromas of peach skin, mountain herbs and apple blossom. This is a wine that is dry, fresh and zingy. There is plenty of depth and texture, as well as a pleasing amount of acid minerality.
Region: Galicia
Country: Spain
Fresh lemon and crisp, leafy mint characterize this uniquely textured wine, made from the very distinctive Melon Blanc grape of the Loire Valley in France. There are also subtle traces of ripe stone fruits. This is a French wine made to enjoy with fresh shellfish.
Region: Muscadet, Loire Valley
Country: France
Bursting with dark red fruit flavours, this medium-bodied wine is great when served with any grilled meats. You can even combine this Merlot with burgers from a summer barbecue. The wine is made from Merlot grapes from the vineyards of Domaine de la Ferrandiere, which is located next to an old saltwater lagoon.
Region: Languedoc
Country: France
Bold and fruity, this Zinfandel satisfies with a beautiful full body and a ripe bouquet of ripe fruits and cherries, as well as a slight suggestion of oak. When pairing with meals, combine this Zinfandel with roasts, steak, pasta with red sauce, and distinctive cheeses. Open the bottle a few hours before serving to enjoy it fully.
Region: Puglia
Country: Italy
Bright, crisp and fresh, this French Sauvignon Blanc favourite has a rich assortment of flavours and tastes, ranging from green apples and gooseberries to fresh grassy aromas and lemony notes. When served chilled, you will also be able to pick out notes of zesty lime, making it a great pairing for seafood, sushi or any fish dish.
Region: Loire Valley
Country: France
Fresh, zesty and dry, this Sauvignon Blanc is a real crowd pleaser. This standout white wine is crafted from Chilean Leyda Valley grapes, which impart a wonderful mix of cut grass, green apple and pineapple aromas to a creamy body and zesty acidity. This dry Chilean wine is the perfect partner for lightly cooked shellfish, fresh crab and grilled sea bass.
Region: Valle De Leyda
Country: Chile
As can be seen above, Aldi now features an award-winning Wine Cellar that deserves the attention of serious wine enthusiasts across the UK. As of June 2018, all bottles are available online at www.aldi.co.uk.