2023 Registration
London,uk
March 20 & 21
Closed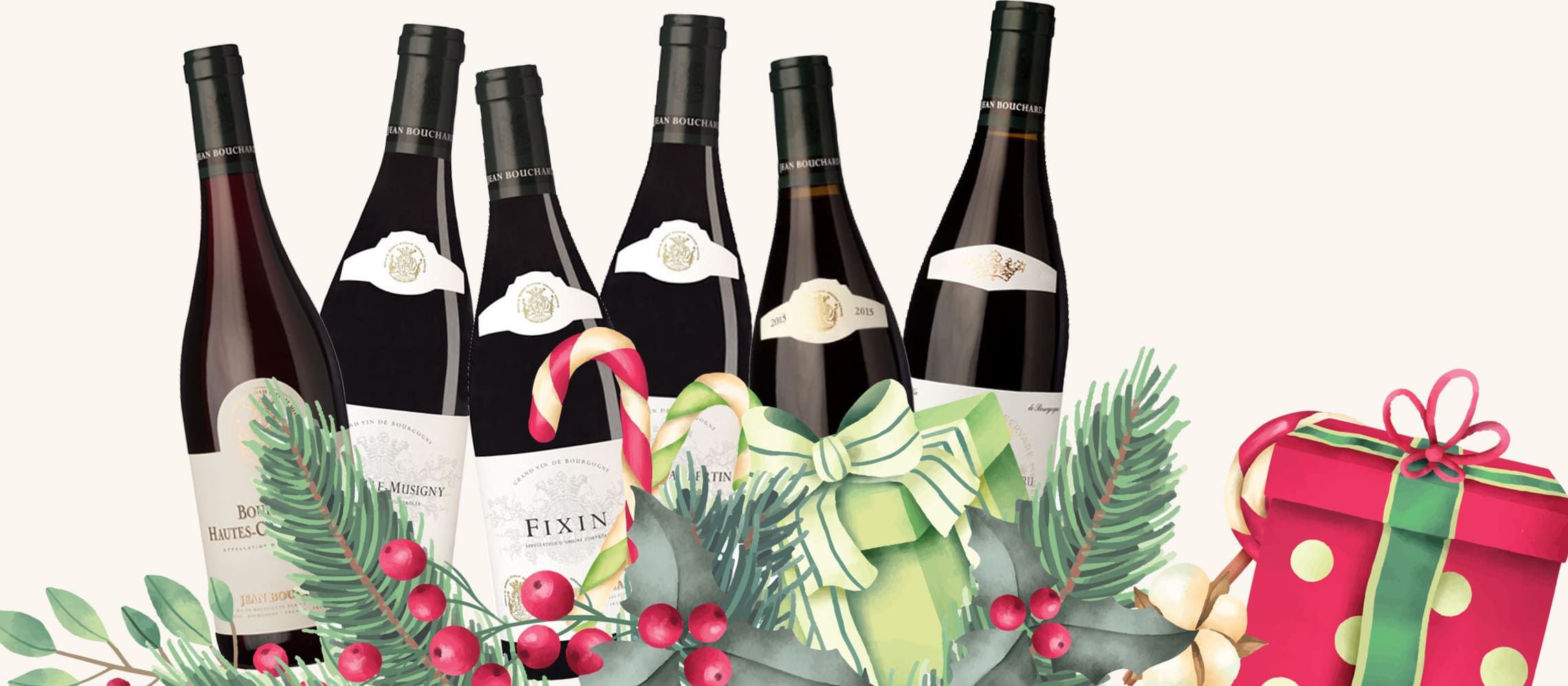 6 Best Wines by Jean Bouchard To Try This Christmas
Wine experts at the London Wine Competition pick out some of the best Jean Bouchard wines to try this Christmas.
Christmas is just a few weeks away, hence, our wine experts have curated a list of 6 Christmas wines produced by Jean Bouchard of France.
Jean Bouchard wine house has an extensive and award-winning range of white, red, and sparkling wines. At the 2019 London Wine Competition, Jean Bouchard has been named 'Winery of the Year' with several other medals and awards.
[[relatedPurchasesItems-44]]
Included below are the 6 best wines by Jean Bouchard to try this Christmas.
Fixin
Fixin is the 100% Pinot noir based red wine coming from Jean Bouchard's vineyard. Set in the Cote de Nuits, this vineyard is located between Dijon and Gevrey-Chambertin just south of the Marsannay appellation. This flavourful wine is produced from the east-southeast facing vines. These vines are planted in predominantly calcareous clay-based soil that contains white marl in areas.
Tasting notes:
Colour: Beautiful appearance with deep ruby red nuances.
Nose: Smokey notes and aromas of stone fruit (cherry & plum).
Palate: Refreshing feel with a strong flavour of red berries supported by notes of forest undergrowth and mushrooms. Jean Bouchard's well-balanced number with focused tannins.
Serving temp: 14 to 16° C
Cellaring: 3-5 years
Food compatibility: Good with braised beef, tagines, game and roast pork. Goes well with chicken and olive tagine, wild boar stewed in red wine, pineapple-roasted pork with ginger sauce as well as full-flavoured cheeses such as Epoisses and Munster. Remember, Duck + Pinot Noir always works. Enjoy this pinot noir with any of the above dishes on this Christmas.
Gevrey-Chambertin
Gevrey-Chambertin, Pinot Noir based red wine, is admired for its uniqueness. It comes from the great Cote de Nuits appellation in terms of both surface area and popularity. It is characterized by the diversity of its terroirs, which are planted exclusively with Pinot Noir.
Tasting notes:
Colour: Beautiful deep red colour
Nose: For the most part, fruit on the nose. Aromas of stone fruit (different varieties of plums).
Palate: Perfectly balanced in all aspects pertaining to the body of the wine. Shows off delicate fruit flavours that finish on a more mineral note.
Serving temp: 14 to 16 °C
Cellaring: 5-7 years
Food compatibility: On this Christmas, serve Gevrey-Chambertin with choice cuts of beef such as tenderloin or braised shoulder roast. You can also pair this wine with small game such as saddle of rabbit studded with bacon and served with snow peas. You can also pair this with desserts like cherry clafoutis.
Mercurey
Pinot Noir based Mercurey comes from one of the largest viticultural appellations in Burgundy. Mercurey's vineyards range from east to south and its stony brown soil is well-drained and rich in clay, overlying hard Orfordian limestone formations.
Tasting notes:
Colour: Deep ruby red appearance.
Nose: The first nose suggests strong aromas of stone fruit, especially black cherry, with a touch of (nutmeg and black pepper).
Palate: Generously provided with quality, this delectable wine is all finesse. Shows off slightly toasted flavours on the finish.
Serving temp: 15 to 16°C
Cellaring: 3-5 years
Food Compatibility: On this Christmas, savour Mercurey wine with nice cuts of beef such as a steak with bearnaise sauce, or braised or stewed lamb. Best with chicken simmered with prunes or saute of turkey with paprika.
Bourgogne Hautes Cotes De Nuits
The vineyards of Hautes Cotes de Nuits are located on a plateau just above the famous Cotes de Nuits. This is where our loved Bourgogne Hautes Cotes de Nuits belongs. The vines of this Pinot Noir based wine are planted in calcareous clay soil (originating in the Jurassic period). The orientation of the vineyard is south to the east giving optimal sun exposure to vines.
Tasting notes:
Colour: Gorgeous intense ruby red colour.
Nose: Strongly reminiscent of vegetal notes such as blackcurrant buds and floral notes of grapevine flowers.
Palate: Pinot noir based wine with nice density. Spherical wine. Good depth for the appellation and vintage. Features structured tannins on the finish.
Serving temp: 16°C
Cellaring: Within 3 years, to appreciate the freshness of this wine.
Food compatibility: Best with roasted or grilled meat such as rack of lamb with rosemary or honey-glazed pork spareribs.
Chambolle-Musigny
Originating from the small village of Chambolle-Musigny in the heart of Cotes de Nuits, this Pinot Noir based wine is one of the perfect wines for Christmas from Jean Bouchard wine house. Chambolle-Musigny's vines come from the vineyard located on the east and southeast facing slopes of Chambolle-Musigny. Here, the soil is brown limestone-based.
Tasting notes:
Colour: Eye-catching, ruby red with cherry coloured highlights
Nose: Having aromas with toasted notes. Strong aromas of red berry and a delicate touch of spice including cinnamon and saffron.
Palate: Structured wine with lovely density. Soft and velvety mouthfeel.
Serving temp: 15 to 16 °C
Cellaring: 5-7 years
Food compatibility: Pair Chambolle-Musigny with finely prepared choice cuts of red meat and mild cheeses. For Christmas, it would be perfect with lamb leg with figs, or beef tenderloin with caramelised red onions.
Nuits Saint Georges 1ER Cru Les Crots
Nuits Saint Georges comes from the Les Crots vineyard located in the southern part of Cote de Nuits village. The soil here is brown and overlies Jurassic limestone.
Tasting notes:
Colour: Intense red Pinot Noir with ruby highlights
Nose: Notes of berries such as raspberry and blackcurrant. Notes of juicy grapes with nuances of fresh flowers.
Palate: Structured and full-bodied. Elegant with intense flavours and a long finish.
Serving temp: 15 to 16 °C
Cellaring: 5-10 years
Food compatibility: Enjoy Christmas dinners with this wine accompanied by roast beef, roast lamb with Serrano ham, beef tenderloin with honey and ginger game such as haunch of wild boar in a herbes de Provence-flavoured marinade.
Christmas Bonus:
10 Christmas Food & Wine Pairings:
Duck & Pinot Noir

Roast pork & Cotes du Rhone

Oysters & Chablis

Roast turkey & Rhone reds

Goose & Chianti

Roast beef & Cabernet Sauvignon

Pudding & Muscat

Prime rib & Bordeaux

Roast goose & Red burgundy

Smoked salmon canapes & Chenin Blanc