2023 Registration
London,uk
March 20 & 21
Closed
Presenting PULPOLOCO Sangria – A Refreshing Wine Cocktail
PULPOLOCO enters their unique Spanish Sangria and their award-winning Still Wines in London Wine Competition.
Based on traditional Spanish Recipe, PULPOLOCO Sangria is a refreshing wine cocktail, made with best Spanish wine, orange, lemon and a bit of cinnamon giving it a sweet, fresh and unique essence.
PULPOLOCO offers people a different and innovative wine that is youthful, fresh, and full of vitality. It is not just a wine, but a new lifestyle. The name of the brand is original and full of meaning. PULPO means the intelligent and bold animal, while LOCO means crazy, so in all PULPOLOCO comes with the meaning "The Crazy Animal".
CartoCan – A Unique Environment-friendly packaging for PULPOLOCO Sangria
This Spanish Sangria is packed in a smooth trendy environment-friendly packaging known as CartoCan, making it more sustainable, stylish and unique. CartoCcan is made up of 50% of renewable materials and 60% paper that is certified by FSC (Forest Stewardship Council).
Entries by PULPOLOCO – The Spanish Sangria & Still Wines
1. PULPOLOCO White Still Wine- This white still wine is 100% Viura. It is a clean wine, fresh, transparent and sophisticated. It has an essence of the vineyards of Macabeo, with the distinct flavor and delicate and subtle floral aromas.
Serving temperature: 8°C Alcohol content: 13% Vol.

2. PULPOLOCO Red Still Wine- This red still wine is 100% Tempranillo. It is a harmonious red wine, both elegant and appropriately balanced.It expresses the clearness of its quality, grounded on grapevines over 30 years old.
Serving temperature: 17ºC Alcohol content: 13.5% Vol.

3. PULPOLOCO Rosé- This still wine is 100% Garnacha. It is a silky & aromatic, with a variety of fruity notes reminiscent of grapes. It is an elegant & individually styled wine, made to satisfy lovers of exquisite & refined wines!
Serving temperature: 8°C Alcohol content: 13.5% Vol.

4. PULPOLOCO Sangria- PULPOLOCO Sangría is a light-bodied, fruity and refreshing Spanish wine cocktail.
Alcohol content: 7% Vol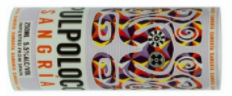 5. PULPOLOCO Sangria Cartocan- PULPOLOCO Sangria Cartocan is the sweet, refreshing Spanish wine cocktail with fruits and spices in cartocan packaging. Ready- to- drink. No need for glass or plastic cups.
Alcohol Content: 5.5% Vol
Do your wines have that uniqueness and strength characteristics to compete with this popular Spanish Sangria and Still Wines? Send your wine entries now to know!