What grows together goes together
22/01/2022
This is the pairing approach that Sommelier Stefan Kobald uses, matching wines with local, traditional dishes from that area.
Your current place of work?
Tell us more about yourself
My career started back home in South Africa in 2013 as a Chef De Rang at the Sandton Sun Hotel in Johannesburg which is where I found my passion for wine.
I started to study the world of wine through the Court of Master Sommeliers, whilst my career then took me on to work for one of the most luxurious boutique hotel properties in the country, the Saxon Hotel.
[[relatedPurchasesItems-22]]
The wine list was extensive, and this was key in how for the first time I gained real exposure to some of the best wines from around the world and South Africa. After a lot of hard work and studying, in June 2014 I traveled to the UK where I successfully passed my Certified Court of Master exam.
In 2014 at the age of 22, I won the SA Chaine des Rotisseurs Jeunes Sommelier Competition, and as the youngest sommelier to have achieved this title, went on to represent South Africa in the International competition in Copenhagen where I placed 4th out of the 15 countries competing.
I wanted to continue my studies and gain my Advanced certification, which is why I chose to move to the UK in November 2014. I joined the Social Company at Pollen Street under the guidance of Laure Patry, where I progressed from sommelier to Assistant Head Sommelier at Social Wine and Tapas. Within 6 months I was promoted to Head Sommelier and eventually to Group Head Sommelier, supporting Laure with the running of the everyday business and wine program development of the Social Company.
Since passing my advanced exam in 2015, I have moved on to attempting the Court of Master Sommelier Master Diploma and am currently working as Head Sommelier at Pollen Street Social in Mayfair.
Why did you want to become a sommelier?
To be honest, I didn't want to at first, I wanted to become a chef as both my mom and dad are both very successful chefs in South Africa. So I wanted to follow that career path, but during my training the head sommelier I was working for told me to understand food fully and the potential it can have I need to understand wine, and from that day I was hooked and changed my career path completely.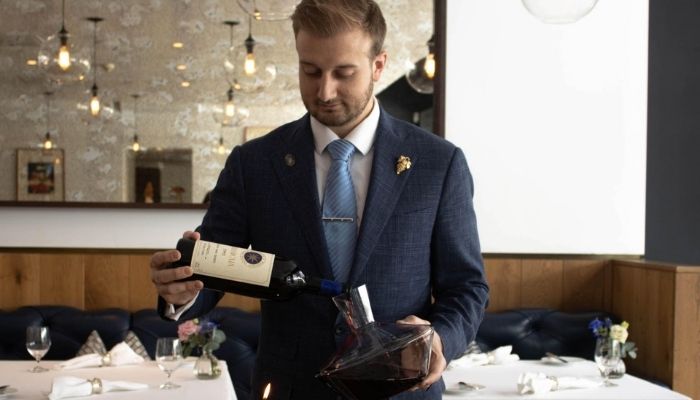 Stefan Kobald, Head Sommelier at Pollen Street Social in Mayfair
How according to you has the role of the sommelier evolved, especially now during Covid times?
I think the role is forever changing, as technology improves and more and more information is available and guests can easily research their wines, so I believe that as a sommelier we need to understand this and accept it. I think in the future more and more sommeliers will be doing virtual masterclasses etc, as well as start to take on more and more non-sommelier roles in the restaurant, due to staff shortages.
What are some of the most important skills for a sommelier to have?
Charm, charisma, the ability to tell the stories of the wine, make every guest feel special no matter what they have ordered.
What do you look for when you plan to buy wine for your business?
I look for multiple things, value for money, something new and interesting, as well as if the wines are ready to drink, especially when buying fine wines.
Your favorite places to enjoy great wine in London?
Elliot's wine bar in Borough Market.
What is your approach to matching food and wine?
What grows together goes together. I like to look and research what wines are produced in which regions and what are the traditional foods in the area.
If you had to pick one red and one white wine as your personal best, which wines would they be?
White- Philip Colin Chenevottes Chassagne Montrachet 2016
Red- 2009 DRC La Tache (Domaine de La Romanée-Conti)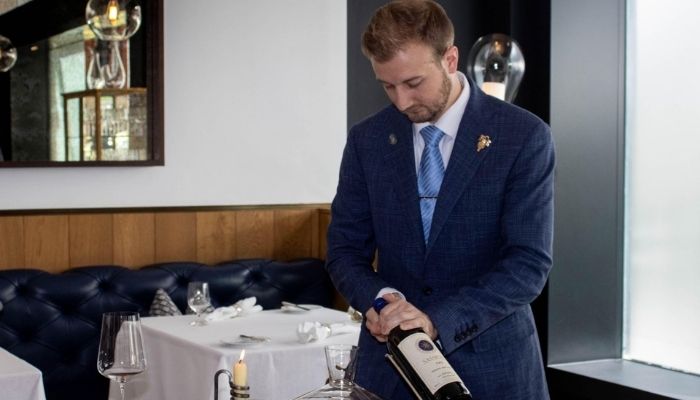 Head Sommelier Stefan Kobald in his element at Pollen Street Social in Mayfair
What's the best part of your job?
The people that I get to meet, and the memories I get to be part of creating.
What are the 5 challenges you normally face in your job and how do you tackle them?
Difficult guests in terms of either not knowing what they want and want to try everything, or guests complaining about prices, only wanting one style of wine for the wine pairing, or taking the wine pairings and then start changing the wines as it's not what they want. Basically don't go for the wine pairing then, order a bottle, but the best way to tackle this is to smile and communicate and do the best you can and be as flexible as possible to a point.
Any favorite food and wine pairing suggestions for London drinks enthusiasts?
The most important factor is to enjoy the wine and the food, nothing wrong with playing it safe sometimes, but don't be afraid to explore. But one of my favourite pairings is a simple cheeseburger with some Syrah from northern Rhone valley.
Any tips for wine brands trying to grow in on-trade and how they can help sommeliers?
Times are tough for everyone but definitely help with trips and tastings.
Please explain your weekly tasks, going into detail about what you do.
My week generally starts off with taking some wine deliveries and packing them away with the team. Then head down to the office to reprint menus and do wine list updates. Then if I have time, do a small 15 to 30-minute wine training with the sommelier team, and go over wine regions, varieties producers, etc. By this point, we will do a lunch briefing and start lunch service. After service, I will requisition the wines sold, and refill the wine fridges cellar, etc with the team. I will then update the wine list if there are any wines out of stock, before dinner service I will double-check all the glasses have been cleaned the mise en plus is done ready for dinner service. And then do a briefing and begin service.
What's your personal career goal? And how are you investing or planning to get there?
Definitely to pass my Master Sommelier diploma in the next two years, then after that become a good head sommelier for the Social Company and help oversee all the restaurants in the UK and abroad. Currently, I have started studying again in preparation for the exam next year.
Give us one good story that you remember of a customer and you.
One of my favourite memories was of a young couple that came to the restaurant, the young man clearly trying to impress and brought in a bottle of wine from a supermarket. But we don't do corkage but did him a favour as he really couldn't afford it, so we decanted the bottle and I brought out a few extra glasses from us, and told them about the wines and did a mini surprise pairing on top of the wine he brought in, and just blew them away. They are now married and still come back to the restaurant, (without the supermarket wine) and now they are one of my best regulars and send me a bottle of wine every year for Christmas. It is a really special memory for me, just comes to show how important our industry is and the effects it can have on people.