The Secret Vine
24/01/2022
Elizabeth Mellish, Wine Buyer at The English Vine is Infusing a whiff of life into English wines by making them fun, approachable and interesting again.
Tell us more about yourself.
I grew up in the Highlands of Scotland and began working in the hospitality industry at the age of 14. I worked my way up, and after leaving school I started working in the luxury hotel industry. I fell in love with wine from a young age on a family holiday to France. In the beginning I was fascinated by the wine labels and that was the start.
However, it wasn't until much later when my first proper job in hospitality put me through my WSET level 1 I really looked into making wine my career. During my time at university, I was lucky enough to be offered an internship as a Sommelier with the 5-star flagship hotel of the Red Carnation Collection, Ashford Castle, where I was invited back to take up a full-time position on completion of my degree in Hotel Management. Hospitality and the wine industry became the perfect fit for me. I love traveling and this career enables me to combine my passion for exploring new places whilst working.
Where do you currently work?
I work as the Wine Buyer for The English Vine, which is an online retailer specialising in English wines. The company was set up in 2019 by Neil Walker, (a fellow MSc student) with the goal of removing the snobbery from wine and making wine more approachable for all.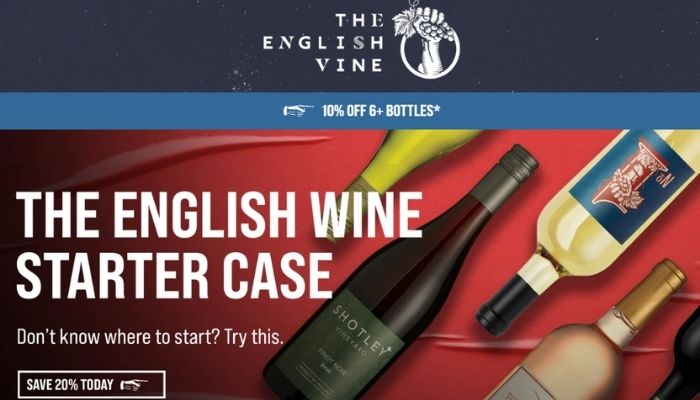 "We started as a pop-up bar in London and since then we have expanded into online sales and are becoming one of the fastest-growing English wine retailers in the UK. We have also started to export English Wines." - Elizabeth Mellish
Please tell us about your role at The English Vine.
I primarily work as the wine buyer; searching for wines to add to our list, liaising with producers to find out more about their wines and then arranging for samples to be sent to us for tasting. However, as we are a very small team in a start-up company, I can end up doing a bit of everything which I love as it gives me a chance to develop skills in all areas of business.
I could be designing new cases, involved with marketing, speaking to transporters to arrange deliveries, or giving a virtual wine tasting to customers, and I have been known to be in the warehouse putting the wine into cases.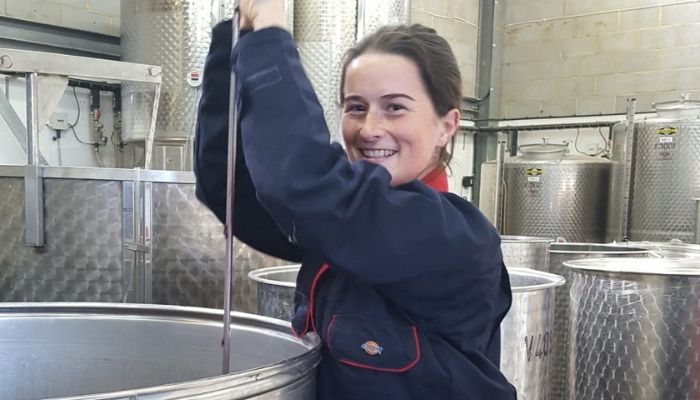 Elizabeth Mellish, Wine Buyer at The English Vine
What do you look for when buying new wines for your business?
There are many aspects to consider when purchasing wines. Budget plays a key part for both us and the customer, but there are also many other factors influencing our decision. We like to have a range of wines at different price points so there is something for everyone. Season also influences my choice of wines.
If it is summer, we look at getting more rosés and whites in stock, and then come winter we start to purchase more red wines. Label design also has a huge impact as The English Vine is an online retailer customers will often pick a wine based on the way it looks. However, the most important thing to think about is what the customers want. It is vital to understand your customer base and gather feedback into which wines they enjoyed and would purchase again.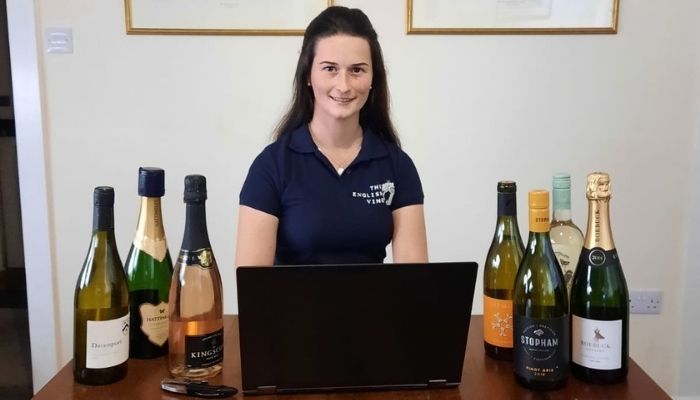 Elizabeth Mellish, Wine Buyer at The English Vine
How are English wines doing in the UK market?
English wine is thriving. Perhaps the only good thing to come out of the Covid lockdown is that it has led people to explore what is on their doorsteps.
People are now more focused on the provenance of where the products they are purchasing come from and have been looking at locally produced products, which has been brilliant for the English wine industry. All styles of English wines are doing exceptionally well, particularly English sparkling which we are most known for. It is now widely available all over the UK which makes it easy for everyone to try a bottle and see how great it really is.
What are the top 3 English wines you recommend?
I am constantly amazed at the standard of wine being produced in England and every time I try a new English wine it makes it harder to pick a favourite. At the moment my top 3 English wines would be the Litmus Red Pinot Noir 2020, a great English red wine that is produced in Surrey.
My top white is called Number 1 which is a super-easy drinking English Bacchus that we produce ourselves. Of course, I must pick a sparkling wine as that is what England is best known for - but which one is very difficult as I have tasted so many great English sparkling wines! However, I would probably say the Bolney Blanc de Blanc 2016. I instantly fell in love with this one the moment I tasted it!
What kind of marketing activities work best for the company to drive traffic?
Our excellent marketing manager, Chris Bagnall's approach is to leverage existing digital channels to provide a consistent flow of traffic to the site. Typically, these channels provide users that are aware and already considering the purchase of English Wine. For example, Google AdWords capture those customers already searching for a particular bottle. However, social media advertising, specifically focused on the gift market works well at driving greater awareness and purchase. Whilst such channels do well, it's the more traditional activities that create unprecedented traffic to the site and with that purchase.
In particular disruptive PR activities that result in national press coverage provides great results. For example, launching our own English white wine, Number 1, in a paper bottle secured coverage in the Daily Mail and on BBC Morning live at peak viewing times. This has also been the case for our Champagne versus English sparkling wine blind tasting and sinking 250 bottles of English wine off the coast of Kent. By taking this approach of mixing both on and offline activities, we can not only secure traffic that is already engaged in English wine but capture the interest of a much larger market.
What content strategy do you have to drive traffic?
Our content strategy is two-fold. We create a tone of voice that stands out from the crowd and reflects our no-nonsense approach to wine. We're trying to make wine less intimidating, less pretentious, more approachable and fun for a much bigger audience. This tone of voice can then be applied to all the different types of content we are producing, from product descriptions to information about delivery and everything in between.
This stand-out aspect attracts users and more importantly ensures we have regular repeat customers. Additionally, we will then publish regular blogs on English wine that are optimised for Google to drive organic traffic, but it's also informative, helpful and a bit different. For example, currently we are writing a blog about English Vineyards that also produce incredible gins, often from waste grapes. These blogs often get picked up outside of the website and reproduced helping with back links etc.
Any tips on writing wine descriptions, and how to connect with consumers?
We try to take a different approach to wine descriptions, rather than following the standard look, aroma, and taste format. While it is important to describe these aspects of wine, we try to include fun and interesting descriptions that follow our no-nonsense attitude, often by creating a scene so that the customer can picture themselves drinking the wine.
For example, 'this wine is great with a curry' or 'this is an English Sparkling Wine to give your boss if you want to impress them'. This approach helps us capture a wider, younger market who may already be engaged in gin or craft beer and starts helping to understand wine in a different way that they enjoy reading about.
What kind of support do you look for from wine brands to help you drive sales?
Any support is always appreciated, whether that be listing The English Vine as a stockist or similar a re-post on social media – it all helps!
How do you manage low sale items? What do you do?
The key is not to purchase too much wine so if it is a slow seller that is not a problem. But if a wine is not selling, we look at what we could do. Perhaps our description does not fit appropriately or maybe we have overlooked the wine in some ways. We personally taste every wine that we add to our list, and we would not add anything we do not love, therefore we believe each wine on our list deserves a place there and that our customers will also enjoy them.
Walk us through your day and week...what are the tasks you undertake?
When I tell people I am a wine buyer they think I sit around all day drinking wine! While I do get to taste wines, it is only a very small part of the job. My weekly tasks vary but typically they include managing the stock levels of the wines, planning upcoming cases, looking at new wines to add to our list, writing wine descriptions, populating new wine bottles onto the website, pricing wines, and responding to our customers' queries. No two days are the same.
What's your personal career goal and how are you investing or planning to get there?
Wine is such a vast subject there is always so much to learn, so I want to continue to develop and expand my knowledge of the global wine industry, but particularly with a strong focus specialising in English wine. I have recently graduated with a Master of Science in Viticulture and Oenology with distinction and will continue to study wine through the WSET and Guild Somm qualifications amongst others.
I think writing is a very useful skill to have in the wine industry, so I started my own blog website, The Budding Sommelier, in order to document the wines I have tasted, expand my wine knowledge and improve my wine writing skills. Ideally, I aim on working a harvest or two at some point, as I think it's important to understand every aspect of how wine is made to really communicate the story to your customers.
What are the biggest challenges for online retailers like you and what do you do to overcome them?
Having come from a hospitality background where you are constantly interacting with your customers face to face, I find one of the biggest challenges is relaying how great the wines are to people without actually being able to have that one-on-one contact with the customer.
However, we have overcome this by creating fun wine descriptions and making it easy for the customer to contact us directly if they are unsure what to purchase so we can provide a personalised wine recommendation specifically for them. Interactive virtual wine tastings have also allowed us to interact on a more personal basis with our customers and their friends and family.
Tips for other online shops trying to sell.
Make it fun! Yes, there are certain things that everyone must mention when selling wine but try to make your website inviting and user-friendly otherwise customers won't stick around to see what you offer.
Any favourite food and wine pairing suggestions for London drinks enthusiasts?
I recently had a beautiful piece of venison from a local company, Millbank Venison, which I paired with the Litmus Red Pinot Noir, and it was truly delicious.