Early Deadline
December 20, 2023
Enter Now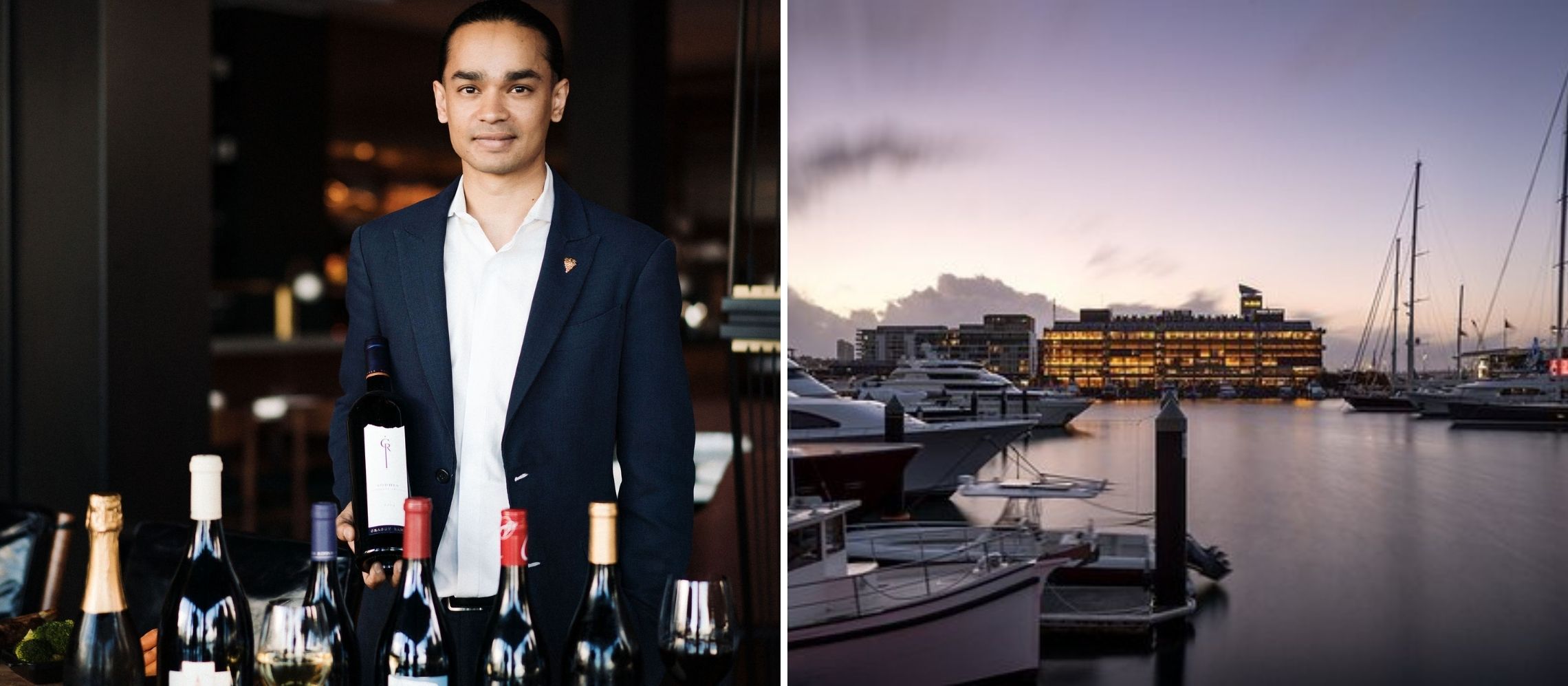 Suraj GC on creating the dream list for the Park Hyatt in Auckland
Suraj GC on what it takes to create the dream wine list
We talk to Suraj GC about his life as a sommelier, working at the Park Hyatt hotel in Auckland, New Zealand and what he thinks are the key factors in creating the dream wine list.
Can you tell us about your background and how you first got into wine?
My name is Suraj GC and was born and raised in a small town Pokhara, Nepal. I came to New Zealand as a student. It was during my time studying that I fell in love with wine while working at different hospitality venues in New Zealand. The interest then became a requirement of the job whilst working at a winery restaurant in Hawkes Bay.

Suraj GC Sommelier at Onemata Restaurant at Park Hyatt Auckland
Why did you want to be a sommelier?
The ever-growing wine industry in New Zealand was matched with an overall lack of sommeliers. That's what gave me the inspiration to learn everything I could about the bottle of wine I just served or drank. Once you have a passion for wine, there is no way out. There is so much to learn and every day there is something new to discover about the fascinating wine industry.
How did you progress into your current role? What is involved in your current role and your main tasks?
It was a long run getting into my current position. Just like everyone else in hospitality, I started from scratch. From being a runner to wine waiter to the restaurant manager and now focusing on my passion as a sommelier for one of the finest five-star hotels in the country, the Park Hyatt Auckland. My last role was as the restaurant manager at Elephant Hill Winery restaurant in Hawkes Bay. My current role at Park Hyatt in Auckland as the sommelier involves everything from designing the wine list for all F&B outlets in the hotel, staff training, organizing wine dinners in the outlets, over-looking the wine program to ensure we achieve our beverage targets for the hotel. I am also responsible for ordering and proper storage of the wines.
If you were given a restaurant to fix their wine program and grow wine sales, where would you start and what steps would you take?
For me, the most important thing for the wine program is the clientele and the food menu. The food and wine go side by side, so I would always favor the local wine and local cuisine first before considering other factors. To give depth to the wine list it is also important to have some wines from the classic regions. help. It's also fun to add some interesting and rare wines to give your guests something new to discover. Staff training is always a must. If you have the right staff with the same passion for wine and drinks as you, your job is way more fun.

Park Hyatt Restaurant
What questions would you ask of the restaurant owner to know what sort of wine list to create?
Who the target guests are and what the overall vision of the restaurant is. Then I would want to know about the style of food and the level of service required. What the target average spend of a bottle of wine will also help determine the range and the level of staff knowledge. As a sommelier, we all have a duty to promote boutique growers and producers, and not just focus on the big players in the market.
What do you most look for and want from wine suppliers to help drive sales? Can you think of any good examples of wine partnerships with suppliers and wines you have listed as a result? What was it about those wines that stood out?
Staff training, and wines at a fair price. Having the chance to run wine masterclasses with winemakers is also a key requirement from the suppliers we work with. We would also look for them to provide stock support for special wine events, like offering rare back vintages that are not easily available in the market. In my current role, we do not have contracts in place with our suppliers as we believe in supporting all small producers and boutique growers. We do have wine partnerships with quite a few wineries on a trust basis and use many wineries for our different wine events in the hotel. For example, we recently hosted a five-course wine lunch with Champagne Billecart Salmon, and also a five-course degustation dinner with Craggy Range Winery.
What does success look like for you from a wine program?
Success from a wine program can be measured with various factors such as total wine sales, average beverage check per table. How fast are the wines moving on the list? How often do you have to update vintages, or changes wines because you run out of certain bottles? How often do you actually sell some of the bigger classic wines like first-growth Bordeaux, Grand Cru Burgundies, and the most expensive wines on the list? How quickly staff progress through the wine program is another key factor.

Onemata Restaurant, Newzealand
How have you devised the wine list at your venue - what are the key factors about the list that help the bottom line?
At the moment, I currently have around 200 wines on the list which is a fair amount for the size of our main restaurant - Onemata - with around 17 wines by the glass. The wine list has all classic varietals for both whites and reds, covers organic, vegan-friendly, natural wines, small growers, and kosher producers. I have a lot of direct relationships with the wineries in New Zealand and have quite a few boutique family-owned wineries on the list alongside some of the best producers in the world such as DRC, Latour, Lafite, Opus One, and so on. We have a mixed clientele who are interested to try tiny, never heard of wines, as well as clients who know what they want. I would say we have a wine for everyone, from the everyday drinker to a wine connoisseur
What are the key four things you focus on to be good in your role?
A passion for wine; respect for the hospitality industry; a commitment to work the required long hours, but maintaining a healthy work-life balance; a good personality, and strong people skills are also important. Then the most important factor of all - you should always have fun doing your job.
What do you think sommeliers spend too much of their time on which is not that important?
Fighting over screwcaps and corks, plus obsessing about wine ratings and scores given by certain critics.
What are the criteria you look for in a wine when deciding whether to include it in your wine program or not?
The variety, producer, region, price point, and vintage. Sometimes wine vintages that are harder to get are a must for me on the list. And the age-ability of the wine is important too.
What do you see as being the key skills and talents needed to be a good sommelier?
A passion and knowledge for wine along with a can-do positive personality goes a long way in our industry.
How do you evaluate the success and effectiveness of a good wine program?
When you know you have a wine for every one of your guests, that's when you have done a good job. You also need to be constantly checking stock levels and rotating your stock to keep your wine program moving along. When you also start to attract guests not just for the food, but also the selection of wines, you know you are doing the right things.