2023 Registration
London,uk
March 20 & 21
Closed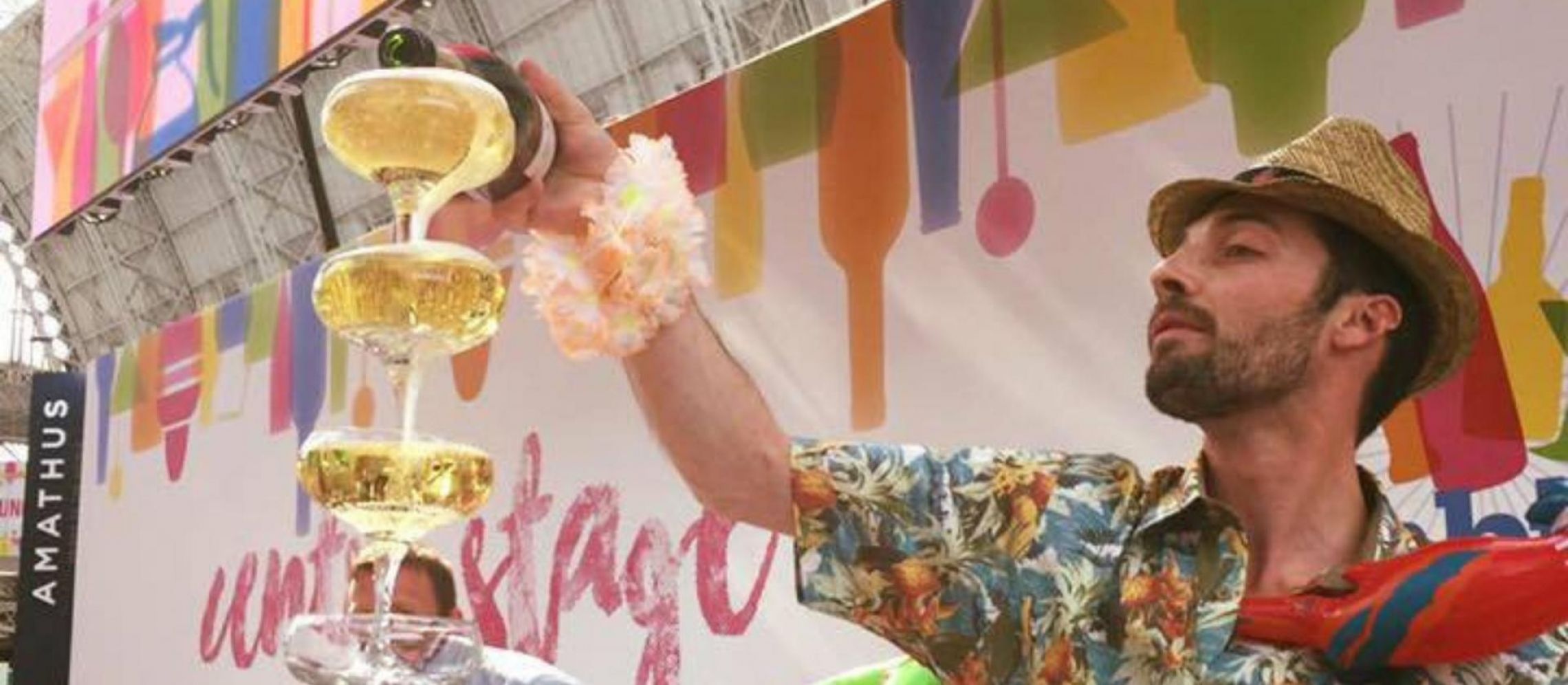 "Quality is Paramount." Says Giordano Ghiraldotti
Giordano Ghiraldotti, Assistant Restaurant Manager and Head Sommelier at FOLIE, London, talks about his journey of becoming a sommelier and discusses methods he uses to grow sales and profit for his restaurant.
Giordano is a seasoned sommelier with a proven background in the restaurant business. He possesses expertise in the areas of fine dining, food and beverage service, wine education, and the hospitality industry. He is a Strong operations expert who graduated from Wine & Spirit Education Trust.
Your current place of work
The Hop and Vine
Tell us about yourself.
I was born in Milan and raised in a little town called Gorgonzola, and you might have heard of it somehow! Firstborn, my sister chose to be born after four years on the day of my birthday. How nice of her! Since I was young, I was a "buona forchetta" (good fork in Italian) and loved everything my mum was cooking for us. That love developed later in the years for the passion and my profession in hospitality. I finally moved to London in 2014, found a job 6 hours after my flight landed, and start to polish my glasses the day after. It seems like a lifetime ago, and I've been lucky to meet great professionals and people and build many great memories.
Why did you want to become a sommelier?
I used to be a bartender in a game restaurant in the city; the selection of wine was very, very good and quite extensive. It was a stock take every Monday, and I had to count all those bottles. I loved counting them as every other sommelier does! (jokes aside) I was fascinated by all those french labels and names I couldn't pronounce, so I started reading about wines and trying to get my head around them. Then when I tasted some of those bottles, I understood I wanted to be a sommelier.
What do I look for in a new brand before taking it to my restaurant?
Quality is paramount. Even the so-called entry-level need to be of outstanding quality to go on the shelves. Also, it needs to fit into a bigger picture. The List. I like traditional wines, but they must reflect the style and character of the restaurant where they are listed. For example, I would list organic and biodynamic wines if it's a very low-emission/waste restaurant. Last thing, all those wines need to sell.
What sources do you follow to stay on top of industry trends and new launches worldwide?
Drink business and Sommelier business are my favourites also find Decanter magazine very helpful.
Questions you would ask a customer who doesn't know anything about wine?
I would ask what the expectations are on the wine, surprisingly, most people don't know wines, but they know what they like, so taking their words as a starting point, I try to make suggestions on a style they might like.
[[relatedPurchasesItems-38]]
What are some of the most important skills for a sommelier?
I think the most important skills of a sommelier are awareness, versatility, and focus. A good sommelier should be aware of the priorities during service, understand where his/her help is most required during service, and jump in to help other departments as his/her position is, in my opinion, the trampoline to becoming a restaurant manager; therefore able to accomplish every task required. Also very focused on his mission, not neglecting any aspect of customer experience regarding the wine sale.
How I would train my new staff member in their first seven days of joining.
The first seven days are crucial to settling the standard of the restaurant. For the first three days, I would like the person to shadow me while explaining verbally and show how the Restaurant operates during service and the boh duties. This should enable the person to feel comfortable in a new environment. The next three days will be a blend of working by themselves and with the rest of the team. On the last day, I believe that even likely to be understaffed, at least a day off a week is sacrosanct.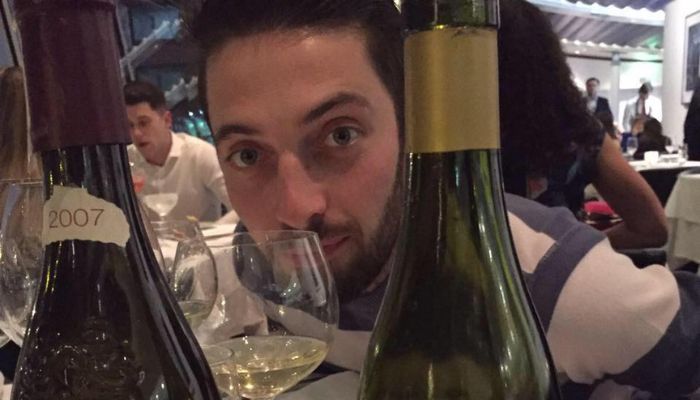 Image: Giordano Ghiraldotti; Source: Facebook
What methods do you use to grow wine sales? Please explain with examples.
A decent turnover on the wine list would motivate the sommeliers to sell those bottles new on the list and keep the customers engaged and curious. I understand this practice would work better with regular customers, but in the long term, there is growth. Being able to switch the sale of 2 glasses to a bottle, a bottle to a magnum.. also found staff competition and incentives work very well.
What methods do you use to grow profits?
The majority of businesses do ok at the weekend but struggle in the beginning/midweek. Bundle offers or discounts on those days would help the profit by luring people into the premises otherwise empty. Given the right circumstances, of course, these kinds of offers can become a regular thing for some people that might not be able to afford a full-price experience, especially nowadays.
How do you self-learn and improve your skills?
Failure. No one (almost) can do everything right on the first try. Set a goal and fail multiple times. I'll get there eventually!
What's the best part of your job?
I still think it's tasting. After many years I still get excited when I taste wines.. so shallow!
How do you elevate guest experience?
Again given the right circumstances being a customer's best friend (customer) is coming to your home to spend money, and you have to make them feel special from the second they walk in. Anticipate their needs and make suggestions that reflect the restaurant's identity to wow them. Also, I like to have some "special" wines on the list to sell by voice, making the customer feel exclusive and important. If there is a log on the customer profile, I read it carefully. There might be information on his/her preferences, and it's always surprising when you suggest their favourite drink/dish.
Your favourite TV show right now?
Stranger things! I grow up playing Dungeons and dragons, and I relate to those kids a lot.
What are the biggest faux pas customers make when ordering and drinking wine?
I don't like Chardonnay! I'll get the Chablis!
I don't like Sauvignon Blanc! Sancerre is lovely!
Your favourite restaurant in London right now?
Berenjak
Any favourite food and wine pairing suggestions for London drinks enthusiasts?
Carbonara(without cream!) and Pierre Gerbais l'Audace.. so cheesy..the carbonara i mean
Your favourite book?
Pillars of the earth by Ken Follet
Name three sommeliers in the UK you like
Diego Muntoni, Max de Olivera Cohn and Salvatore Castano
What's your personal career goal? And how are you investing or planning to get there?
Having my wine bar. I'm almost there, fingers crossed.
Give us one good story that you remember of a customer and you.
Actually, it is not that good, but I find it funny now, not so much when it happened. I had just started working in a terraced restaurant; it was summer, a beautiful hot day. A big order of G&Ts was to be delivered to a big round table by the window. First to be served was a lady, probably in her late 80s, who took her drink and went to put it in front of her. I was young and inexperienced back then, and of course, all the trays regaled a nice cold shower to the poor lady sitting at the table. I tried to shelter her with my body, but it didn't help. I was soaked too, the assistant head sommelier came to help me dry the disaster, and he was picking cucumbers out of her purse on the floor. She was lovely, said not to worry, and it was not big of a deal. Well, I was panicking in the back corridor, scared of losing my job. The Head sommelier approached me, visibly desperate, took the corner of my drenched apron, smelled it, and exclaimed, "Hendricks!". Disclosure I haven't lost the job.
Header Image: Giordano Ghiraldotti; Source: Facebook