2023 Registration
London,uk
March 20 & 21
Closed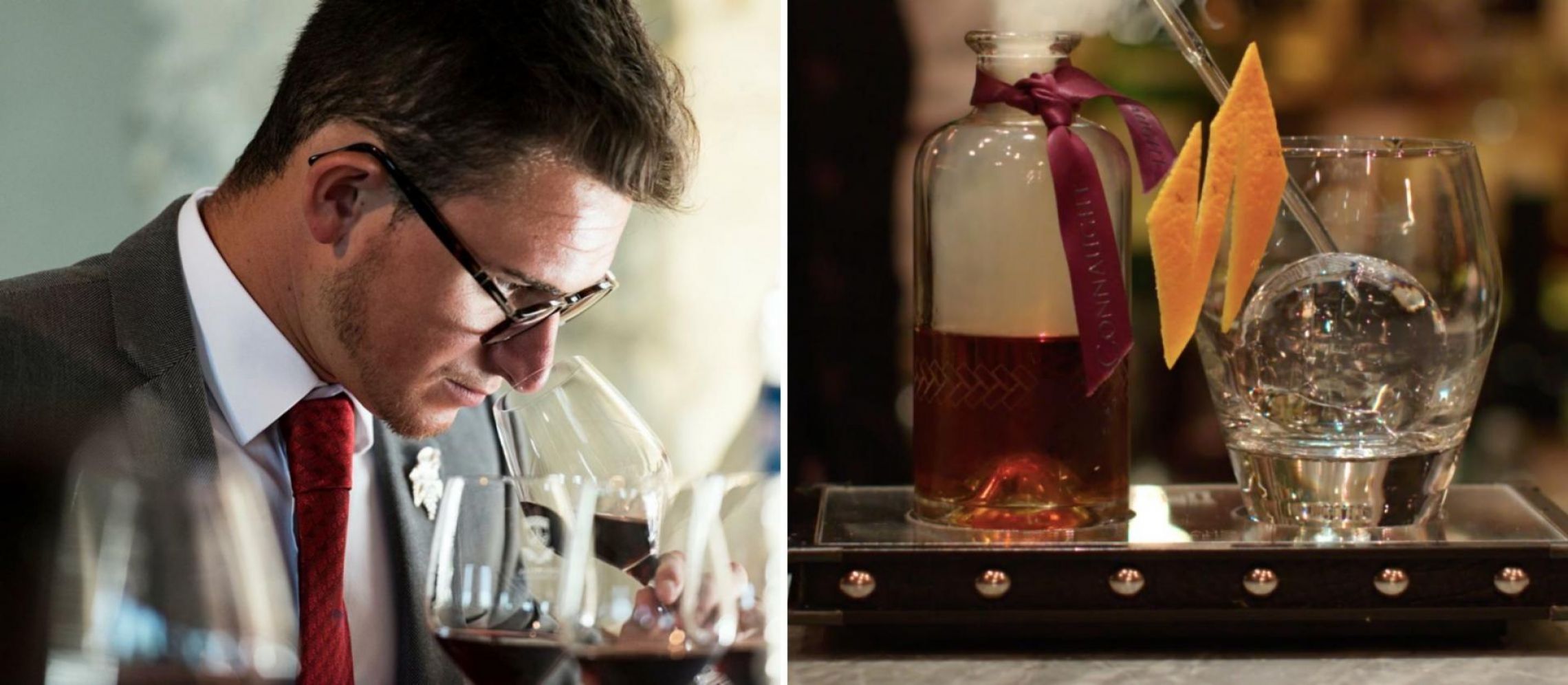 Q&A With Lucas Reynaud-Paligot, Sommelier, at Hélène Darroze at the Connaught Hotel
Lucas Reynaud-Paligot talks about his journey as a sommelier, how he self-learns and improves his skills, and discusses ways he employs to elevate the guest experience at the restaurant.
From Lyon, France, Lucas is a professional with several years of experience in the hotel industry. Lucas has a strong interest in wines and spirits. Lucas embarked on the Sommelier adventure in the UK five years ago and has since flourished. He is currently employed at chef Hélène Darroze's three Michelin-starred restaurants at the Connaught hotel.
Current place of work.
Hélène Darroze at the Connaught hotel
Tell us about yourself.
I am 26 years French Sommelier from Lyon who came to London for 5 years to practice my English. Enjoying wine, obviously but get into my young with Fashion, Interior Designer.
Working in a fine dining restaurant has always been an everyday challenge, and being someone new every day, I loved it. Working in different restaurants helps you to have and see details and keep consistency.
Why did you want to become a sommelier?
Initially, I started in the kitchen but never really saw myself as a Chef. I enjoyed going to restaurants but not things as I am a very shy person always been challenged to put myself in the front.
I started as a commis in a restaurant and then evoluted. When I was talking, people with experience told me that experience it's the key to our industry. So I decided to move as Sommelier and get experience.
I fell totally in love with wine and the relationship between estate and sommelier and guest and sommelier. Bringing smiles and happiness to all our guests every single day is priceless.
What do I look for in a new brand before taking it to my restaurant?
I believe what is important it's the history, the legacy of the estate. The possibility of having back vintages is one of the best ways to understand the philosophy of the winemaker and family.
What sources do you follow to stay on top of industry trends and new launches worldwide?
I believe the director of wine (Daniel Manetti) created over the year one of the strongest relationships with suppliers and estates all around the world. The Connaught it's such a beautiful hotel and vision for the wine program.
Questions you would ask a customer who doesn't know anything about wine?
Unfortunately, we are seeing that often, so I am trying to teach them some easy things through the lunch or dinner that there are spending with us. For customers choosing the wine pairing, I am trying to give them blind tasting because it's the best way to understand and visualize a wine.
I am always asking :
What are you drinking at home?
Are you more of a white, red, rose, or bubble person?
Do you have any disliked wines?
What are some of the most important skills for a sommelier?
Being a sommelier is first someone who is selling wine. It's the most important.
- Someone who has knowledge about Fashion, arts, architecture, life in general,
- The skills of being well groomed it's also important as the way of presenting.
Obviously, wine knowledge and beverages in general and Cigars, sakes are very important in our industry but also depends on the Restaurant or hotel where you are working.
How would you train a new staff member in their first 7 days of joining?
When there is a new member, we always go through a presentation package with wine by the glass, a wine list, and some important details. And in 7 days, try to show them as much as possible how we do and question them.
What methods do you use to grow wine sales? Please explain with examples.
So the director of wine like to challenge us obviously; Growing sales it's also sharing knowledge and organising trips.
We are currently doing an Armagnac competition, Using points to refer to the vintages or selling a small of 100ml to take away. Very nice way to challenge and push us.
What methods do you use to grow profits?
Daniel Manetti, the director of wine created some of the most beautiful relationships with suppliers and vineyards, which obviously helped to go through this point.
Wine the pairing is really popular here in Hélène Darroze, which is really good for profit.
How do you self-learn and improve your skills?
Reading wine articles, visiting wine estates. But also read philosophy books to learn the best way to approach customers and talk with them.
What's the best part of your job?
I believe the customer experience it's really important. Being a sommelier at the Connaught, we are lucky to open some of the finest bottle and back vintages in the world. I remember one day of opening Vega Sicilia Unico in 1942. One of the most memorable wines.
How do you elevate the guest experience? Please give 4-5 examples and insights here.
The details of the experience :
We have a guest relation which contacting our customers before to come trying to make the experience even better and trying to understand them with the special occasion and celebration.
- Like if it's a birthday, any celebration, organising a card, a little poem, or a message.
For very special occasions, we do :
- flowers, menu with the name of the guest.
- Showing them the kitchen (Behind the scene)
Your favourite TV show right now?
I like the series Suit on Netflix or 7 Days Out.
An unforgettable wine experience for you - tell us the whole story!
We had one day a sommelier table birthday for a guest that we didn't know at all.
They preordered a bottle of champagne. I looked after them, and we opened almost all the dream bottles for a Sommelier.
From Astéroïde of Dagueneau to Clos Saint Hune Trimbach back vintage to Leflaive Puligny Montrachet back vintage to Musigny Mugnier 2002 to Ex-Cellar Biondi Sandi 1964 to Collection Krug for the dessert.
It was around 6 pm, and at 6:30 pm, we had another table at the Sommelier's table, so we proposed to them the restaurant until 8 pm, and lucky me, we opened Romanée Saint Vivant DRC 2000 and Château Yquem 1959.
It was a priceless day, one of the most memorable days in my all life; wine experience and the kindness of the guest too.
What are the biggest faux pas customers make when ordering and drinking wine?
We have a very extensive wine list, and our customers like to check by themselves. So we tried to help them as much as possible, especially if our customers are not used to our wine list or people who are experimenting with Michelin star restaurants for their first time.
Your favourite restaurant in London right now?
Lately, I have been trying to do all the first Michelin stars. I loved Kol, Sabor. I like the wine bar Cépage. There are too many good options.
Any favourite food and wine pairing suggestions for London drinks enthusiasts?
We are doing 4 differents wine pairings in Hélène Darroze. Three different wine philosophies and one no alcoholic one. My favourite, Scallops, Tandoori spices, carrot, and citrus mousseline, finished with beurre noisette. We are serving an orange wine or skin contact wine from 2018 Trebbiano L'Erta, Paolo e Lorenzo Marchionni, Tuscany, Italy. Otherwise, Lurra restaurant, Lady of the grapes.
Your favourite book?
At the moment Jasper Morris is "inside Burgundy."
Name 3 sommeliers in the UK you like.
- Romain Bourger
- Jan Konetzki
- Eric Zwiebel
What's your personal career goal? And how are you investing or planning to get there?
My goal, obviously, is to stay surrounded by wine. I don't know if it's gonna be as Head sommelier, wine director, or Ambassador. Trying to catch all the knowledge I can and let me see it in the future.
[[relatedPurchasesItems-38]]
Give us one good story that you remember of a customer and you.
It was in Lyon 6 years ago when I was working for Pierre Orsi, one evening we had a super table, we didn't know much about them. They ordered a bottle of Château La Dominique in 1974; I opened the bottle and let the guest taste it to see if he wanted to decant it or not (I am not big when it's coming to old vintages). He loved it, and he ordered another bottle. Almost end of the evening, they thanked me and told me: "oh, thank you very much, we are the owner of the Château la Dominique", and I was so wowed because I was talking with them about the château and different tastes, etc.
The next day they called again to thank me for the wine service, temperature, etc. the whole experience was perfect. I was so happy and young. I feel so proud.
Header Image: Lucas Reynaud-Paligot