Early Deadline
December 20, 2023
Enter Now
Meet Lucian Obreja, Michelin star restaurant Sommelier in Reading
As a sommelier, serving guests what they want is one role and the other role is to bring them to new wines that we have.
Your current place of work
L'Ortolan Restaurant, Shinfield, Reading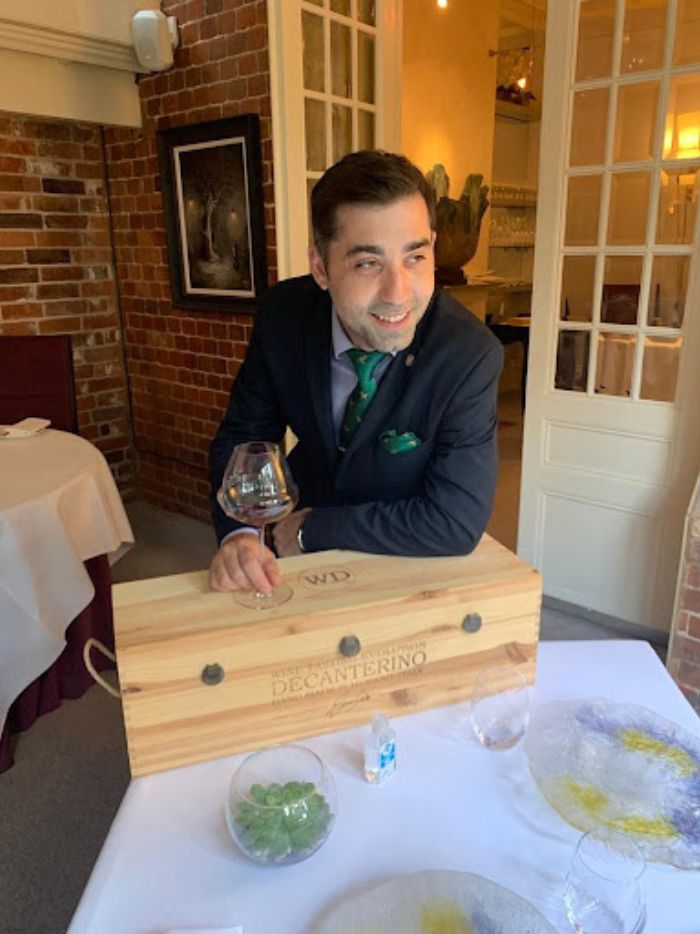 Image: Lucian Obreja
Tell us about yourself
I was born in Romania, where I graduated from the Economic University of A. I. Cuza' in Iasi.
After I graduated, I decided to go and see the world, so I ended up in Italy, Udine.
Working in various restaurants, my passion for great wines grew very strong, so I started to study for AIS Udine, but I was still not the happiest person. Then I got a job on a cruise ship, Silver Sea Cruise Line, as a sommelier, where I met so many great people as guests and colleagues. I also met my future wife, because I am not in the UK only for the weather and good wines.
Why did you want to become a sommelier?
Because I feel incredible joy in offering my guests the best possible wine experience, but in order to do so with confidence I needed knowledge.
What are some of the most important skills for a sommelier?
Human interaction has the ability to affect one's attitude in both positive and negative ways.
A positive attitude, humility, Storyteller, passion, great communication skills, work under pressure, empathy, knowledge, curiosity, open-mindedness, and a hospitality professional are just a few of the skills needed to be a world-class sommelier.
Our list is oriented on organic, biodynamic and volcanic wines - over 50% of L'Ortolan's list is organic and biodynamic and from my point of view, it is a way to go.
The food matching with the chefs is an important part of what the role is about. When they launch a new dish, I bring wine or several wines to match their dishes. I have an Italian wine background so I have a kind of map to try and pair the food and wine - everything is logically paired plus we have several tasting menus.
Let's say you were given a restaurant to fix its wine program and grow wine sales, where would you start and what would be your strategy? What questions would you ask the restaurant owner to get good insights before you plan your strategy?
The first person, to whom I would address any question, would be the head chef. Depending on the style of the menu (tasting menu, a la carte) I would introduce wine flights (classic, fine wine flight, mocktail flight, more and more people do not drink alcohol, recently we introduced a champagne flight). The training of the sommelier team and the FOH staff is crucial, also the rewards. It is imperative that the sommelier knows the best pairings possible with all the dishes and also with the items such as cheese or anything extra on the menu (ex we have a caviar dish in our testing menu, that we sell as an extra, so of course, it would be great if we could upsell a nice glass of champagne or a shot of chilled vodka.) The training would be provided by our wine suppliers, so no cost, just benefits for the company and the staff. Regarding the wine list, there should be a fusion of classics and let's say little gems that you wouldn't know about it unless you would visit our venue. The introduction of more prestigious wines by the glass, because 'it is a treat' for some of the guests. Investing in a wine preservation system! Introducing a digestive trolley. 5 out of ten guests are more likely to order a digestive, only because they can actually see the bottles and everything is poured at the table.
How I would train my new staff member in their first 7 days of them joining.
In the first 2 days the orientation in the cellar is critical, then the steps of service, the next 2 days and then the opening and closing procedures.
What methods do you use to grow wine sales? Please explain with examples.
I offer my guests the best possible value for their money, so I earned their trust (the regulars), so I am able to upgrade instead to a classic wine flight let's say a fine wine flight.
Then I offer the option to share a wine flight...
Then during our tasting menus, we suggest a classic pairing for classic dishes like foie gras for example...
I list Château d'Yquem at 25ml, for a more affordable price.
I list vintage Champagne, 'by the glass' using systems of preservation like Coravin.
What methods do you use to grow profits?
Offering a 'fine wine flight' option for our tasting menu, a mocktail flight for tea totals, and creating a digestif trolley, that will be presented to the guests at the end of their meal.
How do you self-learn and improve your skills?
Reading the latest articles and dining in various restaurants.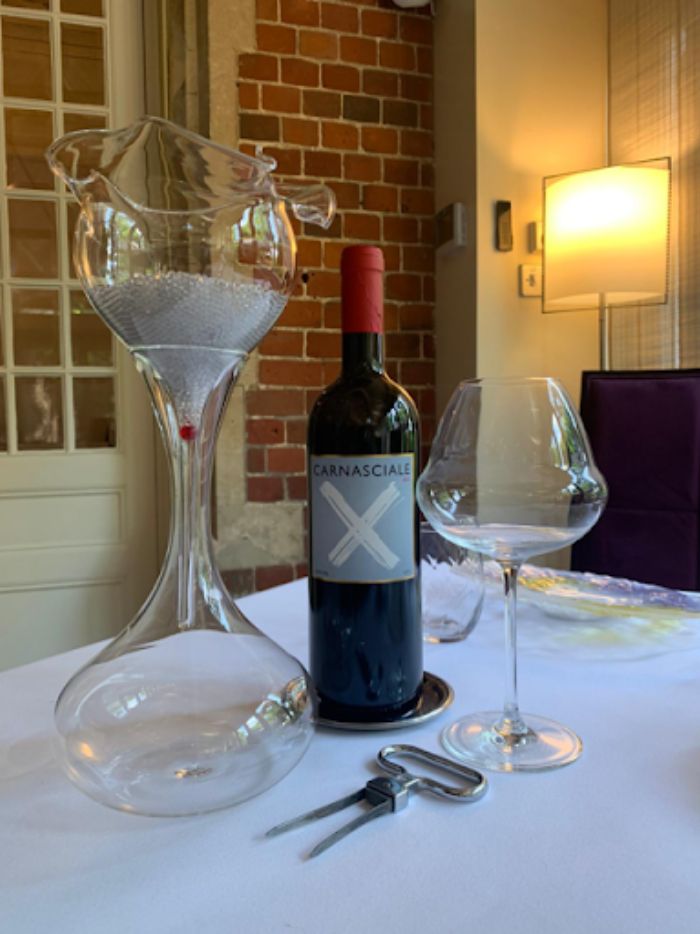 What's the best part of your job?
The best part of my job, is there are many...
First of all the amazing feeling when trying a new wine or experiencing the trust that our guests share with me when they let themselves guide us in the choice of wines.
How do you elevate the guest experience? Please give 4-5 examples and insights here.
We record the drink preferences of our guests, so I can anticipate their orders or acknowledge if a guest is left-handed or right-handed, so we can arrange the glasses accordingly.
Sometimes depending on the reason for the celebration, I am trying to source wine from the same year.
Your favourite restaurant in London right now?
Core by Clare Smyth
[[relatedPurchasesItems-38]]
Any favourite food and wine pairing suggestions for London drinks enthusiasts?
Foie Gras with 2019 Iscider Brannland, Sweden.
Ballotine of Venison with 1999 Amarone Della Valpolicella Classico DOC, Masi, 'Campolongo di Torbe', Veneto Italy
Your favourite book?
Beyond Flavour by MW Nick Jackson
Image: Lucian Obreja; Source: Facebook