Intrigue, Delight, Profit
23/01/2022
These are the cornerstones of a great wine list, and Eugenio Egorov makes it his mission to cover each as the Head Sommelier at the Dorchester.
Where do you currently work?
Tell us more about yourself.
I was born in Ukraine and raised in Italy. I started my career in the kitchen right after Hospitality School, then moved to the front of the house and took my first steps in the wine world almost 9 years ago. Since then I've moved first to the US and then across Europe always looking for new challenges and getting the chance to work with the most talented people in the industry.
[[relatedPurchasesItems-22]]
After achieving the Michelin Star along with Da Terra team in 2019, I decided to come back to Dorchester to work alongside the Master Sommelier Christopher Delalonde, at the time Head of wine at Dorchester, and give my own imprint in The Grill's relaunch as Head Sommelier.
I'm highly skilled in beverage program design and new openings, wine & spirits program revenue optimization, and restaurant management. I specialize in adjusting any service style and approach depending on the guests and volume of business, maintaining a constantly successful beverage program and profitability.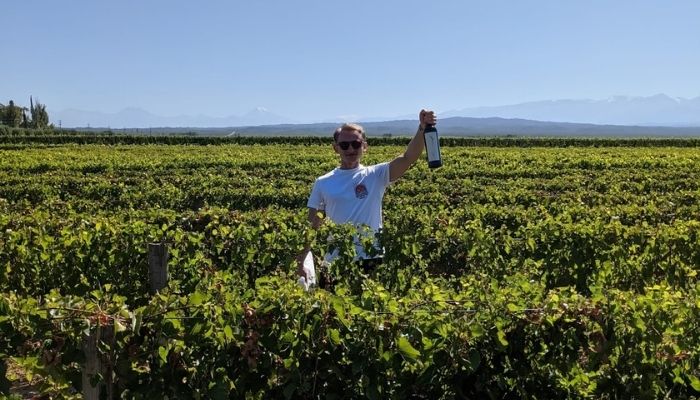 Eugenio Egorov on a wine tour
Why did you want to become a sommelier?
Having worked across hospitality during the past 15 years, the sommelier world is the one that has captivated me. Especially growing up in a wine region, the spirit, passion, and joy of the people around wine from planting to harvest, to production, and to the table where it is enjoyed has always fascinated me.
In every single bottle lies an encrypted message in need for translation and delivery. I'm passionate about sharing the message and story behind each wine which treasures all the work, knowledge, and sacrifices made to create that 'simple fermented juice'.
The thrill of creating that link that will be remembered the moment when the same bottle is opened again is what drives me to be the best sommelier I can be.
How according to you has the role of the sommelier evolved, especially now during Covid times?
I've witnessed that during lockdown people have gained more knowledge and interest about wine. These are exciting times! More and more people are recognizing the figure of the sommelier in the restaurant because they see the value in having a thoughtful and customized recommendation to enjoy the moment. I think some of it is thanks to social media and 'wine influencers' that have democratized access to knowledge. As sommeliers, we have a chance to share our knowledge and thoughts about wine not only on the floor but also on social platforms. We get the chance to get people excited to visit us at the restaurant or enjoy a special moment in their own space.
What are some of the most important skills for a sommelier to have?
Our job is all about the experience. We need to find the best possible option to deliver a superb experience fitting the palate and budget of each guest.
This means we need to be good at reading people, understanding what they would enjoy even if they don't have the exact words to describe their preferences. A sommelier also needs to be a great storyteller to share the message and story behind each wine.
Last but not least, sommeliers need to be smart at accounting and operations. We need to graciously make it profitable for the business to turn over the wines, avoid dead stock sitting in a corner of a cellar without generating any profit and make good wine purchases as an investment.
What do you look for when you plan to buy wine for your business?
First of all the wine needs to reflect and work with the vision and the concept of the restaurant or wine bar. With this in mind, we need to scout for wines that are most importantly well made, appealing for the target customers of the business but also wines that we are able to rotate and make a profit from.
Your favorite places to enjoy great wine in London?
At home, you should visit my cellar! I recently visited The Black Book in Soho. It is a great place to find an approachable wine selection. They are open until late at night, so if you feel that you need to pop a bottle after a Friday service it is the right place.
What is your approach to matching food and wine?
A wine pairing needs to be intriguing. There is nothing worse than having a great menu and a boring pairing. I'm always trying to think outside of the box let the guest experience something new and different they wouldn't have thought of, perhaps trying other kinds of beverages like sake or even tea. Why not? There needs to be a perfect balance between food and beverage. There is no point to cover one with the other but actually the two need to complement each other.
If you had to pick one red and one white wine as your personal best, which wines would they be?
Asking a favorite wine to a sommelier is a tricky question. I would say that is always the right wine for the right situation but if i think of wines I always want to go back to: as a red I would go for a classic as Giacomo Conterno Barolo Riserva Monfortino 1990 and as a white a little rare gem from Bordeaux, a beautiful Vin Blanc de Palmer 2016.
What's the best part of your job?
What I enjoy the most about my job is getting to know the winemakers and the story behind each wine to be able to share with customers and create a memory that will remain with the wine that was enjoyed. Memories tied to smell and taste are super powerful and people get to recreate that moment in their minds, maybe get a sense of nostalgia, the next time that they open the same bottle.
What are 5 challenges you normally face in your job and how do you tackle them?
Nowadays there is a huge shortage of sommeliers in the London scene, so we train as much as we can our front-of-house team to maintain the standards and give them the confidence to talk about wine.
On the service side, another challenge is understanding that anyone can have a bad day. It is our job to realize this and put ourselves in their shoes to make the best to turn their mood, maybe with an extra touch of attention or with some bubbles that sometimes can do the job.
Wine shortages, unfortunately, can happen sometimes. Some wines for a reason or another are not making it to the country. Part of our job is to find a quick replacement of that specific wine in a very short time, that is why sommeliers need to build a strong relationship with suppliers.
Accidents on the floor. This one can be funny sometimes, a full tray of glasses on the floor, dropping a bottle of champagne in front of the Hotel director (guilty!). At the end of the day, we are all human and we can make mistakes. The important thing to remember is that the show must go on.
Bad mood in the work environment. We face a tough period in hospitality. Long hours with an overload of work can put everybody in a bad mood. That is why it is very important to maintain positivity and boost the mood of the whole team, maybe with a joke or maybe with a glass of wine.
Any favorite food and wine pairing suggestions for London drinks enthusiasts?
Try The Grill's lobster thermidor tart with a Slovenina Malvazija from Edi SimSimčič when you visit The Grill at the Dorchester, it's a must.
Any tips for wine brands trying to grow in on-trade and how they can help sommeliers?
Well the most important thing is to focus on the quality of the product, then branding and marketing, and collaboration with sommeliers. Wine dinners are of great help for both parties because it is the right environment to get to know the story about the wine and the team working behind it. It also sets the right mood to learn more about the brand and ask questions.
Please explain your weekly tasks, going in detail about what all you do.
Our week is generally tied to the work schedule of the restaurant. For most of us it is not Monday to Friday.
Especially at the 'beginning of the week', we usually have wine deliveries to sort out. This involves moving boxes of wine around the hotel (good cross fit!) and making sure that everything gets properly logged into the stock system. Then we dedicate time to reply to suppliers and stock planning. Organising tastings with suppliers and the team allows us to choose new gems to put on the wine list.
Based on our offering, we arrange private parties, send offers and train the team. Making sure the team is up to speed is one of the most important parts since it is a core asset for the business.
A bureaucratic but crucial part of the job is being on top of recording sales, keeping order around all different wine storages in the venue to avoid inconsistencies at the end of the month for the stock take, etc.
And then, the most fun part of the job, the wine service. The tip of the iceberg of our job that people see.
What's your personal career goal? And how are you investing or planning to get there?
I'm proud to be the type of sommelier that enjoys connecting with guests but as part of my career development I'm aspiring to become an export manager or brand ambassador for a winery I feel passionate about in the future. I really enjoy working close to wineries, getting to know how they work and being able to transmit that to People.
Give us one good story that you remember of a customer and you.
I remember in a previous work place we had a guest that really enjoyed an Amarone from Veneto. Of course, we gave him the full details of where it was made, the name of the winery, production method, etc.
After a couple of weeks I had a call from the winemaker telling me that there was a black Bentley parked outside his winery with someone telling him that i had sent them there. The guest was from a Scandinavian country and took a trip to Veneto to buy some cases of Amarone since he wasn't able to find them in his hometown. Wine is love.