How Helsinki Savoy's Aleksi Mehtonen would manage your wine list
05/08/2021
We talk to Aleksi Mehtonen, head sommelier at The Savoy in Helsinki about how he got into the wine industry and what he thinks it takes to be a top sommelier.
1. Can you tell us about your background and how you first got into wine?
Ever since I was really young my favourite subjects in school were history, geography and biology. Wine is a thing which unites all of these and even more. It also involves religion, physics, chemistry and no other subject can be as extensive and intriguing as wine.
I was supposed to go and study history at Jyväskylä University but ended up working in the restaurant business. Instead of studying history, I applied to study hospitality management. It was our wine professor at Jyväskylä University of Applied Sciences who really opened my eyes to wine. Her know-how and way of speaking were so inspirational that it pushed me over the line. The university also gave us a chance to study for our WSET certificates which were really helpful and motivating at the time.
2. How did you progress into your current role?
I started my restaurant career working in the kitchen but soon changed to be part of the front of house team. I first worked as a waiter in a few places before I ended up in the best restaurant in the city - Ravintola Pöllöwaari. This was a really important place for me at the beginning of my sommelier career. It had the best wine list in the city and it is a well known and respected restaurant. One of the real gems outside Helsinki's Metropolitan area.
While I was working at Pöllöwaari I also studied at the only Finnish sommelier school in Turku - which is where all the top sommeliers in Finland have trained.
After I had worked five years at Pöllöwaari I got a phone call from the food and beverage manager at The Savoy who asked me if I would be interested in taking the position of head sommelier at what is such a prestigious restaurant in Helsinki. If the Savoy calls - you answer!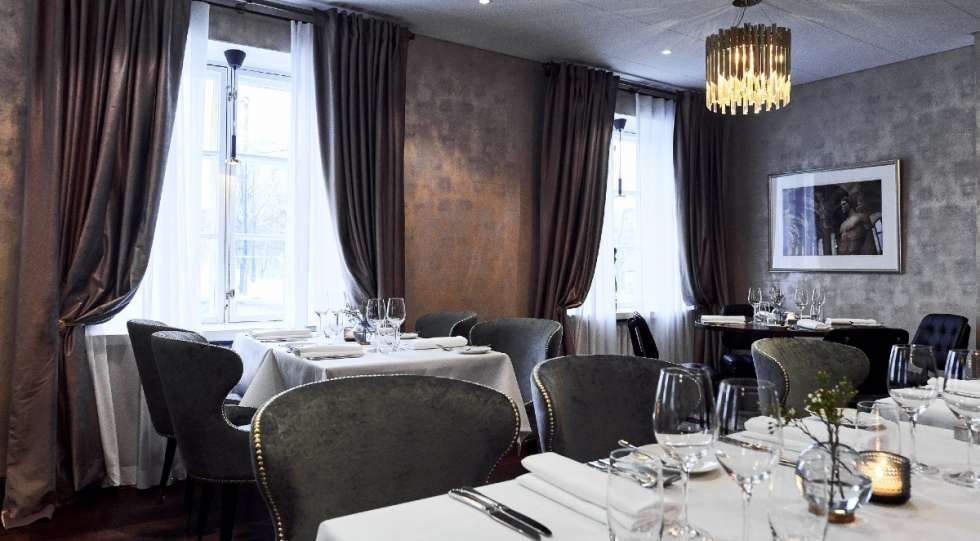 Ravintola Pollowaari dining hall
I have now been here for six years and am very grateful for the opportunity and the challenge to shape and grow my career as a sommelier.
3. What are your main tasks in your current role?
I am in charge of Savoy's beverage program, from creating the selection of wines to managing the costs and profits and organising the overall wine service. A lot of that happens behind the scenes in the office, but the most important task is still the actual wine service. I really enjoy talking to and serving customers and there is nothing better than a well run busy service with lots of great wines sold and tasted.
4. If you were given a restaurant's wine list and asked to increase its sales where would you start and what steps would you take?
Every restaurant has its own particular way of working, so I don't have a single solution to this. My best advice would be to create a beverage selection that supports the business strategy and philosophy of the restaurant. What do we want to offer and to whom? I would also want to look at our customer base and local demographics and make sure our wine offer is in keeping with what they would like to see and can afford.
I would also like to know how the wine service is currently organised and if there are any clear areas to improve there. Availability is really important so I would also look at what relationships and arrangements we have with our suppliers.
Every member of the front of house staff must also have a clear view of what the wine service should be like and how we succeed in achieving that. Not many places can serve wines from everywhere and have every bottle available. It is important to plan ahead and have a good by the glass offer.
Getting the pricing right on our list is also very important and we need to make sure we get our margins right to support the whole cost structure of the wine program. So I would need to know what the profits targets are and what sort of wines do we want to have to achieve them.
5. What do you most look for and want from wine suppliers to help drive sales?
Availability, a high-quality range at every price point, supported with great information and education about the wines.
6. Can you think of any good examples of wine partnerships with suppliers and wines you have listed as a result? What was it about those wines that stood out?
Mostly I just enjoy the fact our suppliers have managed to build such good connections with most of the best wineries in Europe so that we can offer them in the Finnish market.
But in some cases, it has been really nice that they make the extra effort and import special shipments outside of their portfolio just for our restaurant.

Savoy Helsinki inside view
7. What does success look like for you from a wine programme?
Success in my eyes is when you get good feedback from your customers, co-workers and restaurant owners. You want to be achieving organic growth and a good balance between purchases and sales so you can reach your targets without lowering the quality of the wines.
8. How have you devised the wine list and wine programme at your venue - what are the key factors about the list that help the bottom line?
When I started working here, we had a cellar that any sommelier would be proud of, but I think it is even more impressive now. We have been able over the last six years to grow our selection in every area. My biggest additions to the range are the number of grower Champagne houses and Bordeaux producers that we have taken on. I am also proud of being able to add some Bourgogne wineries to the range that have not been in the Finnish market before. Our selection has also become a little more liberal. New trends can be followed in style.
9. What are the key four things you focus on to be good in your role?
* Listening and meeting the real needs of the customer.
* Education and supporting my sommelier team and the whole front of house staff.
* Developing the beverage program but also the whole restaurant operation.
* Being calm and acting under pressure.
10. What do you think sommeliers spend too much of their time on which is not that important?
Arguing who is better. We are in the same team trying to improve Finnish and Scandinavian and European wine culture. All of us should be working towards the same aim and not competing against each other or arguing about whose wine program or restaurant is better.
11. What are the criteria you look for in a wine when deciding whether to include it in your wine program or not?
For me, purity and balance are two of the most important characteristics in a wine no matter what its price.
12. What do you see as being the key skills and talents needed to be a good sommelier?
* Always eager to learn more.
* A genuine interest and passion towards the subject. If you want to be really good it can't just be a job to you.
*Good customer service skills.
*Strong nerves.
*A good ability to taste and smell.
13. How do you evaluate the success and effectiveness of a good wine program?
It serves the need of that exact restaurant and supports its business strategy, is well managed and profitable.
* To find out more about the Savoy in Helsinki click here.