2023 Registration
London,uk
March 20 & 21
Closed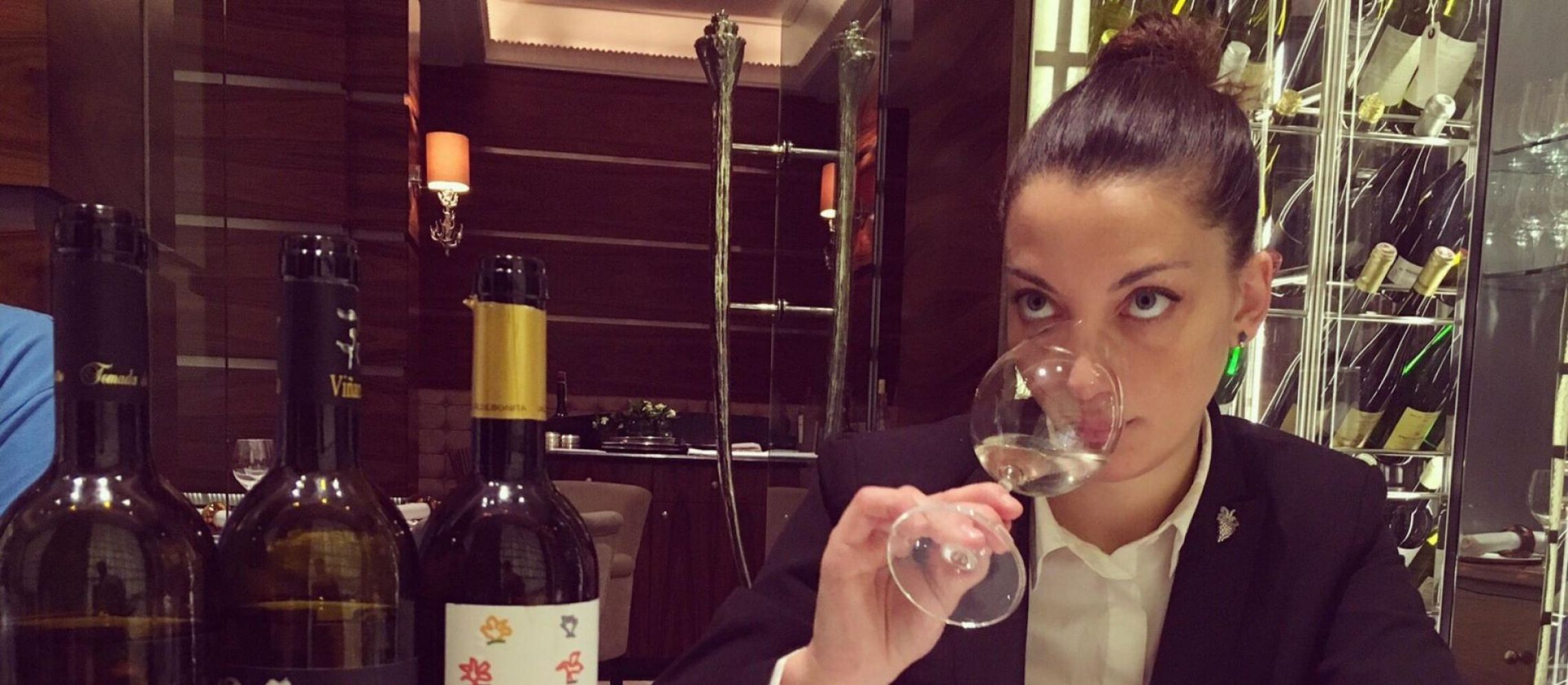 GQ Best Sommelier 2021 Sabrina Manolio reveals her wine journey
Catch a glimpse of Sabrina Manolio's experience in the wine industry and read till the end for a hot tip for budding wine sommeliers
Who are you and what do you do?
My name is Sabrina Manolio, I started the adventure in Sommeliere almost 12 years ago in London. I am currently holding the role of Head Sommelier in Bar Des Pres Mayfair by Cyril Lignac.
How did you first get into wine?
My first interest in wine started when I was working as a waiter in Milan (Cafe' Trussardi). The wine list was amazingly extensive and advanced which made me curious to learn more.
All the team and the director were extremely knowledgeable in all things wine which aided me immensely as my curiosity grew in this field. I found that learning to become a sommelier came naturally to me, and I could think of nothing better than to explore this industry further and to build my career from something in which I'm passionate about.
What role does wine play in your life?
Wine plays a big role - it has accompanied me in most of my work life and has encouraged me to learn more. Wine has also opened me up to a vast network of like-minded people in and out of the industry. And in my private life, wine has aided in lots of celebrations and memorable moments with friends and family.
What is the best part of your job?
The best part of my job is the chance to try many different wines regardless of the provenance, label or trend that sometimes influence the consumer, to meet the growers and be the ambassador of their wine, share and pass to my guests the passion and all the work behind the glass of wine they are sipping. Guiding everyone to the right wine choice is very satisfying, and it still puts a smile on my face even after all these years!
What kind of wine do you like ?
I like all types of wines depending on the moment really. Sometimes I am into bubbles, sometimes more white or red. I am always looking for freshness, minerality and Length.
I like German varieties, Riesling ,Thomas Haag, Schloss Johannisberger and Spätburgunder August Kesseler just to mentioned few , I do love my Italians from North to South equally ,alongside the King appellation and the classic I love wines like Nascetta Elvio Cogno in Piedmont to the Nerello Mascalese A. Franchetti produced in Etna, Sicily and many more.
How do you judge a wine?
There are many aspects to consider when judging a wine - in what contest I want to locate this particular wine, what price range, how profitable, what the target clientele I want to please and what clientele am I going to attract. Also importantly, a wine that shows its best now or if it is aged enough to give depth to the selection. The wine for me also must be well balanced. For example, when it has the complete harmony of the components and is not masked by winemaking techniques, when (it) speaks for itself, for its terroir and reflects its identity in the very first moment you're drinking it.
Which wine do you always keep at home?
Alongside a cold lager, I always keep at home the Italian classic method, Burgundian Pinot Noir, which matches every occasion.
Your favourite drinking spot in London?
There are many great spots in London, it's difficult to mention only one, but if I must treat myself, I would choose the Scarfes Bar at Rosewood hotel. They have an excellent cocktail list and great vibe.
[[relatedPurchasesItems-38]]
Any advice to budding sommeliers?
My advice is to keep your motivation high and never stop chasing your thirst for knowledge. Don't wait for somebody else to feed you with information, be your own teacher and actively search it for yourself.
Be competitive and humble at the same time and remember that hard work does always pay at the end.
Interview by Stuti Khetan, Beverage Trade Network