2023 Registration
London,uk
March 20 & 21
Closed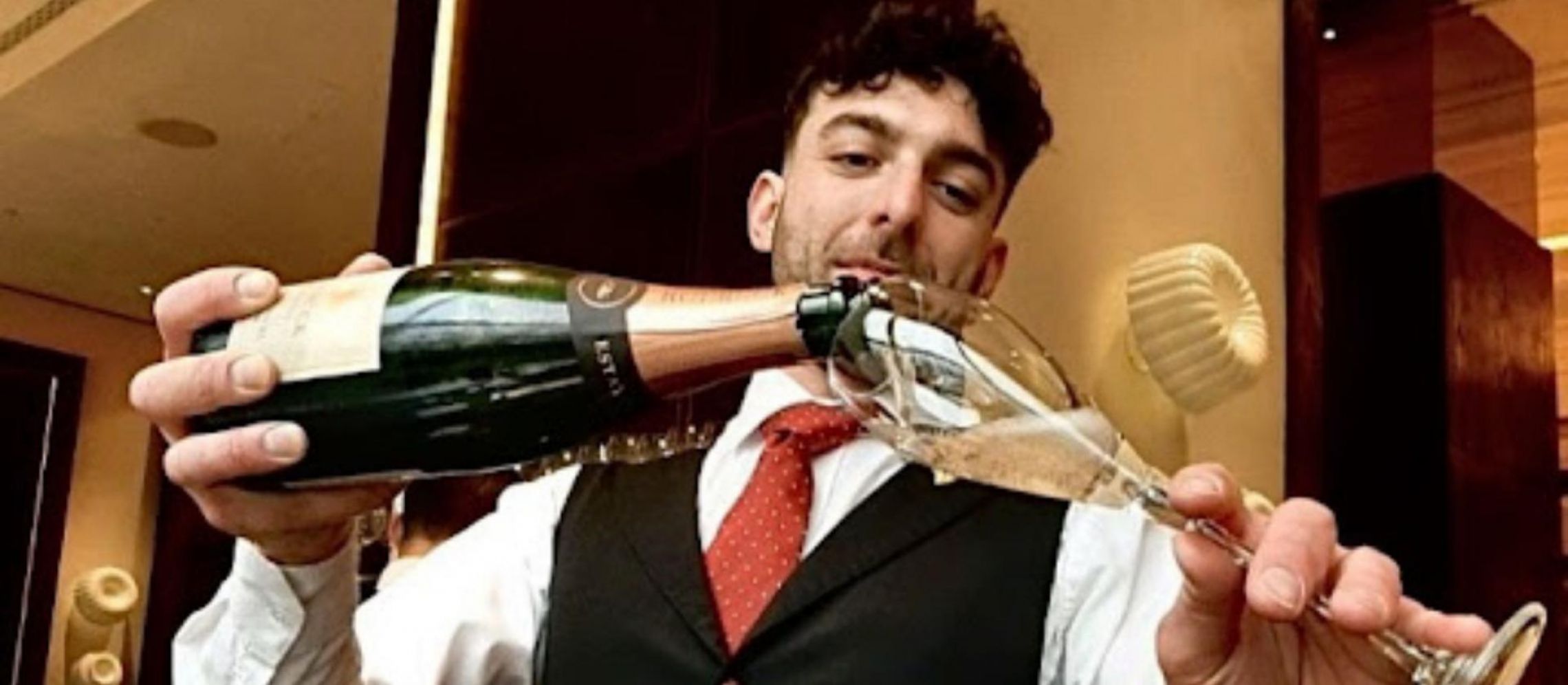 Following Your Heart is a Noble Feeling But Can be Dangerous If Not Balanced. Says Pietro
In the interview below, Pietro G. Zona, Sommelier at Dinner By Heston Blumenthal, discusses about what he looks for in a new brand before taking it to his restaurant and shares with us what he finds the best part about his job.
Pietro is a hardworking and dedicated hospitality professional who believed in connecting and delivering the best experience to the guests is crucial. Pietro has previously worked as a bartender for Starhotels and Mandarin Oriental Hotel Group and is currently working as a sommelier at Dinner by Heston Blumenthal. He has recently achieved the Certified level with the Court of Master Sommeliers and is pumped and motivated for the Advanced level.
Your current place of work
Dinner By Heston Blumenthal at Mandarin Oriental Hyde Park
Tell us about yourself.
My adventure in hospitality started in Milan, my hometown, in 2013, where I worked on the floor of a few restaurants, the last and most relevant of which was "Enrico Bartolini al Mudec", my first Michelin star experience. There I met people incredibly knowledgeable and dedicated to both wine and service, which opened a whole new world for me regarding this profession. From Milan, I moved to London in 2017, ending up at Claude Bosi at Bibendum, always on the floor and not as a sommelier. After that experience, I decided to take a break from the world of restaurants to become a bartender, a field where I had many lacks, and so I did at Bar 190 at The Gore Hotel in Queen's Gate. Eventually, I was interviewed and hired at Bar Boulud at Mandarin Oriental always as a barman, joining the team in October 2019, until the pandemic and the lockdown brought me to be reshuffled in the sommelier team of Dinner By Heston Blumenthal.
[[relatedPurchasesItems-38]]
Why did you want to become a sommelier?
I have always seen the sommelier profession as something so difficult to learn and achieve and requiring knowledge so vast to master that I thought I was already late to get in at the very moment when I found out about it. The kind of thing you need to grow up with and cannot learn once you are an adult. Therefore I always believed that my train for it was gone; when the chance to stick for good with the team of DBHB hit me, I knew I couldn't have forgiven myself if I wasn't trying my best to become one.
What do I look for in a new brand before taking it to my restaurant?
Following your heart is a noble feeling but can be dangerous if not balanced; I find that when taking such a decision, the bottom line question has to be, "Does my wine list need this ?" And the answer needs to be sincere, forgetting about personal taste, preferences, and experiences. If a wine is delicious but has no point in terms of placement in the wine program, it's better to stick with the original plan rather than bend it to your feelings. Once the decision is positive, and the product is included, constant availability is an important aspect. A limited quantity of certain labels is understandable, but to work at best, it can't be the standard.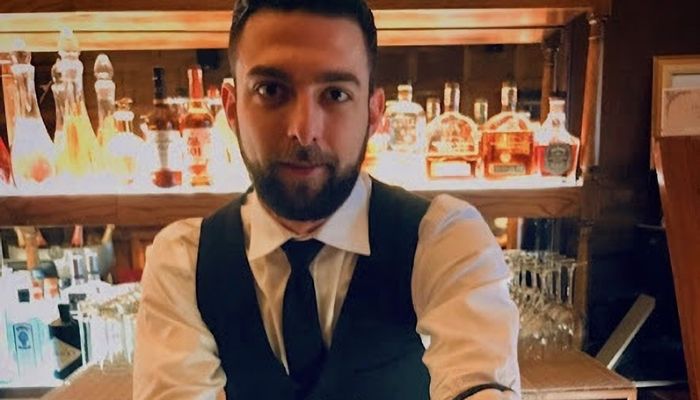 Image: Pietro G. Zona
What sources do you follow to stay on top of industry trends and new launches worldwide?
I reckon that being present in the wine and industry scene is very important; attending fairs, events and tastings gives the opportunity to breathe the same air, exchange opinions and make connections with other professionals and agents in town. Recently, social has produced pages of good content, for which the following is very interesting and allows you to keep an eye on some info without really chasing. As a more traditional channel, though, I'm awaiting my first copy of Decanter, and I'm very curious and excited about it.
Questions you would ask a customer who doesn't know anything about wine?
I ask them questions like, do you know what you usually like to drink? Do you want to go for something well-known or explore something new? Tonight do you want to think about this, or do you prefer me to take care of you? Do you trust me?
[[relatedPurchasesItems-38]]
What are some of the most important skills for a sommelier?
Connecting with your guests is crucial, I find; although knowledge and preparation are incredibly important, if the connection with your table is missing, the guest will not care how many exams you passed and titles you have and will only remember an average if not worse, service. Another vital aspect of this job (which sometimes I still fail with, Michael) is knowing your cellar; remembering large stocks and wines about to finish will allow you to avoid useless jobs and waste your time. Imagine the waste in being forced to remove a label from the list for which you're awaiting delivery of more bottles in a few days or in keeping finishing and reordering certain references while others with similar profiles sit on the shelves unsold.
How I would train my new staff member in their first seven days of joining.
Well, my training throughout the years has mostly followed the formula "swim or drown", so a part of me still finds it a way that works in certain cases. More seriously, though, I'd assign to the new person a leading tutor, someone with a bit of seniority in the team. The joiner should shadow this tutor during the service, the main referent for the moving in, and spend most of the other time together in the cellar with a wine list draft in hand.
What methods do you use to grow wine sales? Please explain with examples.
Something I recently discussed with a colleague of mine that I didn't realize until I said it loud was the importance of pushing a trolley. The physical act of pushing it next to a table, both champagne and a digestive trolley, not only might convert into a sale, but most importantly, and here's the point I raised with him, will catch the eye of the tables nearby and on the way. Probably, this will be the final trigger for some guests, still deciding if they concede themselves a such glass or not. For the same reason, it's important to be sure to tick all the relevant boxes with a table, and I say relevant because I believe that this activity should be carried out thoughtfully, remembering that not all of our guests are as keen as us about wine. No one chose us to feel uncomfortable due to a pushy sommelier or waiter, and their experience should be our priority, in any case. Bearing this in mind, some tables and guests will greatly enjoy the wine we sell them if we do so, and it's our job to detect these and, by ticking the boxes, maximize our sales. Plus, put yourself in their shoes and imagine being there; did they order a bottle of the white, yet one of the two main courses is a steak? They might not think about it, or think about it without saying it. Still, if you approach them and suggest a single glass of red, tailored with the main course, and to leave the white on stand by or to be finished by the other guest, rarely they will feel pushed, and often they will enjoy it and be thankful for your intervention.
And last but not least, I like to think that "If you don't sell it, no one can buy it", and to elaborate, this means that you shouldn't be afraid to have a couple of items on your wine list or bar, that to your sound excessive. Maybe when you price those and add them to your offer, you think you're aiming too high, but if it doesn't expire, I don't see why not go big sometimes. Especially since the spreading of Coravin machines, quite a game changer in this, the By The Glass offer can afford to display big bottles and digits and, always with balance, I don't see why not make the most out of it.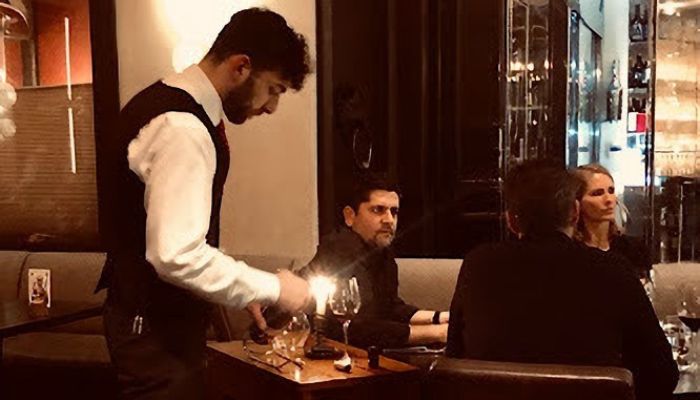 Image: Pietro G. Zona
What methods do you use to grow profits?
The majority of the profits usually come from the "everyday" wines and the by-the-glass selection, so it is vital that these offers are well thought out and appreciated by the public. This includes, of course, eventual pairings offered with tasting menus. Another aspect is to stay in line with the market prices; sometimes bottles aren't correctly priced due to a long time in the cellar (very expensive ones more easily), and when bought, they are sold for a price that was calculated a few years earlier. This is very rarely good for a restaurant. Finally, we have the habit of forgetting that even a guest who doesn't drink wine can enjoy a full range of add-ons to his meal. Cocktails or mocktails, teas and coffees, beers, and softs usually have only to be suggested to be welcomed.
How do you self-learn and improve your skills?
Confrontation is very important. Keeping it as a game with colleagues or former ones, giving blinds to each other during quiet moments of the service, and keeping talking about wine make a difference that can be huge. What about the self-learning aspect to me most has been done by books, the WSET course that I sustained in 2021 at level 3, and the Intro and Certified exams of the Court of Masters Sommeliers that I gained last August. Other points that I would like to mention are curiosity and humility. Curiosity in terms of going is always a question deeper than what is told. For example, when studying for the WSET 3, the book said something like, "In Rioja, there are eight white varieties allowed". Perfect chance to ask yourself which ones those are and memorize them. Still, if this curiosity doesn't belong to you, the path to becoming a great rather than a decent sommelier might seem and even be excessively and unnecessarily hard. And humility because no one expects you to remember every notion every day of the year, but you know when you're not that sure about something, and here's the need to be humble, open old notes or books and revise stuff that you thought you were done with.
What's the best part of your job?
One of the activities that I personally enjoy the most is when we have a wine tasting with suppliers in the restaurant. Usually happens on days when most of the team is present, and it's the moment when collectively, we select the bricks to build our future wine list. Our manager Michael in this sense is very inclusive, and all of us are given a chance to speak our minds about what we tasted and give a vote of Yes or Not if we proceed with the purchase. Probably I wouldn't like this aspect so much if it wasn't carried in such a way, but I find that like this it's both very motivating for all the ranks of the team, both controls that tend to follow the heart which I was mentioning earlier.
How do you elevate the guest experience? Please give 4-5 examples and insights here.
It might sound granted, but I find it relevant to mention it anyway: you need to double-check the pairings and the bottles you suggest. A professional can be sure about the pairing they recommended endless times, but having the question asked during the specific course will make our guests feel considered not only when it's time to sell them something but in general and might even reveal areas where the experience can improve without being too late and maybe converting a good in a fantastic night.
Something else that I like to do is a nice comment or compliment as soon as I receive my guests, I found that it works with me when the roles are switched, so I made it one of my little tricks. It pleases when it's something spontaneous or anyway doesn't reveal too much thinking behind it. Otherwise, it becomes weird and nosy, but if made properly can get people nicer and friendlier even before they reach their table.
For people keen on wine and fine drinking, something nice can be serving wines out of the list, just arrived and not yet added, or removed when one or two bottles were left, so de facto is still available for someone. Having offered something exclusively after a nice chat with the sommelier and realizing that both of the parts are well prepared and on the same page will leave a positive mark on the guest's consideration of the night.
Finally, showing interest and thoughtfulness towards their experience is always a plus, both regarding wine and food and in trying to build a deeper connection. If they are celebrating an anniversary or a birthday, a promotion, or a catch-up after a long time, they want to talk about it and give relevance to the occasion, having a brief chat about it with your guests will please them and will reassure them that we realize how important their event is and how we are responsible for the good outcome of it.
Your favorite TV show right now?
I grew up watching The Simpson and Scrubs, which will always have a special place in my heart; more recently, though, I've been caught in a loop of The Office US. I just start it from scratch every time it's over.
An unforgettable wine experience for you - tell us the whole story!
When I worked in Milan at Enrico Bartolini al Mudec, the restaurant was closed on Sundays and Monday mornings. Therefore, some Saturday nights after service, we stayed late and finished some open bottles that wouldn't have reached the next service in good condition. For the first weeks, I wasn't asked to join, and the first time I was, I didn't accept, but when I finally sat after a couple of half glasses of sparkling, I was poured a Brunello di Montalcino of which, unfortunately, I don't know anything more. Until that moment, I had no idea what depth of pleasure this world was able to provide, but I realized it that night; the silkiness, the balance, and the length of that wine told me that I was just at the beginning of my trip and had so much to discover that I couldn't even imagine.
What is the biggest faux pas that customers tend to make when ordering and drinking wine?
It happened to me, more than once actually, that someone pointed at the content page and asked me for a glass of Loire Valley for 7 pounds which was the page number on the list for Whites of Loire Valley by the bottle. Or some other guest once in a while will place an order that doesn't exist and you'll be forced to tell them to understand what they meant.
Your favourite restaurant in London right now?
I guess I have a thing for the Blacklock in Shoreditch. I stumbled into it one night and was surprised by their well-priced meats and Beefy Mary. If I'm after a steak, which often happens, that's my first choice.
Any favourite food and wine pairing suggestions for London drinks enthusiasts?
Try to consider Champagne, and sparkling wines in general, more often for your starters, you can find very good surprises there. And always about surprises don't be afraid to try something new, we have enough aficionados of Malbec and steak, even if it works as heaven.
Your favourite book?
"Of Mice and Men" by John Steinbeck is achingly beautiful.
Name three sommeliers in the UK you like.
- Yuri Gualeni very skilled wine buyer and amazing mentor
- Antony Adinolfi impeccable worker and knowledgeable as few
- Giuseppe Quintavalle, huge passion, and smile
What's your personal career goal? And how are you investing or planning to get there?
My goal would be one day to open some place of mine, combining what I learned through my career so both cocktails and wine-focused. For the time being, I still have a lot to build as a sommelier, though, so I will keep on this way until I feel ready to take everything to the next level.
Give us one good story that you remember of a customer and you.
One night in London, I received a young and good-looking couple, very nice and friendly people who were clearly fine drinkers. We bonded quite quickly, and after the starters, I had permission from my manager and them to serve blind four different glasses for main courses and desserts. Whatever they would have got was on the house. Whatever they wouldn't have, they were charged for. We had a lot of fun, and they nailed the Barolo and the Muscat of Alexandria while failed on one each course. He mistook an aged Bordeaux blend for an aged Chianti while she couldn't recognize the Banyuls I served her.
Header Image: Pietro G. Zona