Dawn of a New Day
03/12/2021
Ovidiu Olteanu embraces each day, with something exciting and interesting happening every day including guest interaction, learning something new, meeting with producers and exploring wines.
Where do you currently work?
The Mahal Restaurant - Cheltenham, a fine dining Indian restaurant. I have always been passionate about food and wine. At the moment I am working at THE MAHAL RESTAURANT in Cheltenham with the great Chef Anuj Thakur, who is very inspiring. I am pleased to work in such a great environment with an enthusiastic team.
Tell us more about yourself.
I came from my beautiful town Bucharest where I was an amateur boxer before and there I started my first journey in the hospitality industry . Being in hospitality has always been part of me. I have graduated in Tourism and Catering management. After my study and the completion of the sommelier courses in Romania, I decided to gain experience from some 5-star establishments around Europe. In 2017 I arrived in the UK and worked for one fine dining restaurant in Sevenoaks. Almost one year ago I had the opportunity to join THE MAHAL RESTAURANT in Cheltenham as Head Sommelier. I now manage a team of 15 and the daily operation, coordinating a wine list of 300 references from all over the world. I won Best Maitre d'hotel big Trophy in 2013 in Romania and I was in the semi final of the Best UK sommelier in 2019.
Why did you want to become a sommelier?
I never really thought of becoming a sommelier in the first place, I wanted to learn about wine as I was never exposed to this vast subject. As I started to learn, the passion grew and the job followed. I have been very lucky to meet some great and amazing people and mentors that put me on the right path and helped me develop more. I was working in a fine dining restaurant - hotel and one day the restaurant manager, I think he was overwhelmed by me asking so many questions, suggested to me the Sommelier Course, which I joined straight away. That course opened my eyes to the wine world and I haven't stopped there and I have developed my career in the wine industry.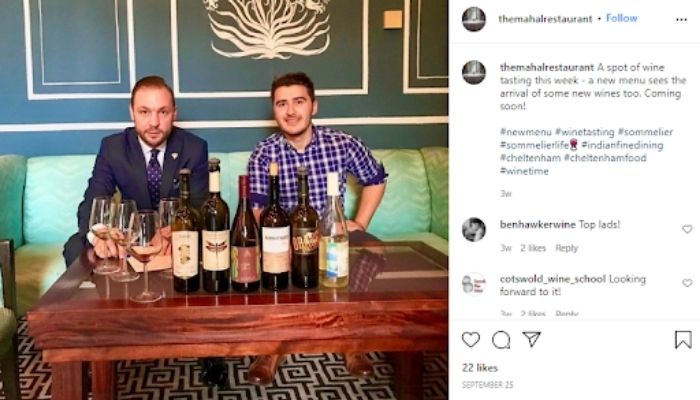 The Mahal Restaurant, progressive Indian cuisine with a contemporary twist. Fine Dining #Indian Restaurant in #Cheltenham, Gloucestershire. Image Source: Instagram
How according to you has the role of the sommelier evolved, especially now during Covid times?
Sommeliers have been forced to adapt to completely different roles during Covid times. Most of us have been out of work for almost a year now. Since we can't physically serve people right now, we need to get creative. Whether that be enhancing our skills in different parts of the wine industry or building completely new skills, becoming a chameleon in the wine industry is key right now.
What are some of the most important skills for a sommelier to have?
Teamwork , creativity, and curiosity. A great sommelier must be able to deeply understand people and have a solid knowledge of the world of wines. The ultimate goal is being able to offer our guests unforgettable experiences, tailored to each style and interest. Wine is a very personal, sometimes intimate affair. It is all about asking the right questions, listening, and letting the wine tell the story.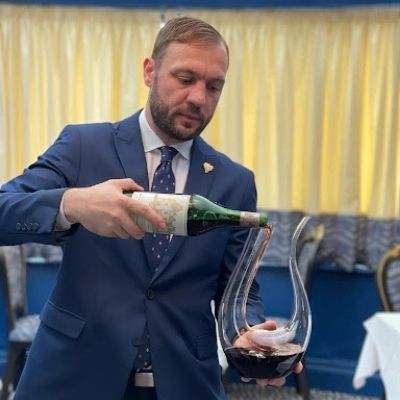 Ovidiu Olteanu, Head Sommelier at the Mahal Restaurant
What do you look for when you plan to buy wine for your business?
I am always looking at wine matching, which most of our guests are looking for when they come to dine at the restaurant. Although sometimes it is fun to list something unique from indigenous grape varieties which are not very well known. Example: Xinomavro from Greece in Naousa.
Your favorite places to enjoy great wine in London?
At the moment I love 67 Pall Mall in London. They have an incredible wine selection, especially for Champagne!
What is your approach to matching food and wine?
I approach wine matching in two different ways at the moment and it depends on the dishes. I am trying to find the flavours that complement each other in food and wine, juicy lamb with high tannic cabernet sauvignon. The tannins will complement the fat and juiciness which come from the lamb. I am also keen to recommend "regional pairing" which means to pair the wine with the local food (forest of dean venison two ways ) with Nebbiolo and oysters with Albarino - with Rias Baixas in Spain.
If you had to pick one red and one white wine as your personal best, which wines would they be?
2012 Brézé, Clos Rougeard 100% Chenin Blanc and 2010 Colonnello, Aldo Conterno 100% Nebbiolo.
What's the best part of your job?
What I love about my job is the opportunity of spending time with people. We can travel a lot, meeting producers and visiting stunning wineries and vineyards. We can share our views and exchange opinions every day with our guests.
This job never gets boring, there is always a way to learn something new, which makes it exciting and interesting every day. We can share our views and exchange opinions every day with our guests. This job never gets boring, there is always a way to learn something new, which makes it exciting and interesting every day.
Any favorite food and wine pairing suggestions for London drinks enthusiasts?
I like to spend most of my Sundays because I'm off duty and at home cooking stuff for a specific bottle of wine I like (scallops provencal). Can't wait to make this dish again and text time try something like a mature Grüner Veltliner which I think would probably work even better as it is a bit lower in acidity and richer styles like Smaragd can have a beautiful creamy texture to highlight those creamy nutty flavors in the celeriac.
What's your personal career goal? And how are you investing or planning to get there?
I want to develop my career and to be a MASTER SOMMELIER!
Tell us one good story that you remember of a customer and you.
Ooo yeah, a customer called me to have a PALMER 1997 and I brought them a 1999 and it was funny!