2023 Registration
London,uk
March 20 & 21
Closed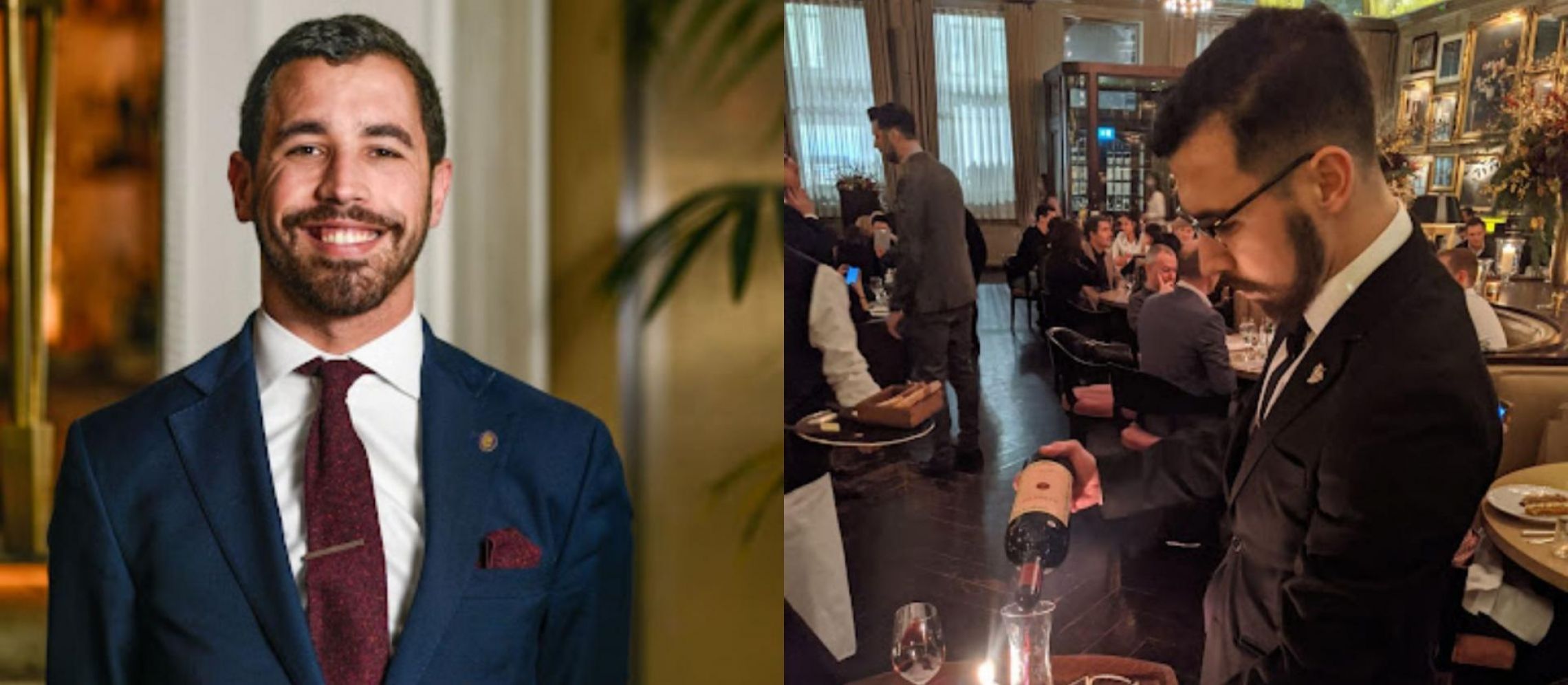 An Interview with Vitor Silva, Head Sommelier at Le Comptoir Robuchon, Mayfair.
Having a Good and Solid By The Glass Offering is a Way to Grow Wine Sale.- Says Vitor Silva. Learn more about what he has to say about his journey as a Sommelier and the wine industry.
Vitor is a certified sommelier (Court of Master Sommelier Europe) who desires to spread his passion for wine and the tourism sector among people everywhere. He always strives to blend knowledge, skill, and creativity in everything he does. He is currently the Head Sommelier at Le Comptoir Robuchon – a fine dining restaurant in Mayfair. He is also studying towards the Advanced CMS level. With more than five years in the field, Vitor is experienced, driven, and passionate about wines and the industry.
Your current place of work.
Le Comptoir Robuchon
Tell us about yourself.
I'm originally from Portugal, and I have a degree in Politics & International Relations, something quite different from hospitality! I arrived in the UK in 2015 and initially started working in restaurants to help a family friend on the weekends. Once I started to feel the adrenaline of working in such a fast-paced environment and realised/found my love for wine, I never could let go. I'm currently the Head Sommelier at Le Comptoir Robuchon – a fine dining restaurant in Mayfair. I am also studying towards my Advanced CMS level.
Why did you want to become a sommelier?
Growing up, my favourite subjects had always been History, Geography and through my father's stories that he used to tell me all through my childhood, I also learned I had a passion for storytelling. Understanding wine is so intricate and complex while combining all 3 of these mentioned elements that when I first started working in restaurants, I was extremely fascinated by how every single bottle of wine captured a moment in time. A bottle of wine has so much more hidden behind it than just the grape juice inside it.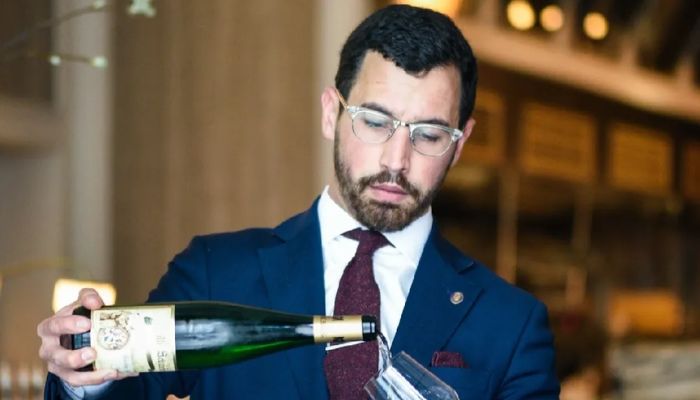 Image: Vitor Silva ; Image source: Le Comptoir Robuchon
What do you look for in a new brand before taking in your restaurant?
Firstly, Good value for money. In addition to ensuring that the brand fills a gap on the list and the experience, we are trying to offer our guests. For example, this could be a region less expressed on the wine list.
What sources do you follow to stay on top of industry trends and new launches worldwide?
Drinks Business and Decanter magazine.
Questions you would ask a customer who doesn't know anything about wine?
What are you having for food? What sort type of flavours do you usually like? I would make sure to find the best recommendation based on the information they shared with me. I also quite enjoy giving funny little facts and explanations.
What are some of the most important skills for a sommelier?
I believe knowledge and hard work are very important. Also, people skills - the ability to read a guest or table- are very important. In addition to the ability to be empathetic and make the guest feel welcome/at home – being hospitable.
How I would train my new staff member in their first seven days of joining.
I'd make sure that they take it slow and emphasize shadowing for the beginning. I would then take them through the various steps of service, cellar management, and the philosophy or ethos of the restaurant. I would guide my new staff member on how to do things a certain way, but by taking it easy on the first week until they apprehend all the little details and get to know the team without rushing them into something!
What methods do you use to grow wine sales? Please explain with examples.
Having a good and solid by-the-glass offering. A versatile and diverse by-the-glass listing is very important. Also, trying to play around with wine pairings and give the guests the chance to try different things is very important.
What methods do you use to grow profits?
Like with any business, you always have to be on the lookout for new relationships you can build upon and continuously ensure that you are negotiating to get your wines at the best possible price points. Marketing, Supplier relationships, Branding, restaurant management, and wine experiences all have to complement each other strategically to ensure continued healthy growth in profits in any restaurant. Lastly, staff has to be trained appropriately and thoroughly to have the skill and confidence to match the right bottles with the right customers.
How do you self-learn and improve your skills?
Always studying and continue to taste as much wine as possible through various blind tastings that various colleagues in the field and I take turns organising. I have been very blessed to have created a solid network throughout the years. Still, I always try to continue growing my network by attending various tradeshows and wine tastings throughout the year.
What's the best part of your job?
When you see a guest reacting, to your recommendation, with a proud smile while tasting a delicious wine pairing that has caught them by surprise as it is something that they normally would not have selected – that precise moment gives me such great joy and a sense of achievement making it the best part of my job.
How do you elevate the guest experience? Please give 4-5 examples and insights here.
The most essential core value in elevating a guest's experience is to be hospitable. It always comes down to creating an individualized and personalised service for the customers. Every guest will be different, and we must tailor the guests' experience individually! Every person has different likes and dislikes; thus, I believe a general approach will be wrong. You can always do certain things, but you should always ensure that you have hit the mark for your guests and that you have listened to them. Having a happy customer by the end of your service is most important!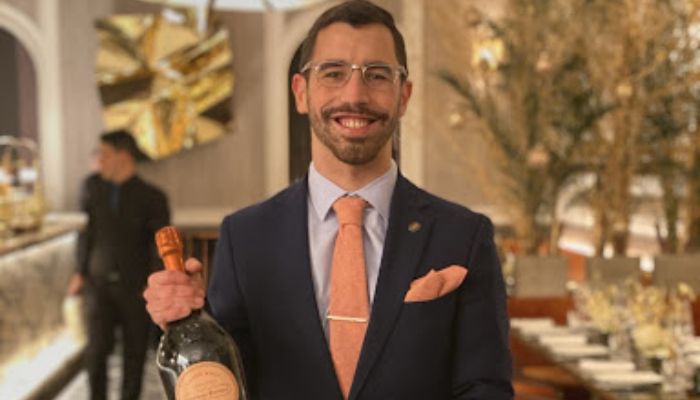 Image: Vitor Silva
Your favourite TV show right now?
Chef's Table.
An unforgettable wine experience for you - tell us the whole story!
This would probably have to be when I first had the chance to taste the Hermitage Rouge '01 from J.L Chave. An absolute perfect textbook Syrah. I have always loved Syrah as a grape variety, but with this particular wine for the first time, I could feel the black olive character tasting almost like a black olive tapenade. That wine paired with roasted meat and Provencal herbs made the whole tasting a mind-blowing sensory experience!
What is the biggest faux pas that customers tend to make when ordering and drinking wine?
This is quite the challenging question, but I think ordering wine based on app ratings is a great faux pas of mine or insisting on ordering wine solely based on the price tag or a famous name. There are so many great wines and pairings to discover that I always hope to get the opportunity to help more people to experience them.
Your favourite restaurant in London right now?
Andrew Edmunds, Soho
Any favourite food and wine pairing suggestions for London drinks enthusiasts?
Pointing to seasonality, since Morels Mushrooms were recently in season, served with a rich, creamy sauce and a slow-cooked egg and pairing them with a Chardonnay from the Jura goes very well; specifically, the ouillé styles. The slightly oxidative character and higher acidity of the wine pair beautifully with the richness and umami character of the egg, the earthiness of the morels, and the sauce's creaminess.
Your favourite book?
Lord of the Rings
Name 3 Sommeliers in the UK you like.
There are so many great sommeliers in the UK, which makes this quite hard to choose three, but one person that I most definitely look up to and have had the opportunity to learn from is Matteo Montone MS.
[[relatedPurchasesItems-38]]
What's your personal career goal? And how are you investing or planning to get there?
I've got the dream and personal goal of becoming a Master Sommelier one day. This path is long, so my main focus is to continue investing in myself by not giving up, studying in my free time, and learning daily through my work, network, and wine tastings.
Give us one good story that you remember of a customer and you.
A young couple once came and ended up taking a road trip throughout Portugal because of the wines that I introduced them to!
Header Image: Vitor Silva