2023 Winners
London.
March 20 & 21
Announced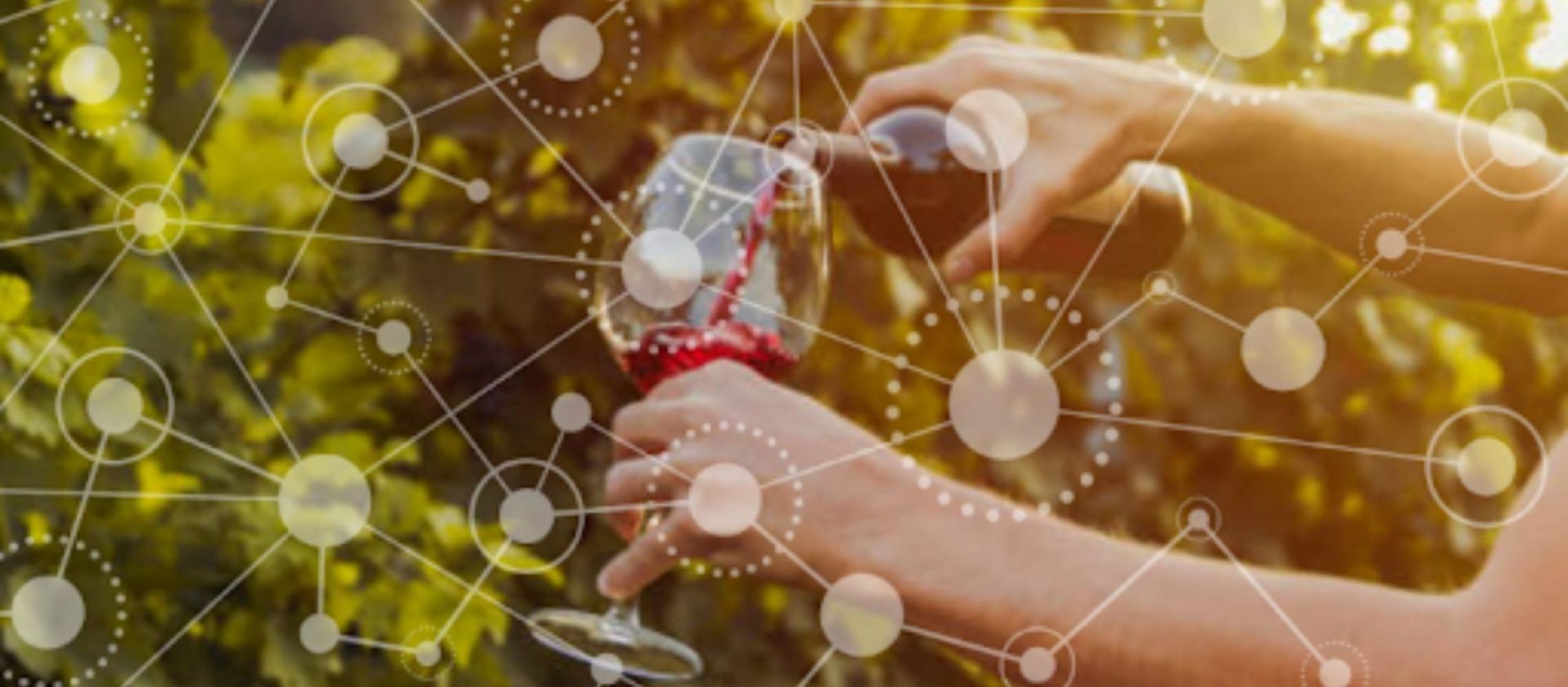 Answering the most asked question this week - Will ChatGPT take over a sommeliers job?
We asked ChatGPT a bunch of questions, including if it can replace the role of an industry professional. The answers are Interesting.
GPT stands for Generative Pretrained Transformer. "ChatGPT" specifically refers to a variant of GPT that has been fine-tuned for conversational text. It is a state-of-the-art language model developed by OpenAI that uses deep learning techniques to generate human-like responses to questions and prompts. ChatGPT has been trained on a diverse range of text from the internet and is capable of responding to a wide range of topics with high accuracy.
In simpler words, ChatGPT is a computer program that can talk to people and answer their questions. It uses artificial intelligence to understand what people are asking and generate informed responses that make sense.
There is no doubt that ChatGPT is slowly taking over a writer's role by producing more content in less time.
However, one look at what a panel of experienced sommeliers, Master(s) of Wine, Wine Buyers, and DipWSETs can produce, v/s what Chat GPT spews out in terms of tasting notes, brand reviews or pairing recommendations tells us clearly that the technology to replace a professional is yet to be built.
CASE 1 -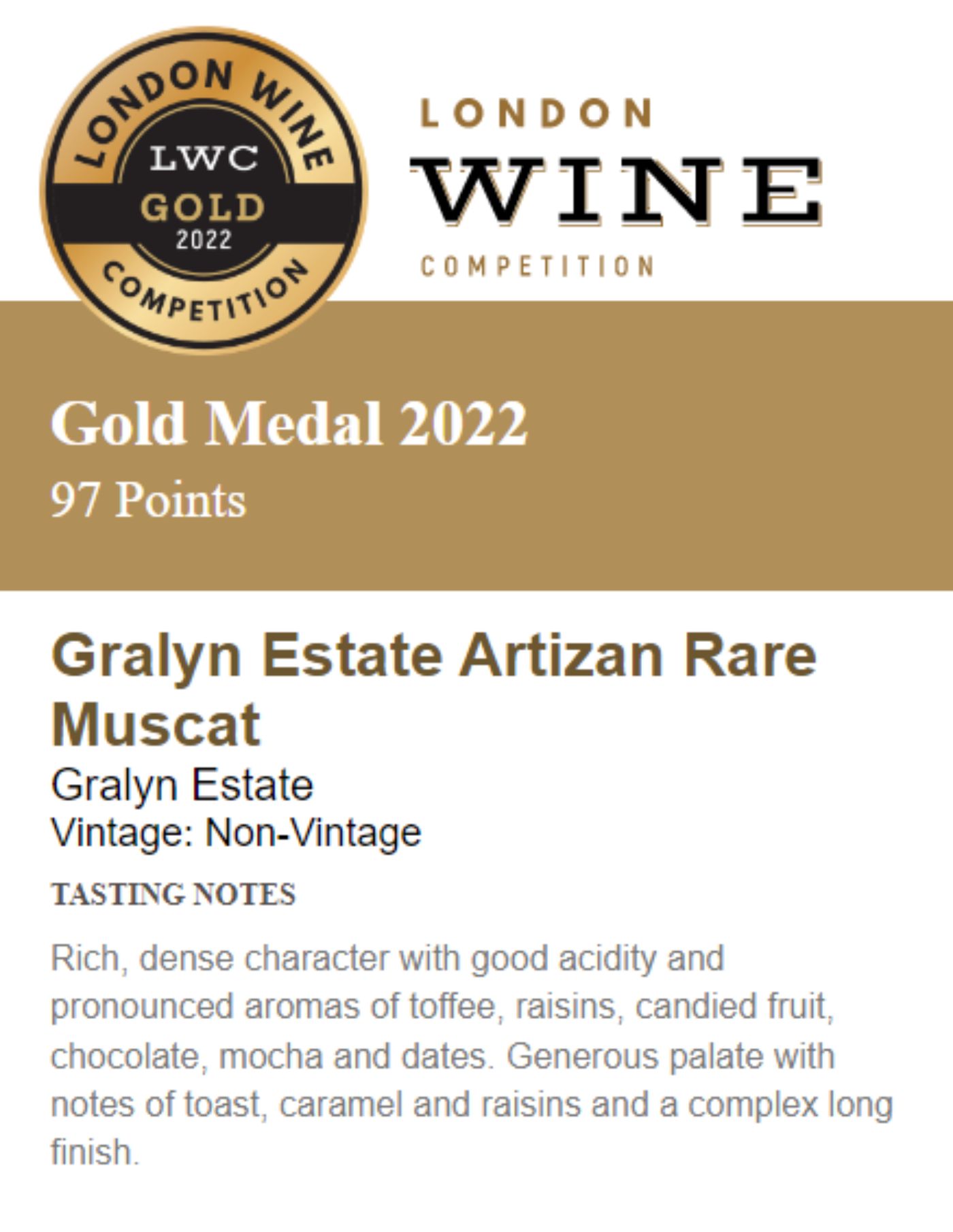 By a panel of LWC judges
V/S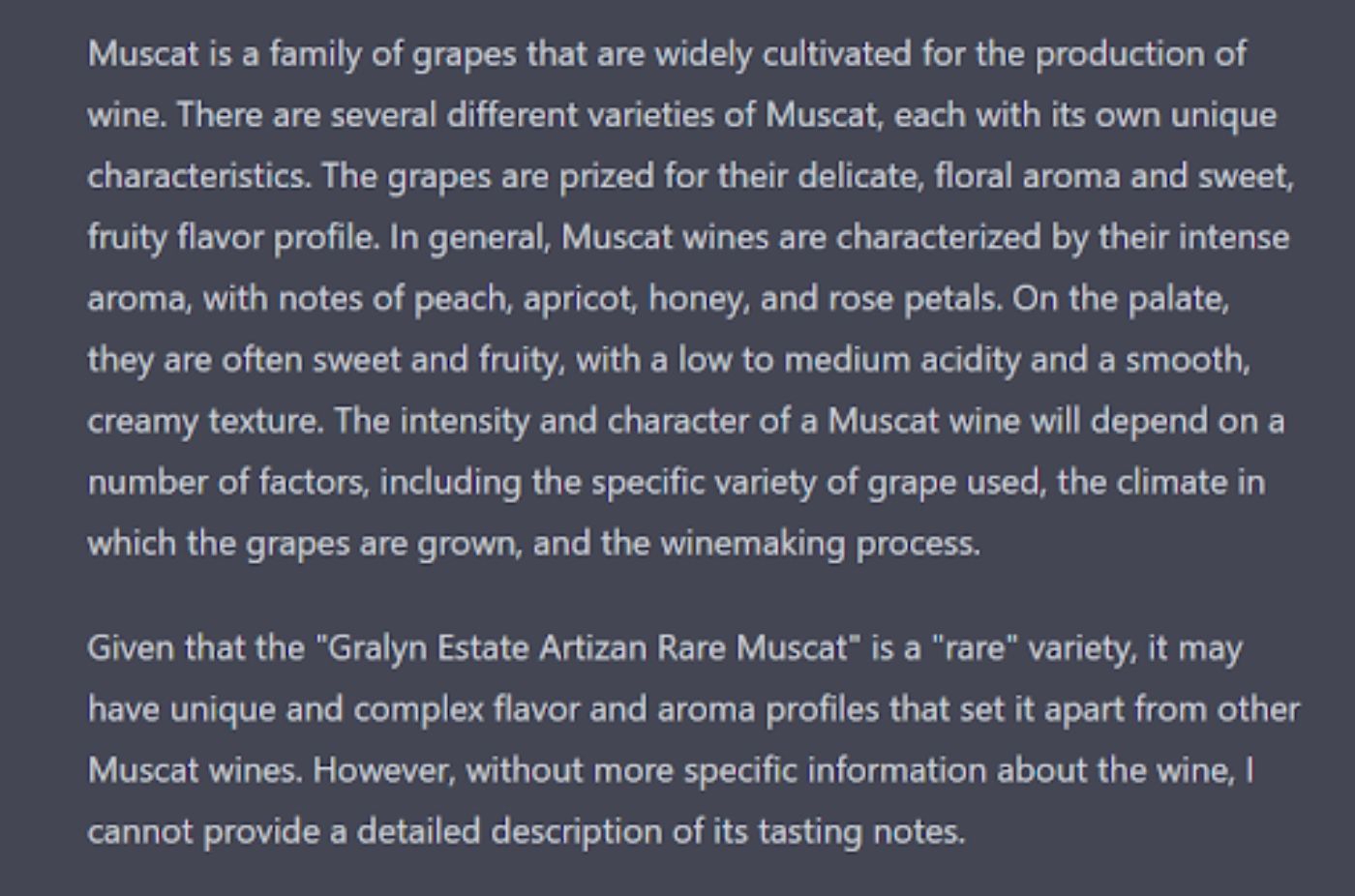 By ChatGPT on asking "Tasting notes of Gralyn Estate Artizan Rare Muscat"
ChatGPT was able to produce a more generic answer that is accurate on the information but missing the actual tasting notes of the wine.
CASE 2 -
We asked ChatGPT about the private-label wines of various UK supermarket chains. The answers were nearly identical, thus proving that while informative, it isn't completely reliable and cannot be used without fact-checking.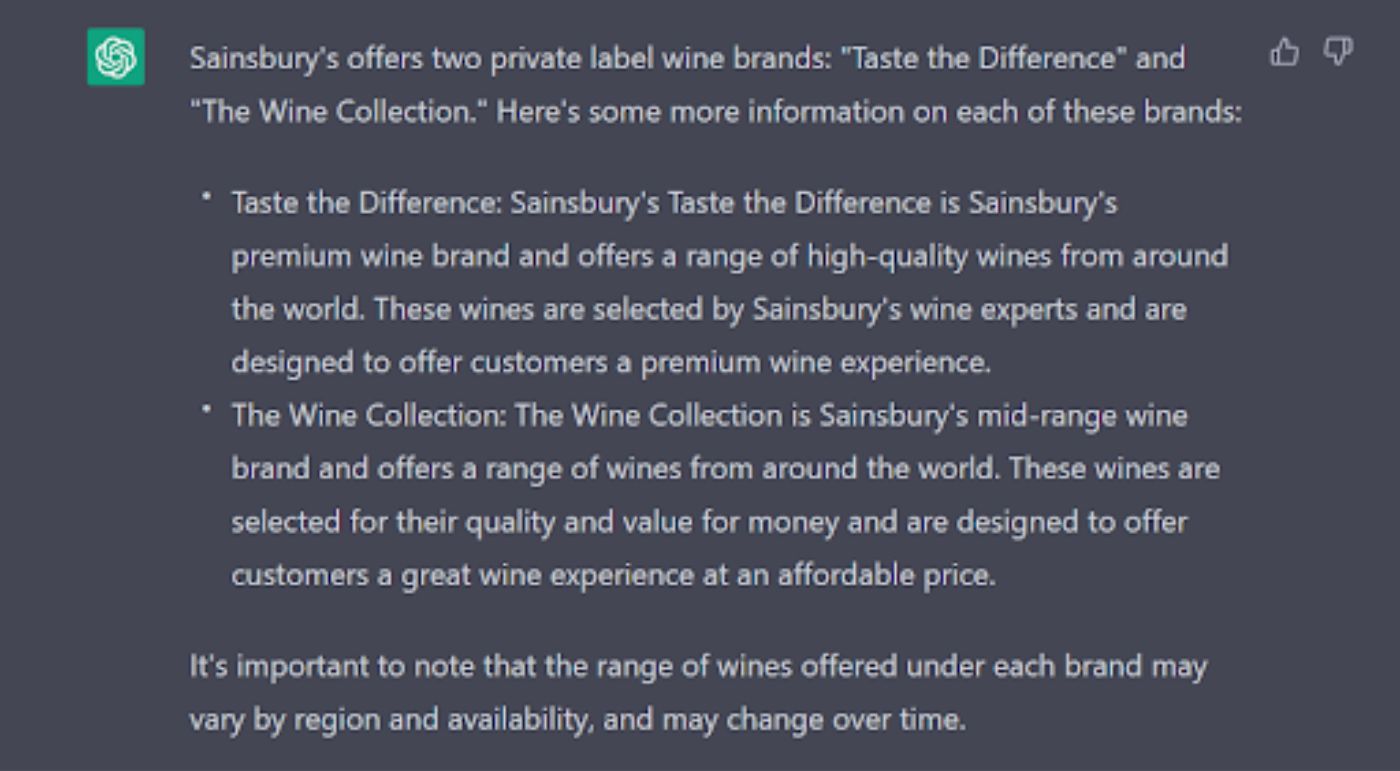 To conclude, we asked ChatGPT if it can do the job of a sommelier, and this is the exact response -
"The impact of ChatGPT on sommeliers' jobs is likely to be limited, as it will not replace the expertise, experience, and personal touch that a sommelier provides. However, ChatGPT may augment the work of sommeliers by providing them with quick access to information and data on wine, wine regions, winemaking, and more. This can help sommeliers make informed decisions and recommendations to customers.
Moreover, ChatGPT could also be used by sommeliers as an educational tool, to enhance their own knowledge and understanding of wine. This could help sommeliers stay up-to-date with the latest developments and trends in the wine industry."
While ChatGPT may impact sommeliers' jobs, it is unlikely to replace the human expertise and personal touch that sommeliers provide. Instead, it is more likely to be used to support and enhance their work.
To get the real sommeliers to evaluate your wines based on Quality, Value, and Packaging enroll in the 6th Edition of London Wine Competitions before February 22nd, 2023.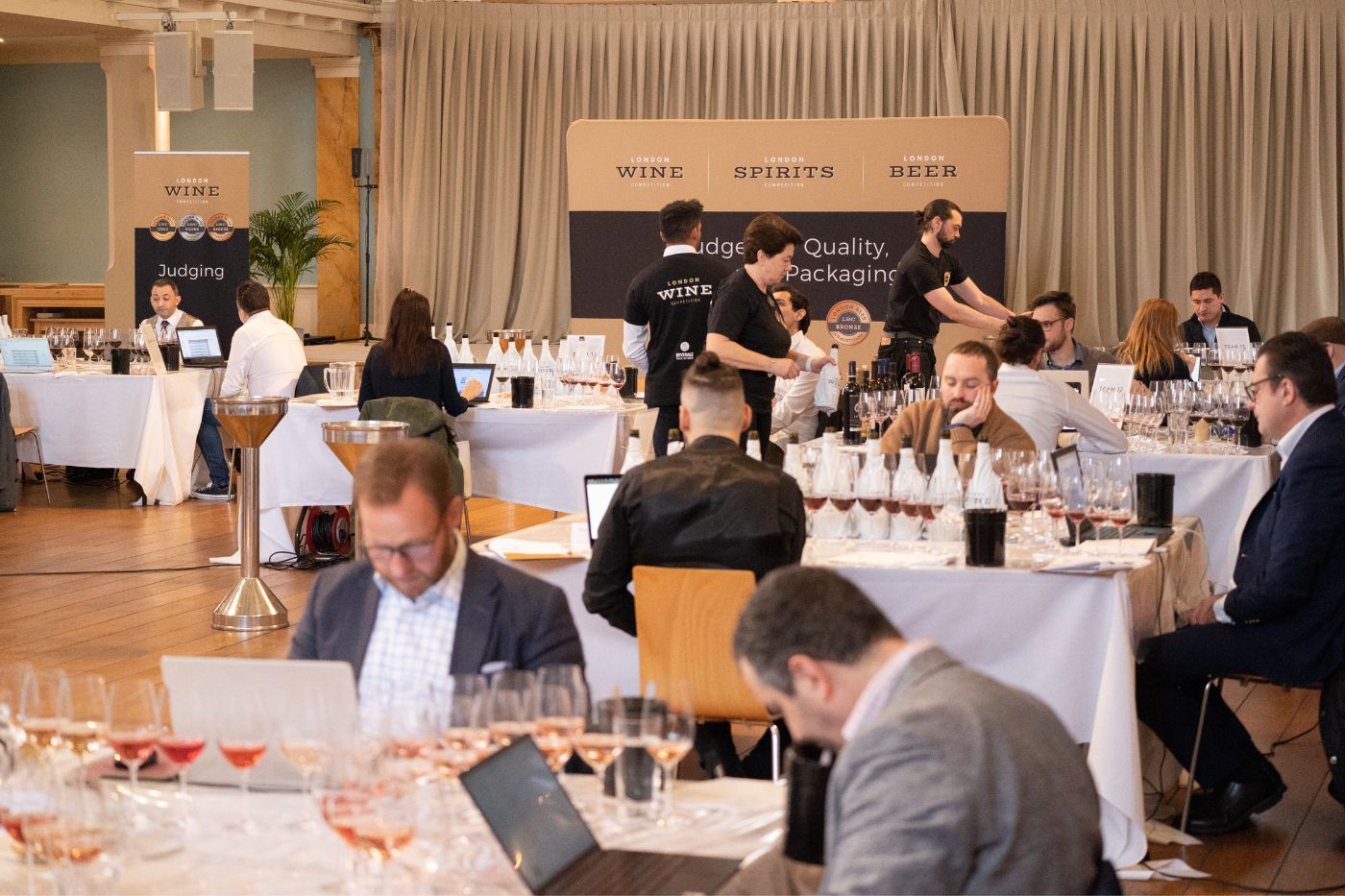 The London Wine Competition is an international wine competition organized by Beverage Trade Network. The contest looks to recognize, reward, and help promote wine brands that have successfully been created to identify with and target a specific wine drinker. For any wine brand to earn its place on a retailer's shelf or a restaurant's wine list - and then vitally stay there - they need to be marketable and consumer-driven and not just produced in the general hope it can find enough people willing to sell and buy it.
That is why the London Wine Competition is different. It will single out and shine the spotlight on those wine brands that consumers really want to buy and have a clear market value for trade buyers.
Enter here - London Wine Competition and stand a chance to win a Gold, Silver, or Bronze Medal, along with the following special awards.
Written by Stuti Khetan, Beverage Trade Network