Early Deadline
December 20, 2023
Enter Now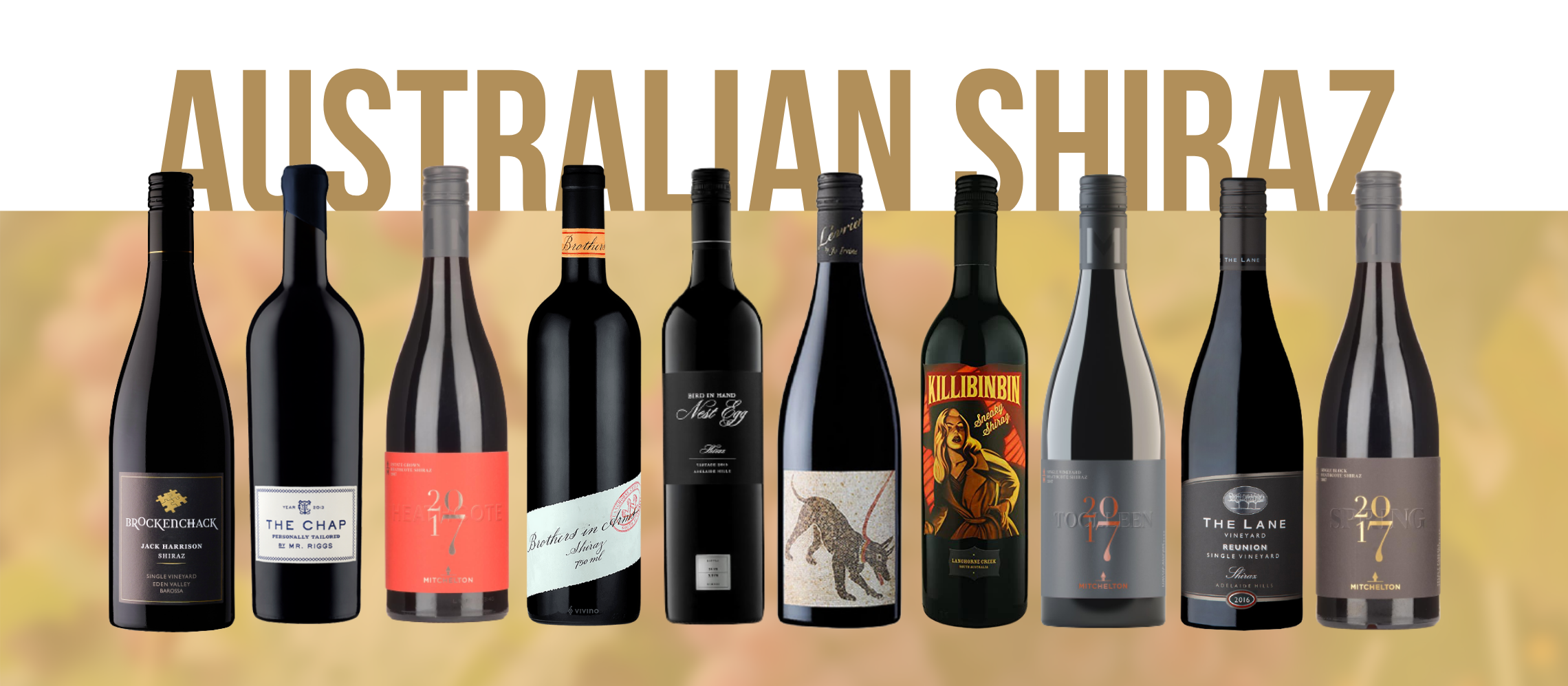 Top 10 Australian Shiraz of 2021
Shop our selection of the top 10 award-winning Australian Shiraz that is going to steal the spotlight in 2021. 
There are endless options when you want to select a bottle of shiraz. So why not the bottles that offer incredible quality, packaging, and value. Below is the list of the top 10 Shiraz wines that were personally handpicked and chosen by some of Europe's most renowned sommeliers and wine experts at the London Wine Competition this year.
1. Mr. Riggs 2014 The Chap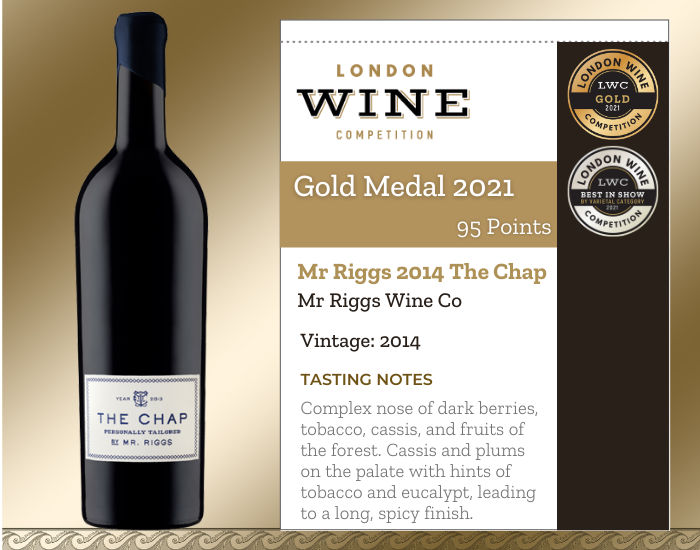 Smashing score of 95 points, Mr. Riggs 2014 The Chap produced by Mr. Riggs Wine Co is the top gold medalist from our list. This shiraz also won the title of "Best In Show by Varietal". The wine is Ben Riggs' is an interpretation of traditional blending techniques, crafted with fruit from McLaren Vale and Coonawarra Vineyards. Because it is created to order for each vintage, this wine is customized, well-cut, and an homage to past blending masters.
Tasting Notes: Complex nose of dark berries, tobacco, cassis, and fruits of the forest. Cassis and plums on the palate with hints of tobacco and eucalypt, leading to a long, spicy finish.
2. Nest Egg Shiraz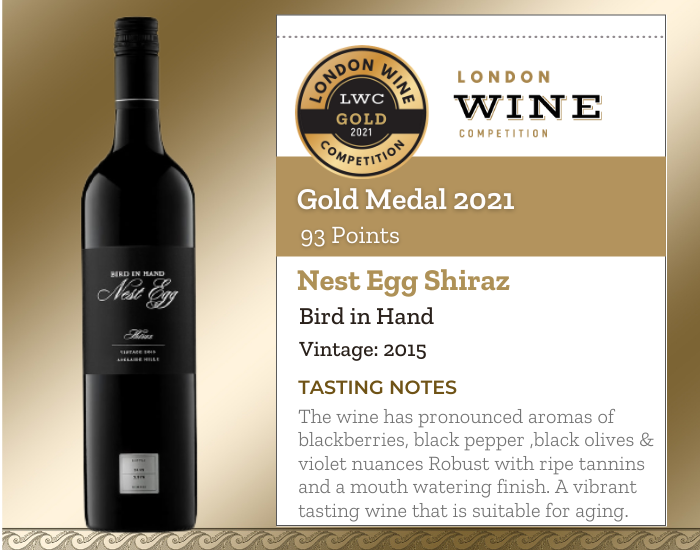 This Nest Egg Shiraz is Bird in Hand's limited release produced only in exceptional vintages, with each bottle individually numbered that earned a gold medal with 93 points. With brambly blackberries, cracked pepper, nuanced floral violets, and black olive, the Nest Egg Shiraz 2015 vintage is strong yet distinctly cool.
[[relatedPurchasesItems-44]]
Tasting Notes: The wine has pronounced aromas of blackberries, black pepper, black olives, and violet nuances Robust with ripe tannins and a mouth-watering finish. A vibrant tasting wine that is suitable for aging.
3. Mitchelton Toolleen Single Vineyard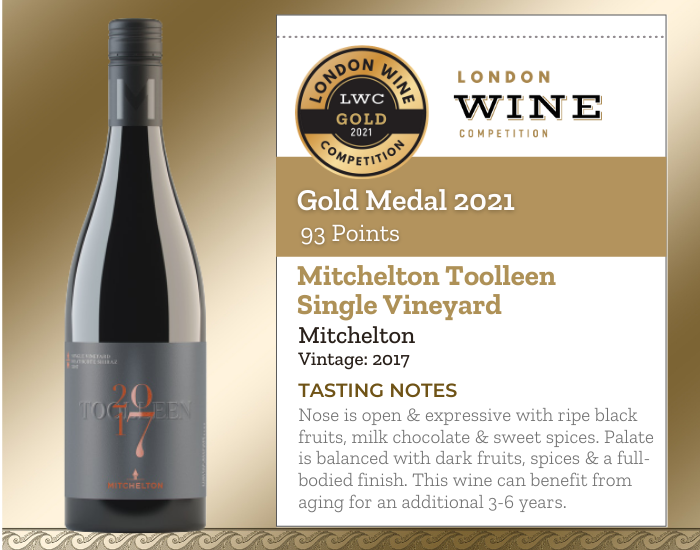 Winning a gold medal with 93 points, Mitchelton Toolleen Single Vineyard 2017 is produced by Mitchelton. This shiraz has an intense aroma of dark mulberries, fresh blackberries, and anise with perfumed oak toast. The wine reveals layers of blood cherry, blackberry, oak spice, and complex savory flavors on the palate. Fine-grained French oak and strong fruit tannins work together to provide the deep core of concentrated, pure fruit structure, balance, and persistence.
Tasting notes: Nose is open and expressive with ripe black fruits, milk chocolate, and sweet spices. The palate is balanced with dark fruits, spices, and a full-bodied finish. This wine can benefit from aging for an additional 3-6 years.
4. Mitchelton Spring Block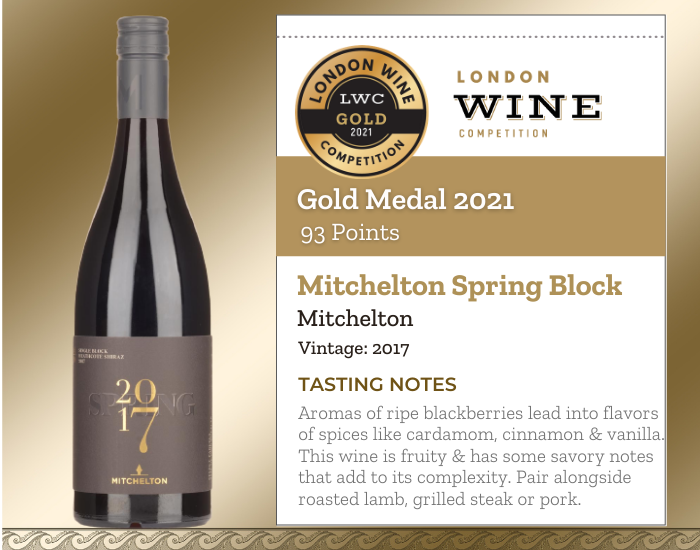 The winning streak continues for Mitchelton as it's one more shiraz — Mitchelton Spring Block won a gold medal with an excellent score of 93 points. The grapes of this wine were carefully selected and handpicked from the Spring block within our Toolleen vineyard in Heathcote. On the nose, the wine gives fresh aromas of red and black fruits along with a hint of tar with lifted perfumed floral and spice notes.
Tasting notes: Aromas of ripe blackberries lead into flavors of spices like cardamom, cinnamon, and vanilla. This wine is fruity and has some savory notes that add to its complexity. Pair alongside roasted lamb, grilled steak, or pork.
5. 2018 Killibinbin Sneaky Shiraz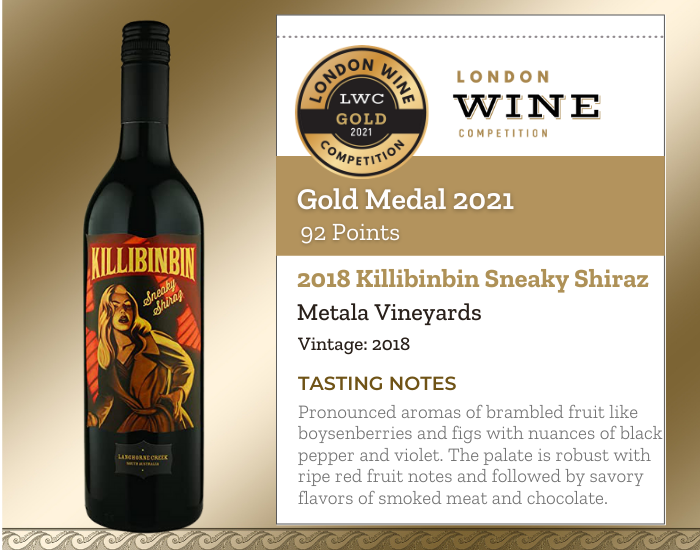 Produced by Metala Vineyards, 2018 Killibinbin Sneaky Shiraz obtained a gold medal with an excellent score of 92 points. has a bright crimson in color with lovely raspberry coulis and red fruit medley with vanilla. The wine is medium-bodied on the palate, yet mouth-filling, approachable and generous. Read what our wine experts think this Australian Shiraz below:
Tasting notes: Pronounced aromas of brambled fruit like boysenberries and figs with nuances of black pepper and violet. The palate is robust with ripe red fruit notes and followed by savory flavors of smoked meat and chocolate.
6. Brockenchack 2017 Jack Harrison Shiraz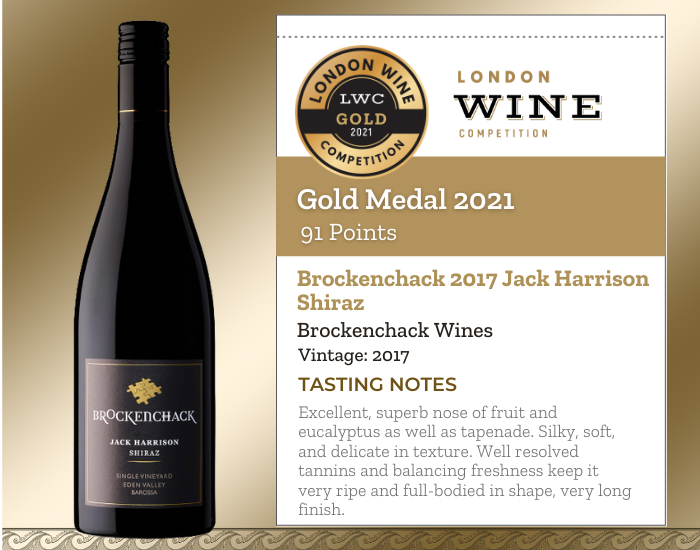 Crafted by Brockenchack Wines, 2017 Jack Harrison Shiraz is full of luscious black and blueberry fruits, morello cherry, chocolate, truffles, and undertones of cardamom spice. The wine is a deep and brooding expression of Eden Valley fruit, with a rich crimson color. With a score of 91 points, this Australian shiraz took home the gold prize.
Tasting notes: Excellent, superb nose of fruit and eucalyptus as well as tapenade. Silky, soft, and delicate in texture. Well resolved tannins and balancing freshness keep it very ripe and full-bodied in shape, very long finish.
7. Levrier by Jo Irvine 2015 Argos Shiraz
Produced by Levrier by Jo Irvine, 2015 Argos Shiraz is matured in the finest French oak for 24 months. The wine creates the most generous, aromatic, and deep flavored sophisticated shiraz imaginable, much like many of the conversations and relationships formed while falling in love with Levrier wine-making styles.
The shiraz impressed our judges and won a gold medal with a total score of 91 points. Below are the tasting notes are given by our experts.
Tasting notes: Brightly fruited Eden Valley Shiraz with notes of blackberry, blackcurrant, and red cherry held together in a full-bodied ripe wine. Pairs well with a rich and fatty steak. Good to keep for another decade, or more.
8. 2019 Brothers in Arms Shiraz
2019 Brothers in Arms Shiraz is produced by Brothers in Arms Vineyards. The colour of this wine is vivid crimson. On the nose, notes of eucalyptus and cedar blend with dark chocolate, plum, and raspberry. This beautiful wine comes from the Langhorne Creek region's oldest Shiraz vineyard, which was 123 years old when harvested.
This wine is full-bodied but approachable, with red fruits and spice on the palate and soft tannins that provide a long finish. The wine won a gold medal for its quality, value, and packaging with an impressive score of 91 points.
Tasting notes: The wine releases red and black fruits on the nose like redcurrant, black plum, hints of vanilla, and cloves. This wine is full-bodied with complex flavors of spices and hints of mint on the finish.
9. The Lane Vineyard 2016 Reunion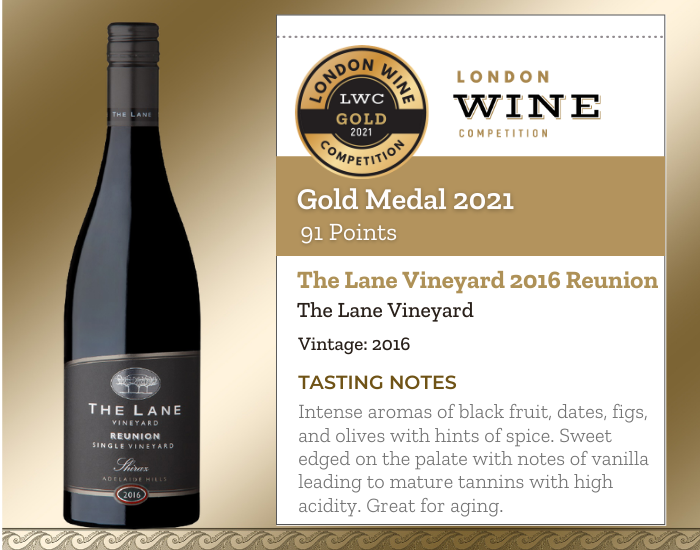 Another gold medalist with 91 points, The Lane Vineyard 2016 Reunion is produced by The Lane Vineyard. With the aromas of blackberry, dark chocolate, star anise, stewed plum, and toasted oak. On the palate, it gives a great taste of fruits, sweet spices, black pepper, cherry compote, fine toasty oak, robust mouth coating soft tannins, and a luxurious palate.
Tasting notes: Intense aromas of black fruit, dates, figs, and olives with hints of spice. Sweet edged on the palate with notes of vanilla leading to mature tannins with high acidity. Great for aging.
10. Mitchelton Heathcote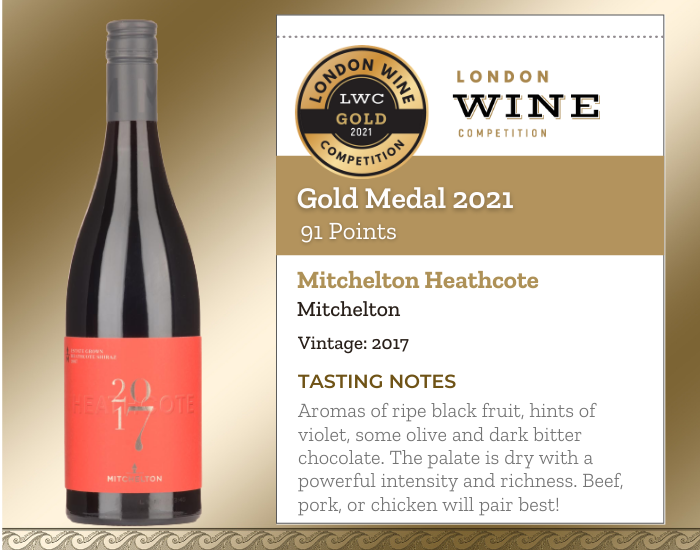 Yet another one from Mitchelton. Mitchelton Heathcote is dark crimson red with purple hues in color. On the nose, it gives an intense aroma of fresh mulberries, blackcurrants, dark plums along charry French oak. It gives a complex layer of blood plum, blackberry, licorice, and beautiful oak flavors on the palate. The wine was carefully selected and handpicked from our Estate vineyard in Heathcote.
This shiraz won a gold medal with a total score of 91 points. Our experts defined the wine as below.
Tasting notes: Aromas of ripe black fruit, hints of violet, some olive and dark bitter chocolate. The palate is dry with powerful intensity and richness. Beef, pork, or chicken will pair best!