Early Deadline
December 20, 2023
Enter Now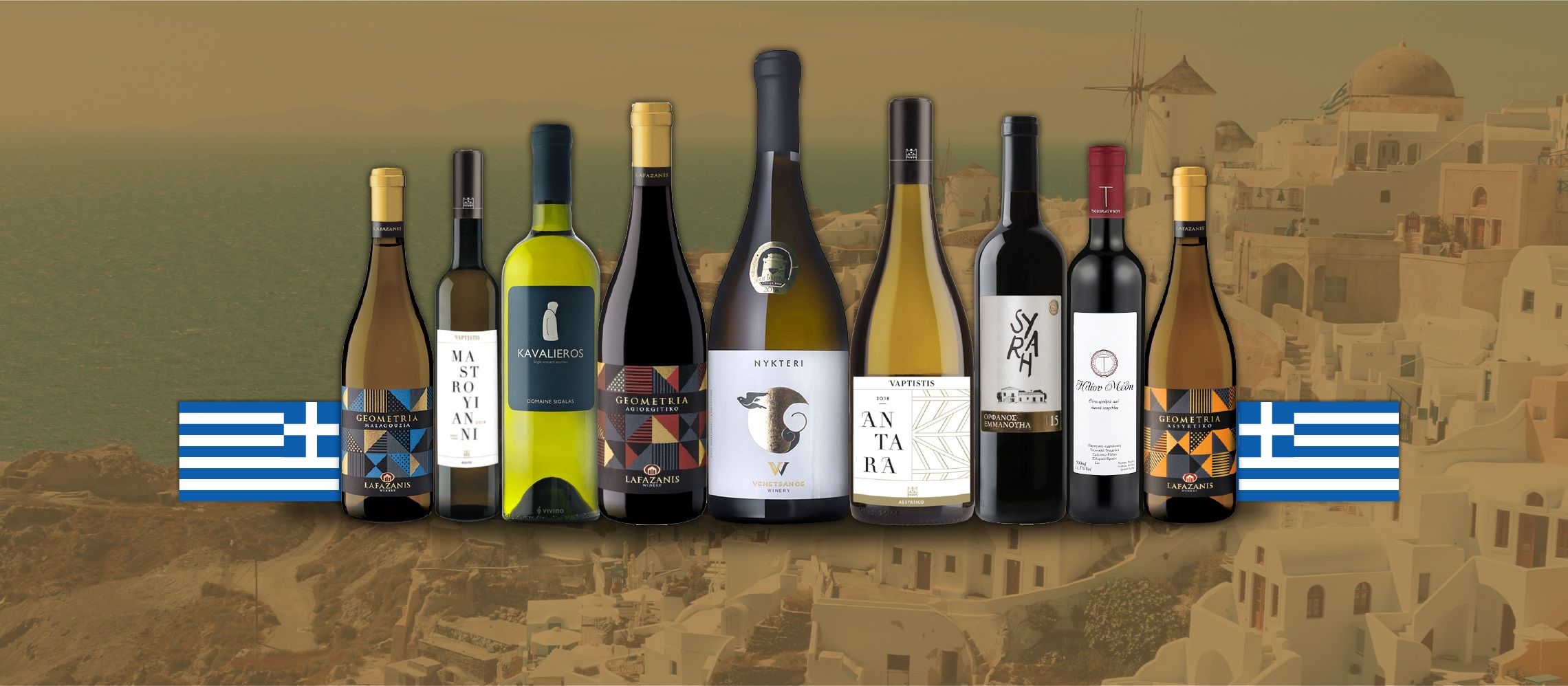 12 Must-Try Wines From The Lands Of Dionysus
To consider and experience the true Oenophilia here's to the wines that one must try from Greece.
An Oenophile must always be open to the possibility of trying new wine whether it's a Cabernet Sauvignon, Chardonnay, or a Merlot, and when it comes to Greek Oinos the experience has to have some given privilege considering the fact that it comes from the land of the wine god, Dionysus. All facts checked here are the 12 wines that you need to try to know why wine is considered to be the drink of God. Now, these wines went through a very scrutinized process of being reviewed by wine experts and judges to be evaluated in the segments of Value for money, packaging, and taste to make it to the top 100 wines, and to make it to the top 100 is all the evidence we need to make them a must-try experience.
1. Nykteri
Nykteri 18 by Venetsanos winery arrives from the fresh vineyards of Akrotiri and Megalochori area. After a short frame of time it takes to process the pre-fermentation in a cold maceration environment, the must is moved to the French Oak barrels that follow the fermenting process that takes up to 4 months on fine lees with batonnage. Nykteri means 'all night long' which does not sound wrong considering that there wouldn't be an any better companion that would go through the entire process before filling your glass to savour the moment.
[[relatedPurchasesItems-44]]
Tasting notes: An impressive citric nose leading to beeswax, quince, tea, and pineapple on the palate with notes of vanilla. Great structure with a zingy finish.
Let's not forget that this vino has secured a gold medal in the London Wine Competition, the medals speak for this beverage right.
2. Mastroyianni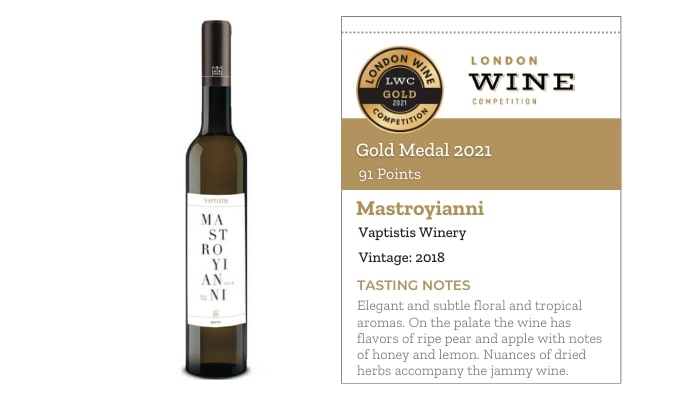 Mastroyianni by Vaptistis Winery is a sweet white wine produced from the Rodistis grape that is quite light while being syrupy with a very pleasant hint. The flavours consist of peppery with a touch of grape-jam aftertaste. Wondering about that tasting note to savour your Oinos the right way?
Tasting notes: Elegant and subtle floral and tropical aromas. On the palate, the wine has flavours of ripe pear and apple with notes of honey and lemon. Nuances of dried herbs accompany the jammy wine.
Well other than the fact that this wine is too delicious to not try, The Mastroyianni has bagged a gold medal and made it to the London Wine Competition like all the 7 wines on this list, of course, you would only get to know the best here.
3. Kavalieros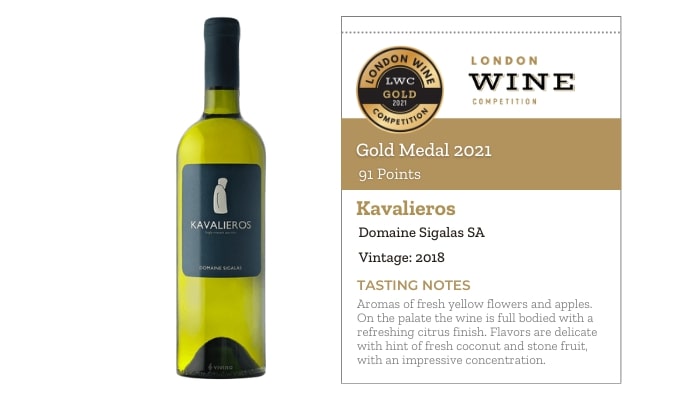 Kavalieros by Domaine Sigalas SA is a bright, straw blond coloured wine with a subtle touch of golden hues and a complex metallic nose. It has an intense aroma of citrus that arrives from a ripe lemon that is accompanied by a hint of citrus fruit and herbs. Comes with a rich body, refreshing acidity, and a long aftertaste that makes you want to pour yourself another glass of it.
Tasting notes: Aromas of fresh yellow flowers and apples. On the palate, the wine is full-bodied with a refreshing citrus finish. Flavours are delicate with a hint of fresh coconut and stone fruit, with an impressive concentration.
The Kavalieros has won a gold medal in the London Wine Competition which goes on to tell us the credibility of the wine, well like we mentioned you will want another glass of this wine.
4. Nykteri 2019
Nykteri 2019 by Venetsanos winery is another beauty that comes from the lands of Greece, this one is 2019 varietal and has an aroma and taste of its own with an elegant fragrance of Magnolias flowers and lemon to give a bright contrast to the sense of Mastic and Citrus jam that co-exist harmoniously without overshadowing other flavours and delivers the aftertaste that has a longing effect and a treat for your taste buds.
Tasting notes: A sensational nose leading to a floral palate with citric fruit, spice, lemon, sea salt, olive, and a toasty aftertaste. A great wine for the beach.
The Nykteri is another beverage from the Venetsanos Vinery that has won a gold medal because just one of their wines winning a gold medal was not enough to deliver the statement of excellence through their beverage.
5. Domaine Sigalas SA MM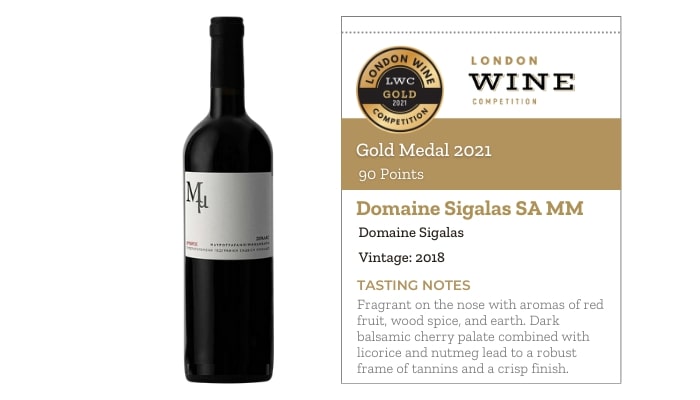 Domaine Sigalas SA MM by Domaine Sigalas is too bright flavoured while being terribly well-balanced. The intensity of the ripe fruit aroma with a hint of vanilla notes on the nose makes the contrast settle well in the aftertaste. The creamy tannins and the acidity just subtly bring out the plush fruit, well to keep it a bit more accurate, you will never have enough of this wine.
Tasting notes: Fragrant on the nose with aromas of red fruit, wood spice, and earth. Dark balsamic cherry palate combined with liquorice and nutmeg leads to a robust frame of tannins and a crisp finish.
The Domaine Sigalas SA has scored a gold medal in the London Wine Competition too, to back the brags and it shows. Enough to make you believe it comes from the lands of Dionysus.
6. Syrah 2017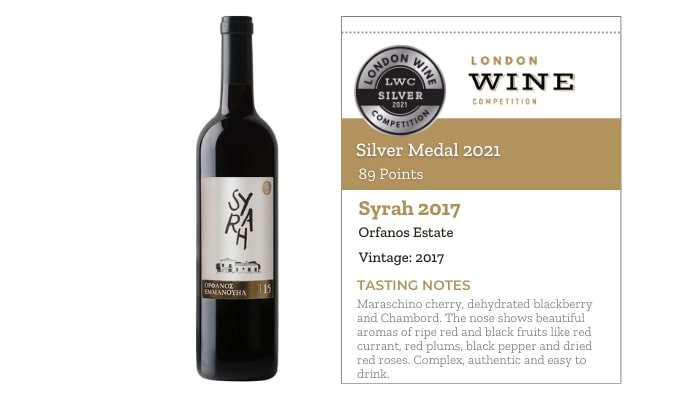 Syrah 2017 by Orfanos Estate is a Deep ruby-coloured wine that has a Nose with a red fruit flavour and mouth with soft tannins and a fruity aftertaste. De-scraping and then classic red wine vinification under controlled temperature conditions to bring out the best of the flavours from this wine that might convert anyone into an Oenophile, well the wine speaks for itself.
Tasting notes: Maraschino cherry, dehydrated blackberry, and Chambord. The nose shows beautiful aromas of ripe red and black fruits like red currant, red plums, black pepper, and dried red roses. Complex, authentic, and easy to drink.
The Syrah 2017 has also bagged a silver medal in the London Wine Competition to back the credits, they say the only regret you should have is that you did not get to try more wine, and here is how to resolve it - Pour yourself a glass of this Greek Oinos to experience Oenophilia the right way.
7. Geometria Assyrtiko PGI 2020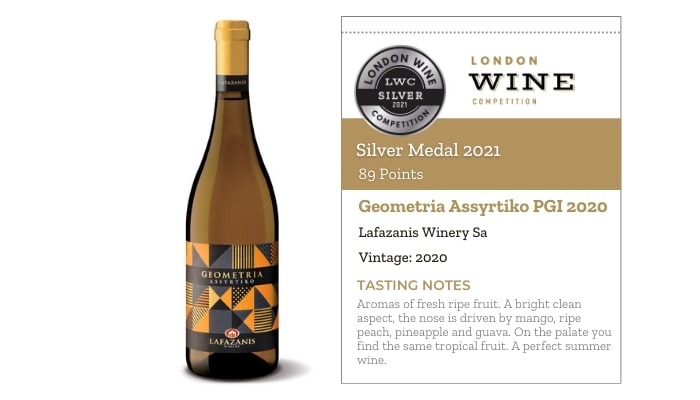 Geometria Assyrtiko PGI 2020 by Lafazanis Winery Sa is pale-yellow coloured wine. Flavours of white fruit, on the palate it appears to be well-balanced with good acidity and an aftertaste that will last long after. To sum it up in a much more subtle way the wine goes on to match the taste of the drinker.
Tasting notes: Aromas of fresh ripe fruit. A bright clean aspect, the nose is driven by mango, ripe peach, pineapple, and guava. On the palate, you find the same tropical fruit. A perfect summer wine.
The Geometria Assyrtiko PGI 2020 has won a silver medal in the London Wine Competition too, and the reward for this wine tells us that it had to make it to the list of wines you must try to know that it stands on the claims it makes.
8. Geometria Agiorgitiko PGI 2020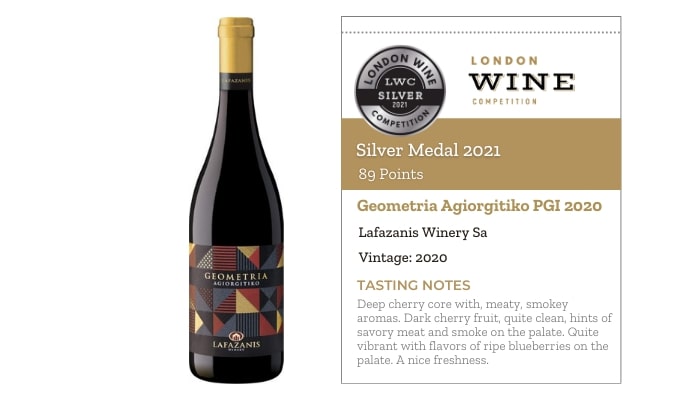 Geometria Agiorgitiko PGI 2020 by Lafazanis Winery Sa is Bright red-coloured wine with a touch of purple shade that makes a perfect contrast to complement the beverage, calling in the fragrance of red fruits such as Cherries and Plums, with black pepper notes. Good body with soft and round tannins with an extraordinary all-around finish to fit the suit the taste of the drinker.
Tasting notes: Deep cherry core with, meaty, smokey aromas. Dark cherry fruit, quite clean, hints of savoury meat, and smoke on the palate. Quite vibrant with flavours of ripe blueberries on the palate. A nice freshness.
The Geometria Agiorgitiko PGI 2020 to back the claims of its elegant taste has won a silver medal in the London Wine Competition.
9. Santorini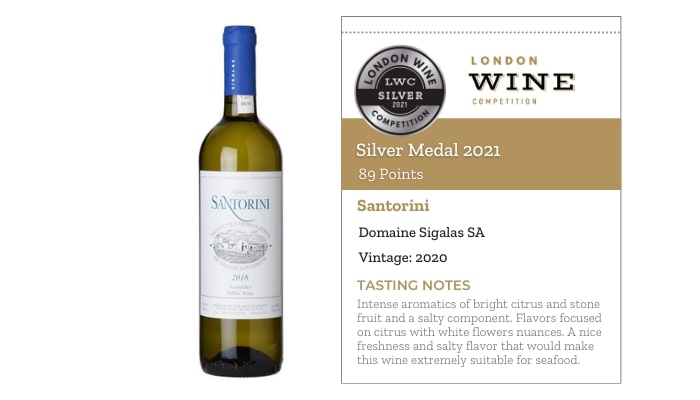 Santorini by Domaine Sigalas SA is a white wine, lemon-coloured with an aroma of mangoes, starfruit, lemon, and white flower that carry the fragrance with exquisite fragrance intensity. The acidity plays and comforts itself in the aroma of these abundant flavours. The bottle itself is a beauty that fits perfectly as the missing masterpiece to your cellar.
Tasting notes: Intense aromatics of bright citrus and stone fruit and a salty component. Flavours focused on citrus with white flower nuances. Nice freshness and salty flavour would make this wine extremely suitable for seafood.
The Santorini by Domaine Sigalas SA has claimed a silver medal for its perfectly balanced taste, aroma, and other factors such as value for money, packaging, and taste. Well, it does make sense to have this wine bag the medal.
10. Antara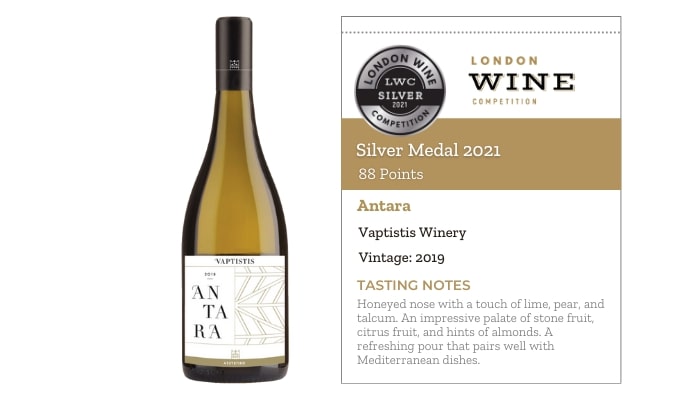 Antara by Vaptistis Winery is a convincingly seductive canary-yellow coloured white wine that goes on to have a rich depth and an intensely rich aroma, along with the reflections of silver. The fragrance is primely focused on fruity flavours however, it has a touch and tones of Jasmine and a slight hint of mint in it.
Tasting notes: Honeyed nose with a touch of lime, pear, and talcum. An impressive palate of stone fruit, citrus fruit, and hints of almonds. A refreshing pour that pairs well with Mediterranean dishes.
In the London Wine Competition, the Antara by Vaptistis Winery has won a silver medal, the reward for its overall taste, aroma, and aftertaste which seems like it has won for its worth.
11. Geometria Malagouzia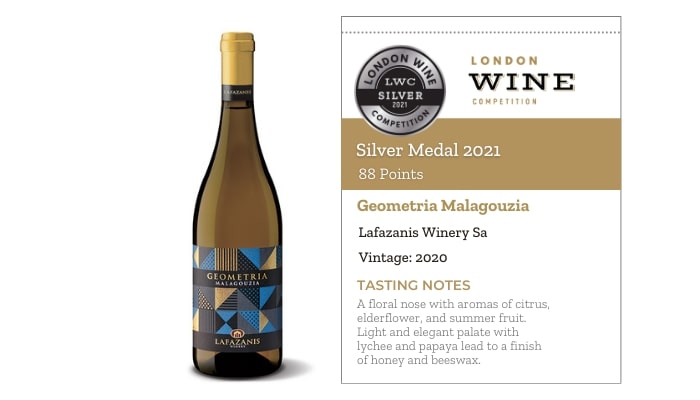 Geometria Malagouzia by Lafazanis Winery Sa is an elegant whitish yellow-coloured wine. Fragrances range from that of the Rose to that of Citrus. A hint of fresh mouthfeels with the addition of subtle acidity and a well-balanced taste with a touch of Rose and Citrus notes.
Tasting notes: A floral nose with aromas of citrus, elderflower, and summer fruit. Light and elegant palate with lychee and papaya lead to a finish of honey and beeswax.
The Geometria Malagouzia has won a silver medal in the London Wine Competition and established its taste has credibility and is an exquisite taste of Greek.
12. Iliou Methi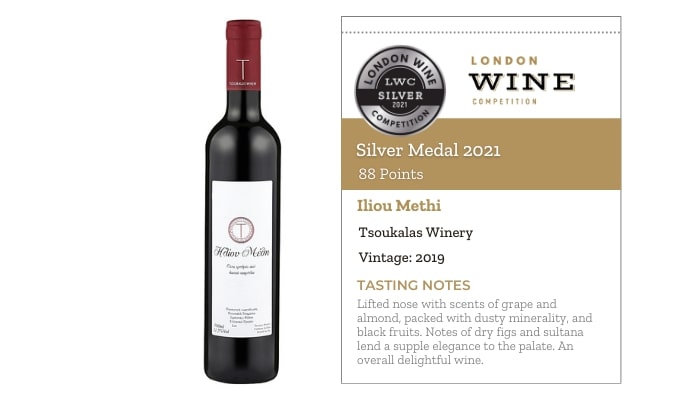 Iliou Methi by Tsoukalas Winery is a white wine variant produced on the lands of Peloponnese and Central Greece. In the last few years, it has dramatically gained popularity for its intense aroma and is considered to be the most aromatic Greek variety considering it gives an excellent fragrance of Muscat and has a longing aftertaste. It's taken as a dessert wine, but if you ask us, this wine does not need a reason to be opened and poured into your glass as a dessert, simply something for you to tell you why you deserve the best.
Tasting notes: Lifted nose with scents of grape and almond, packed with dusty minerality, and black fruits. Notes of dry figs and sultana lend a supple elegance to the palate. An overall delightful wine. Iliou Methi bagged a silver medal in the London Wine Competition for its overall appearance, taste and fragrance making it the silver medal winner.
Now Dionysus himself would be proud to see these wines carrying his legacy considering it was a wine that pleased the gods. While we Oenophiles can still try the taste of these beverages from the lands of Greece, it is an opportunity to be not missed while we have it.