Early Deadline
December 20, 2023
Enter Now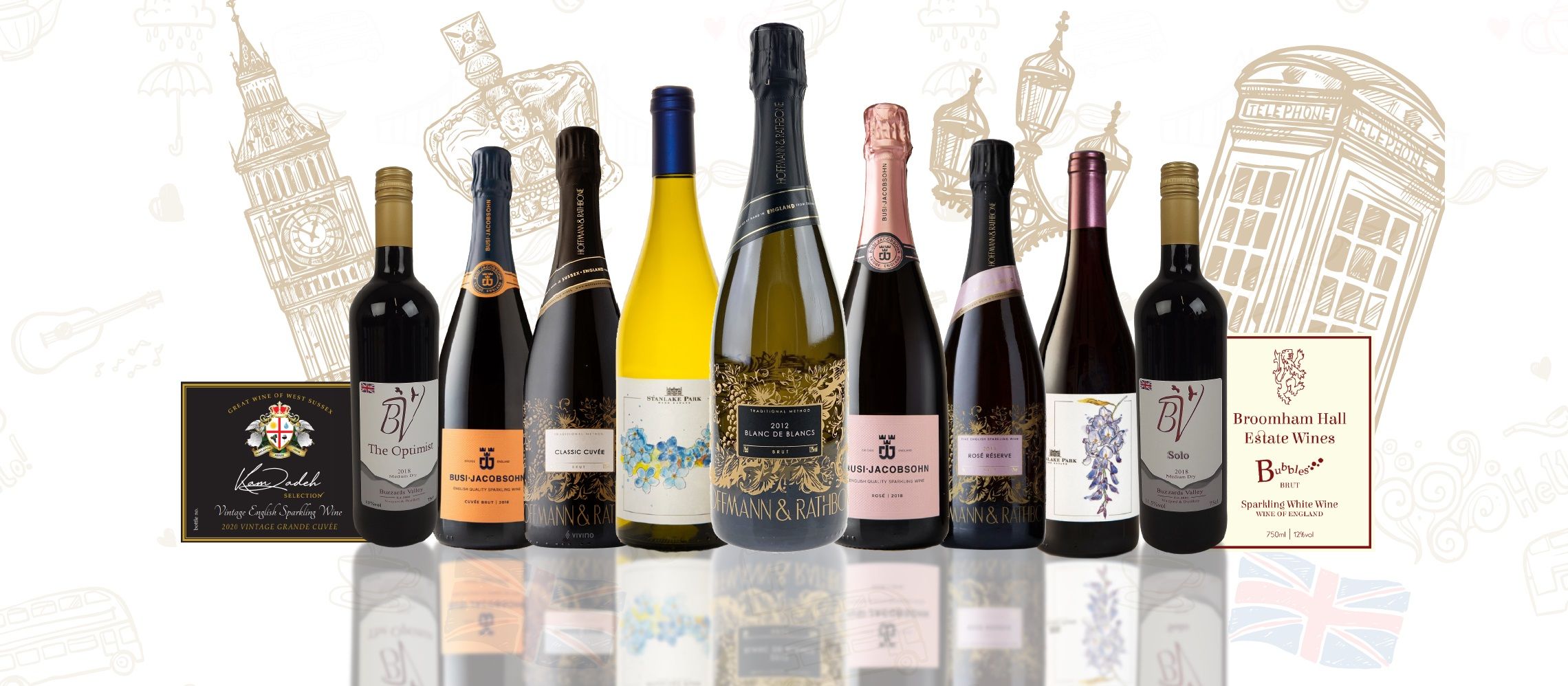 11 Best British Wines To Buy Now
Highly recommended by the UK's top masters of wine and sommeliers at the London Wine Competition, these are the best British wines to snap up now.
As UK's lockdown restrictions ease and hospitality opens up, millennials, retailers, restaurant owners are stocking up on wines in bulk. So why not a list of award-winning wines from the United Kingdom? The London Wine Competition 2021 judges have put together a selection of eleven British wines that have wowed our judges in terms of quality, value, and packaging.
1. Blanc de Blancs 2012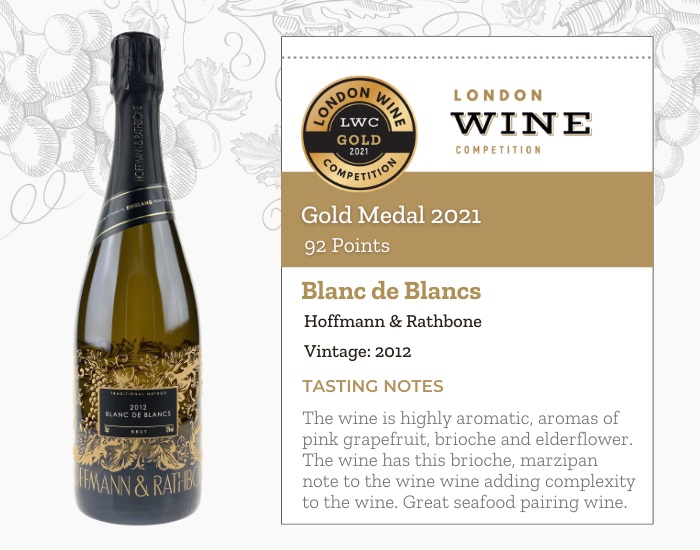 Smashing 92 points with a gold medal, Blanc de Blancs 2012 wine is produced by Hoffmann & Rathbone. Located in East Sussex, this Blanc de Blancs is a sparkling wine crafted from their best Chardonnay base wines. To combine the rich palate of citrus flavours with the richness of yeast and brioche scents that improve the long finish, the winemakers place a lot of attention on extensive ageing in their cellars.
[[relatedPurchasesItems-44]]
This is what our judging panel has to say about Blanc de Blancs: "The wine is highly aromatic, with aromas of pink grapefruit, brioche and elderflower. The wine has this brioche, marzipan note to the wine wine adding complexity to the wine. Great seafood pairing wine."
2. Classic Cuvée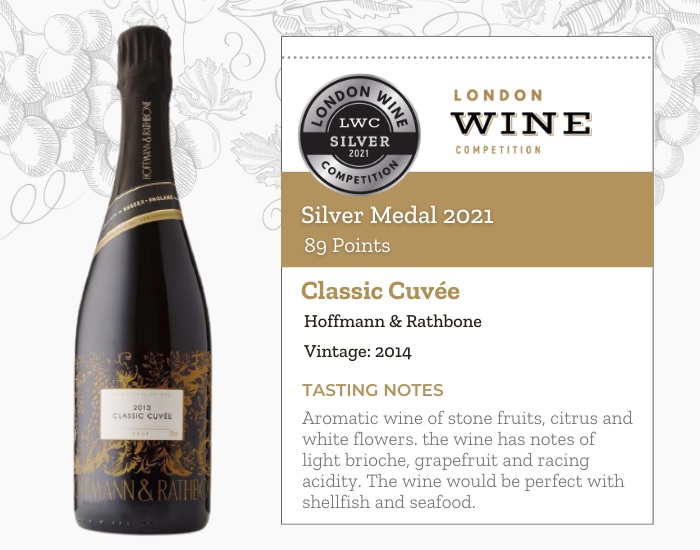 One more from the Hoffmann & Rathbone list, Classic Cuvée is expertly produced from four different blending components of Pinot Noir, Chardonnay, and Pinot Meunier, as well as two separate vineyards. The secret behind crafting wine is sourcing and hand-picking only the ripest grapes, then gently pressing them to extract the juice from the skins.
On winning a silver medal with 89 points, our experts on the panel described Classic Cuvée: "Aromatic wine of stone fruits, citrus and white flowers. The wine has notes of light brioche, grapefruit and racing acidity. The wine would be perfect with shellfish and seafood."
3. Pinot Noir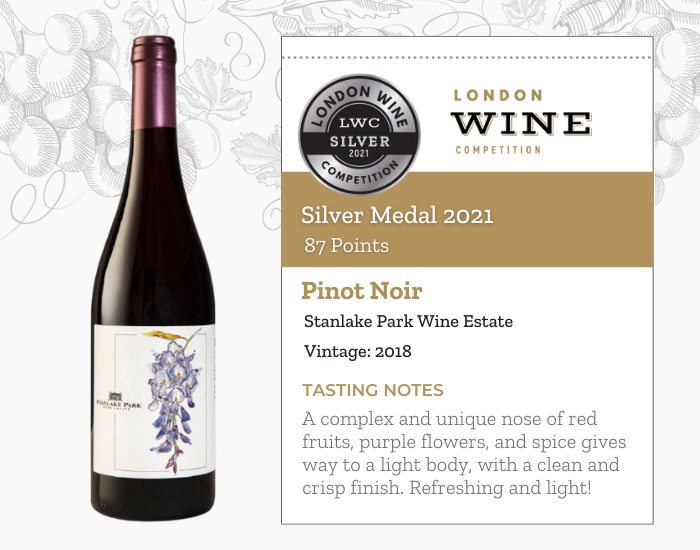 Here's one for all Pinot noir lovers! Pinot Noir produced by Stanlake Park Wine Estate has tannins that are super smooth, with a pleasant texture and a long finish. The wine is made with Pinot Noir grapes cultivated in the hot and dry summer of 2018. This limited-edition wine was matured in old oak barrels for a year to achieve a silky texture and a long, developing finish.
This pinot noir scooped a silver medal with a total score of 87 points.
Here's what our panelists wrote while reviewing this Pinot Noir, "A complex and unique nose of red fruits, purple flowers, and spice gives way to a light body, with a clean and crisp finish. Refreshing and light!"
4. Busi Jacobsohn Rose'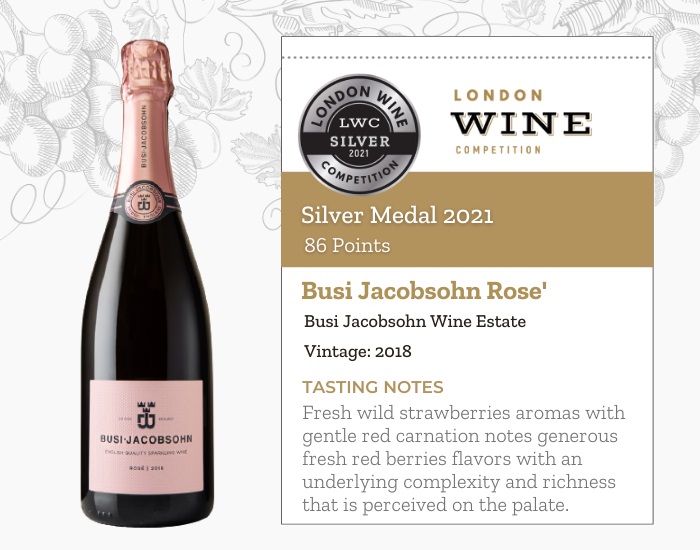 Made in the heart of Sussex, Busi Jacobsohn Rose 2018 is made up of Pinot Noir and oak barreled Pinot Meunier and has delicate floral flavours. The sparkling wine is produced by Busi Jacobsohn Wine Estate. This wine pairs well with both heavy foods like guinea fowl and cheese.
The rose has been awarded a silver medal with a total score of 86 points.
Here's tasting notes by our judges, "Fresh wild strawberries aromas with gentle red carnation note generous fresh red berries flavours with an underlying complexity and richness that is perceived on the palate."
5. Busi Jacobsohn Classic Cuvee' Brut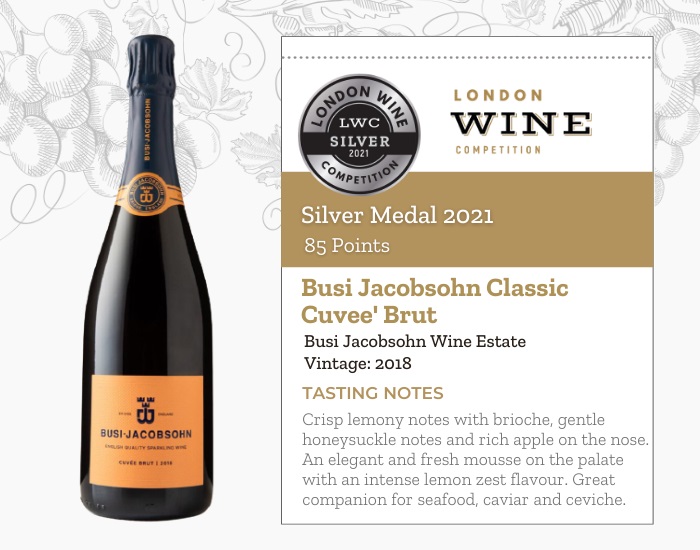 The winning streak is still going strong for Busi Jacobsohn Wine Estate, as Busi Jacobsohn Classic Cuvee' Brut claimed a silver medal with a score of 85 points.
Only grapes from our single estate vineyard in Eridge, East Sussex, right outside Tunbridge Wells, were used to make this wine. With aromas of biscuits, roasted nuts, oatmeal and apple, the wine has been gently released with good density. The winemaker suggested pairing the wine with Seafood, Salmon, Sushi, black caviar and even roasted chicken with truffle.
Tasting notes by our experts, "Crisp lemony notes with brioche, gentle honeysuckle notes and rich apple on the nose. An elegant and fresh mousse on the palate with an intense lemon zest flavour. Great companion for seafood, caviar and ceviche."
6. Rosé Réserve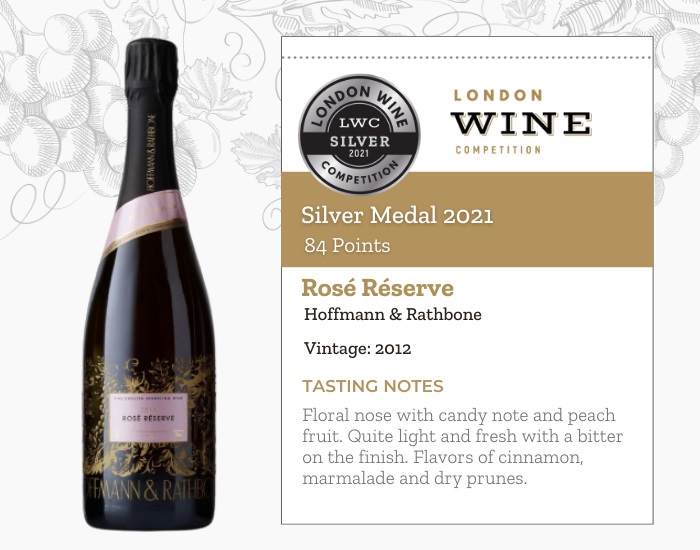 Rosé Réserve is made from a special blend of Pinot Noir and barrique fermented Chardonnay from four separate vineyards and five separate blending components. To give this wine its magnificent colour and rich red fruit flavour, a limited amount of Pinot Noir fruit is left to mature on the vine before being fermented in the Burgundian method.
Taking home a silver medal with 84 points, here are the tasting notes by our experts. "Floral nose with candy notes and peach fruit. Quite light and fresh with a bitter finish. Flavors of cinnamon, marmalade and dry prunes."
7. Kam Zadeh Selection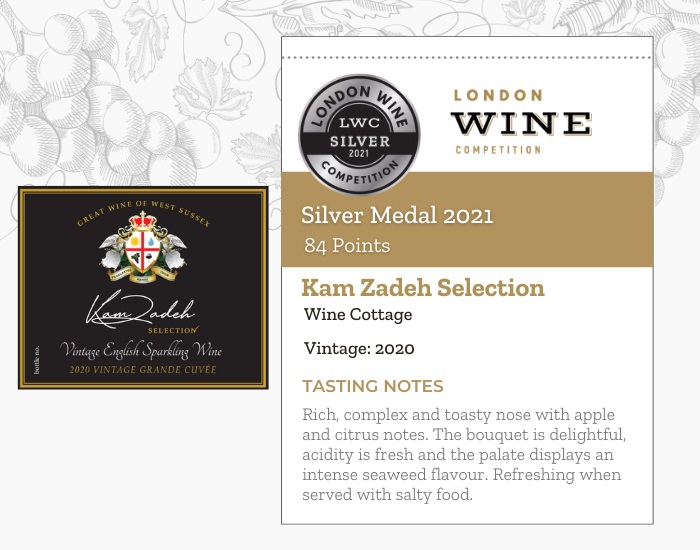 Made in Sussex, Kam Zadeh Selection by Wine Cottage won a silver award at the London Wine Competition. With a total score of 84 points, the wine was defined by our judges as, "Rich, complex and toasty nose with apple and citrus notes. The bouquet is delightful, acidity is fresh and the palate displays an intense seaweed flavour. Refreshing when served with salty food."
8. Optimist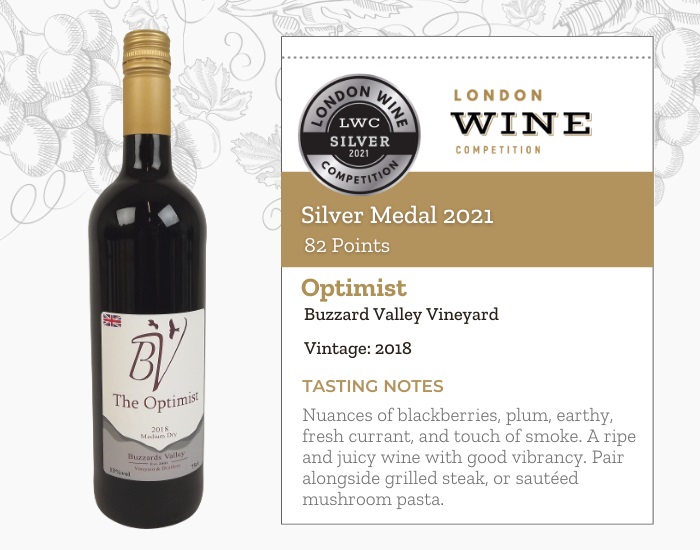 Produced by Buzzard Valley Vineyard, Optimist wine is mouthwatering and luscious. On the palate, the wine has a bright fruity palette of sour cherries, soft plums, and vanilla on the scent and a bright fruity palate of cherries, almonds, and blackcurrants. The wine pairs well with pastas, meats, and a rich cheese plate. It's not too hefty, so it'll keep up with a nice sociable evening or function. This wine bagged a silver medal by scoring 84 points at this year's competition.
This is how our panel of judges defined wine, "Nuances of blackberries, plum, earthy, fresh currant, and a touch of smoke. A ripe and juicy wine with good vibrancy. Pair alongside grilled steak, or sautéed mushroom pasta."
9. Solo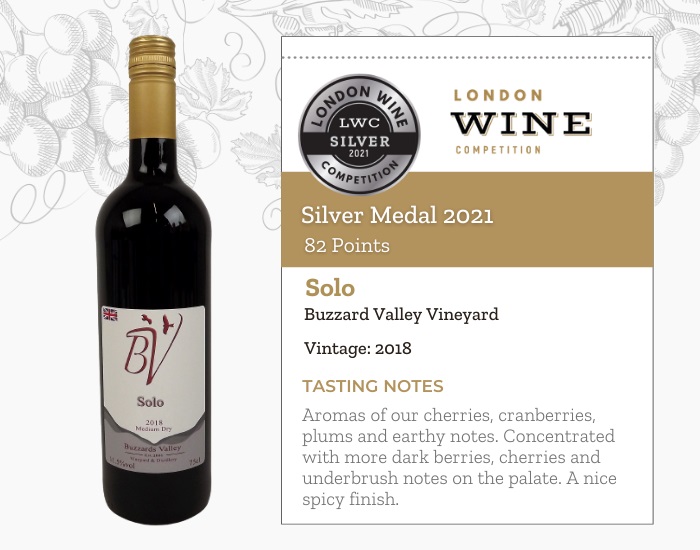 Produced by Buzzard Valley Vineyard, Solo won a silver medal with 82 points. Solo is a delicate wine bottled uniquely in the regent style, as it was fermented exclusively on its own skins. On the nose, the wine is dark cherry with earthiness. The wine spilt with hints of tart cherries and heavy tannins, suitable for midday meals. It is served with red meat meals from Italy or a gastro burger.
Tasting notes by our judges, "Aromas of our cherries, cranberries, plums and earthy notes. Concentrated with more dark berries, cherries and underbrush notes on the palate. A nice spicy finish."
10. Bubbles Brut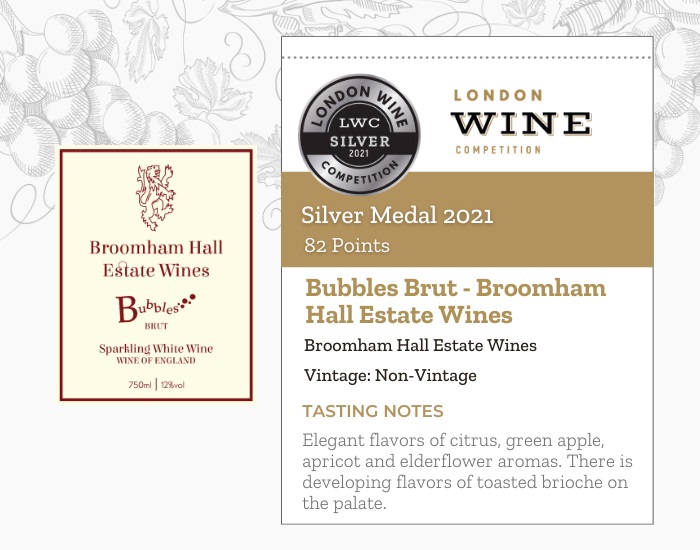 Awarded a silver medal with 81 points, Bubbles Brut is produced by Broomham Hall Estate Wines. Our experts on the judging defined the wine as, "Elegant flavors of citrus, green apple, apricot and elderflower aromas. There are developing flavours of toasted brioche on the palate."
11. Madeleine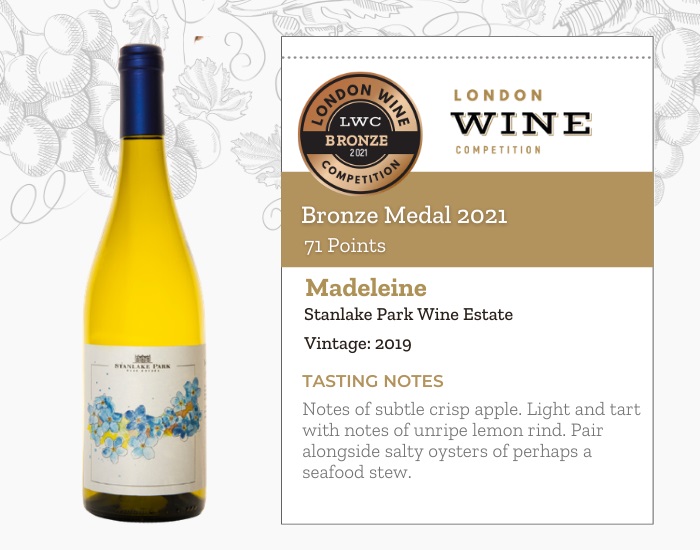 Another one from Stanlake Park Wine Estate! Launched in November 2020, Madeleine is freshly made with Madeleine Angevine grapes. On the palate, it's silky smooth, invigorating, and has a lengthy finish reminiscent of spring bloom. With overtones of chamomile, fresh herbs, and ripe apple, this wine is fragrant, flowery, and delicate.
On winning a bronze medal with 72 points, the experts defined this wine as, "Notes of subtle crisp apple. Light and tart with notes of unripe lemon rind. Pair alongside salty oysters or perhaps a seafood stew."