Early Deadline
December 20, 2023
Enter Now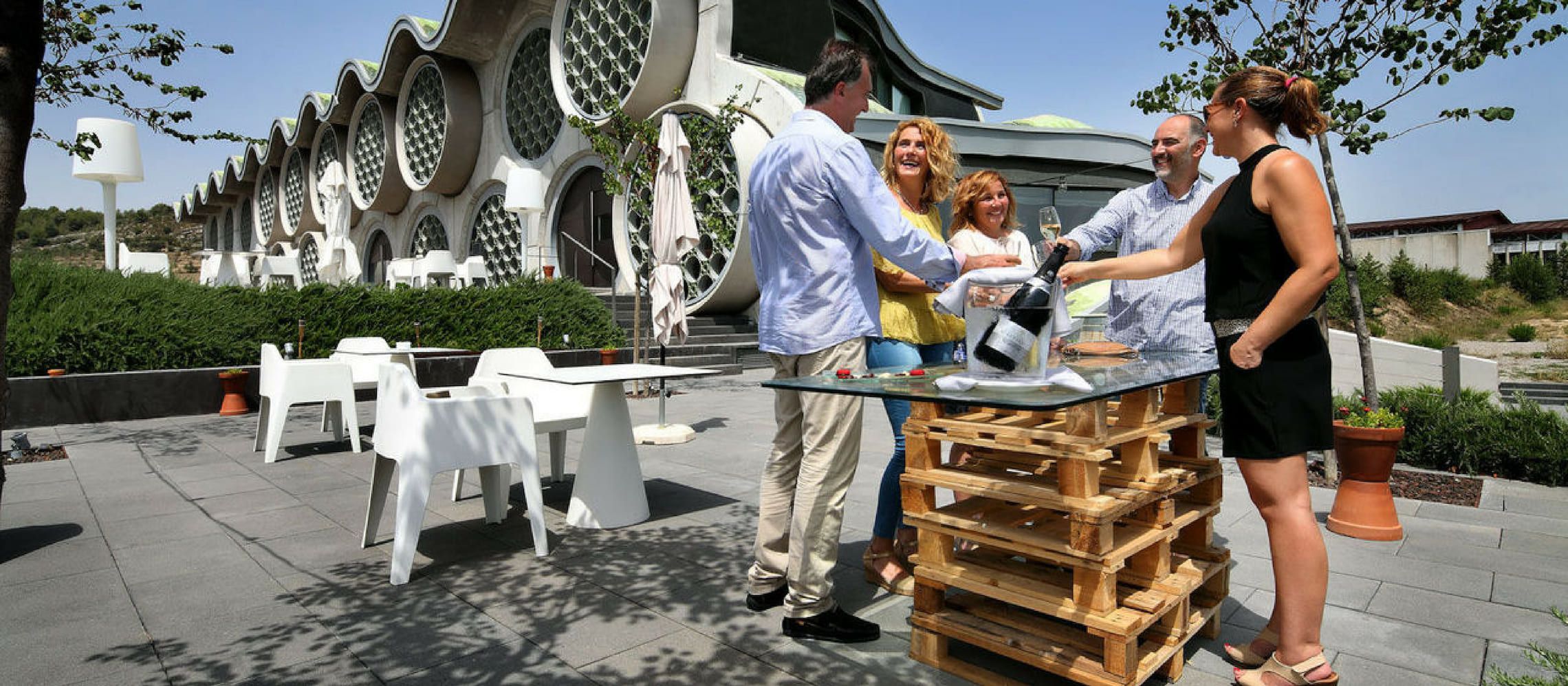 Top Winery and Vineyard Hotels in Spain
Here is a complete selection of Spain's captivating wineries and vineyards with accommodation.
Spain is home to phenomenal wineries and vineyards. Its tourism is continually getting better due to the wine regions including La Rioja, Ribera del Duero, Penedès, Priorat, Sherry and Rias Baixas. With the growing tourism, the concept of winery and vineyard hotels has emerged in the last few years. They are the working wineries or vineyards with accommodation. Over here, you can sample the wine and learn about the processes implicated in making wine, from grape to bottle.
[[relatedPurchasesItems-44]]
Browse our selection of some of the top winery and vineyard hotels in Spain.
Abadia Retuerta
Abadia Retuerta is a dazzling abbey that dates back to 1146. It was built on the banks of River Duero, by the Saint Norbert monks. Since then, it is dedicated to the vine. This hotel is home of sensory luxury and global experiences. It is surrounded by the aromas of vineyards, the fresh air, no noise, pure flavours in the mouth and thrilling wines. Between the walls of the 12th-century monastery, visitors can enjoy their time on outdoor pools, gym or yoga room.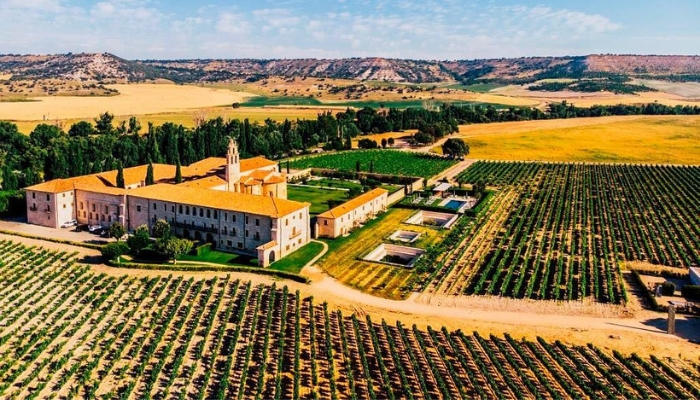 Ariel View of Abadia Retuerta
In history, the land of this abbey was an ancient estate with much wine-growing tradition. It makes this place a great potential for tourism combining large historical buildings with the appeal of quality wines. Today, this multi-award-winning luxury hotel produces fabulous wines and also has a spa with a Michelin starred restaurant, the Refectorio.
Mastinell Cava & Hotel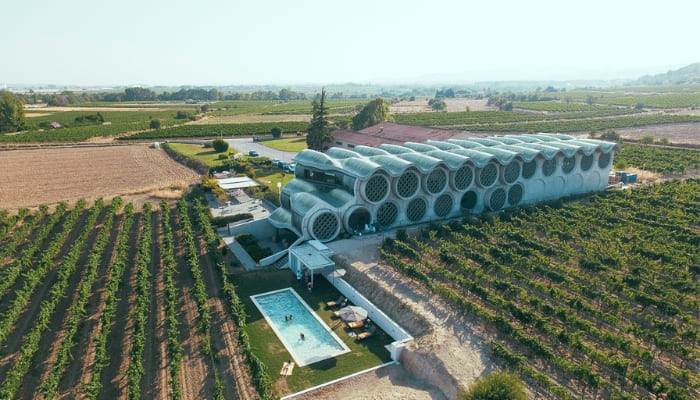 Ariel View of Mastinell Cava & Hotel
Mastinell is located in the heart of Villafranca del Penedès. It has six fully adaptable rooms that can accommodate up to 260 guests, gastronomic space, wine cellar, gardens and swimming pool. It has a unique architecture, with a sinuous shape of champagne bottles in a rack. Here, you can enjoy a relaxing wine therapy bath gazing at vineyards or go for a dive into the swimming pool. They also offer creative and healthy dishes prepared using local products, perfectly paired with the wines of the hotel.
Marques de Riscal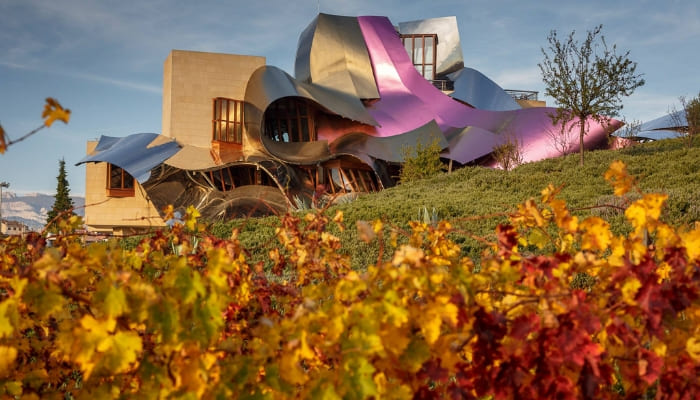 Titanium Roof marvel design on Marques de Riscal
Marques de Riscal is for the wine lovers who appreciate architecture. It is one of the most impressive winey hotels in Spain. If you are in Rioja, this is a must-visit. The Frank Gehry-designed, titanium-roof marvel placed side by side make a very ultra-traditional look for this hotel. They have paid so much attention to every detail of the design of this winery hotel. The Michelin star Marques de Riscal restaurant is operated under chef Francis Paniego. They will open the bottle of Riscal's fine old vintage with heated tongs if you order it. On the very top of the hotel, there is a cosy library which you shouldn't miss.
Mas La Boella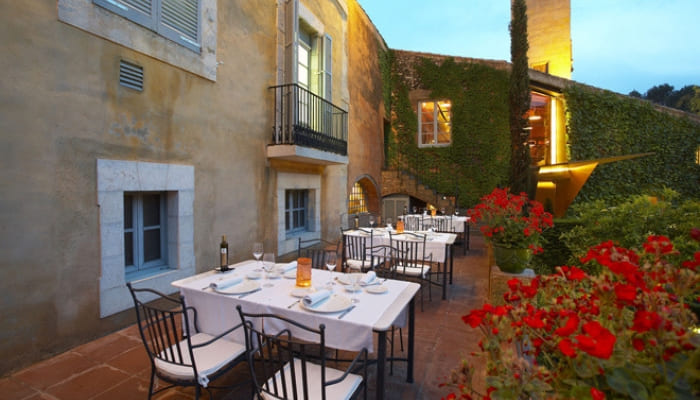 View of the garden of Mas La Boella
Mas La Boella is a boutique hotel located in the middle of a 110-hectare estate full of olive trees and gardens. It has a large convention centre La Boella Conventions Resort, a boutique hotel and restaurant Mas La Boella, a cellar with a wine bar and gourmet shop, and an oil mill La Boella Moli d'Oli.
Los Parajes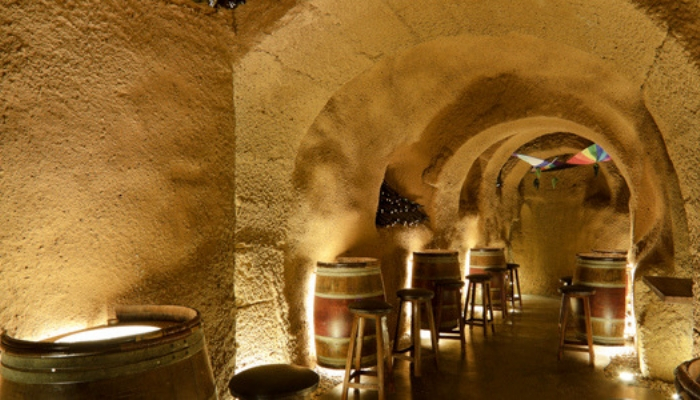 Caves in the basement of the Los Parajes
Los Parajes offers you everything you ever dreamed, including food, rest, wine, spa sessions, history, nature and all these in a unique environment. It has 18 rooms with exquisite interior and facilities. The two restaurants Los Parajes and Las Duelas offer a menu of dishes that have roots of its land, based on the exceptional quality of the products. The basement of the Hospederia is reserved for relaxation, health and beauty. There are extensive caves in the basement of the palace, carved in the sixteenth century. Its constant temperature is used to protect wine and food throughout the year. There is also a wine cellar, snack bar – Tapas and a wine shop.
Monastery of Valbuena
Outside Castilla Termal Monastery of Valbuena
Castilla Termal Monastery of Valbuena is situated in the heart of Ribera del Duero. It is the first spa hotel with five-star status in Castilla y Leon. The Monastery provides 79 rooms, all with high-quality facilities in more than 18,000 square meters of construction. The spa area is spread over 2000 square miles with 16 treatment rooms, a few thermal pools, water contrast circuit and a children pool. The function halls can accommodate up to 200 people. It also has an exclusive a-la-carte restaurant serving both traditional and modern cuisines, made with the highest quality products of Ribera del Duero. There is also a unique space of the Monks winery where you can enjoy the best wines of Ribera del Duero, and national as well as international scene.
Casal de Arman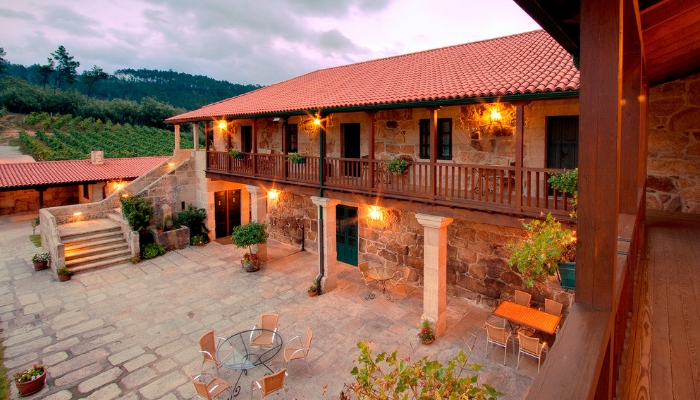 Breathtaking view from the passage in Casal de Arman
Casal de Arman hotel is situated next to the Ribeiro D.O. cellar. It has six rooms and a traditional cooking restaurant with a little bit of modernity. Visitors can enjoy anything related to wine, including cellar guided tours, videos about the entire winemaking process, tastings, visits to the vineyard, and participation in real-life cultivation and grape picking etc.