Early Deadline
December 20, 2023
Enter Now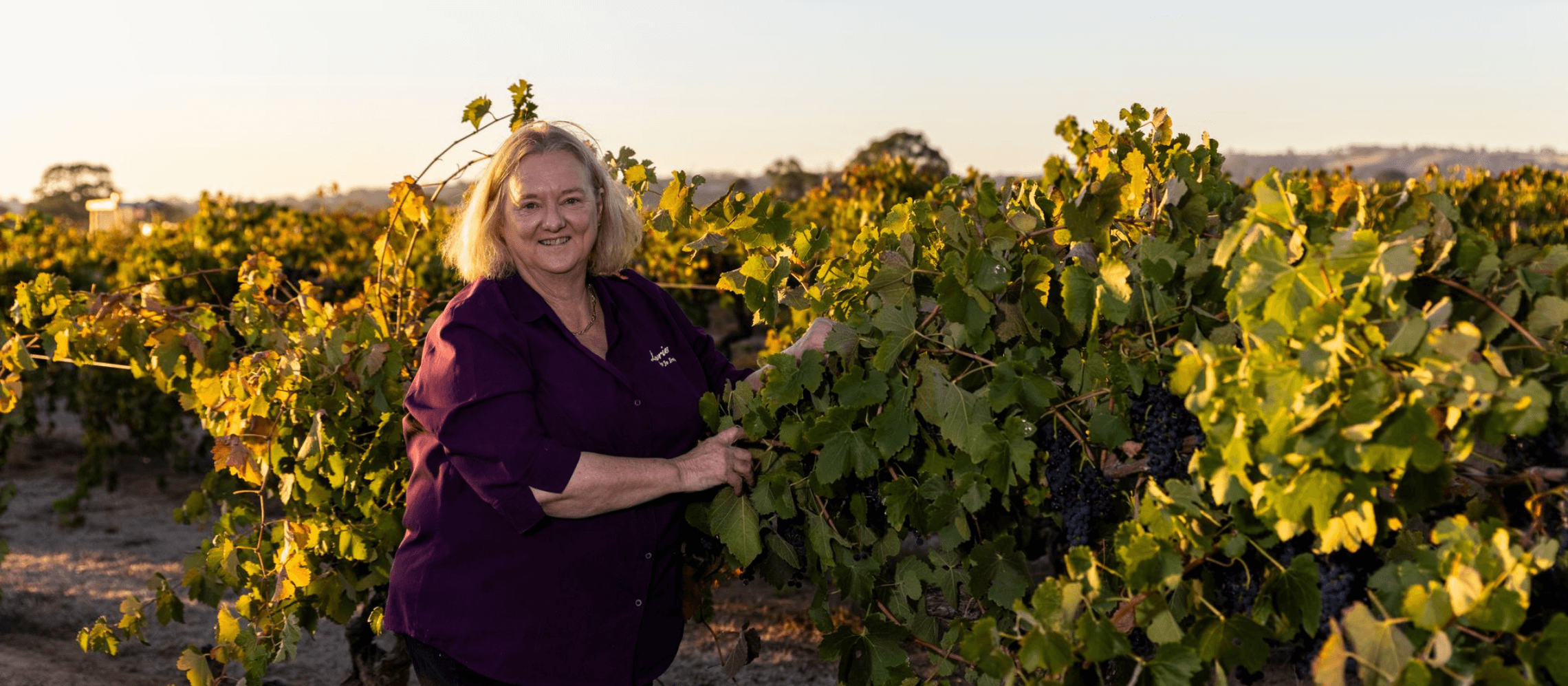 Joanne Irvine, Owner and Wine Maker at Levrier by Jo Irvine
Joanne's Passion For Winemaking Since The Age Of Seven- An Amazing Journey So Far!
Joanne's Tale
"My winemaking career began from a very early age. My father, James Irvine is known as the "Master Merlot Maker" and from the age of seven, I followed him around the winery, undertaking the ritual tasting of ferments and wine blending. After leaving school, instead of following the natural path into winemaking, I studied to become a nurse. My career as an operating theatre nurse spanned almost two decades, until I had what I refer to as a "mid-life crisis" and decided to follow my passion to become a winemaker. Whilst studying winemaking at university I was fortunate enough to work six vintages both in the Barossa Valley and California, USA.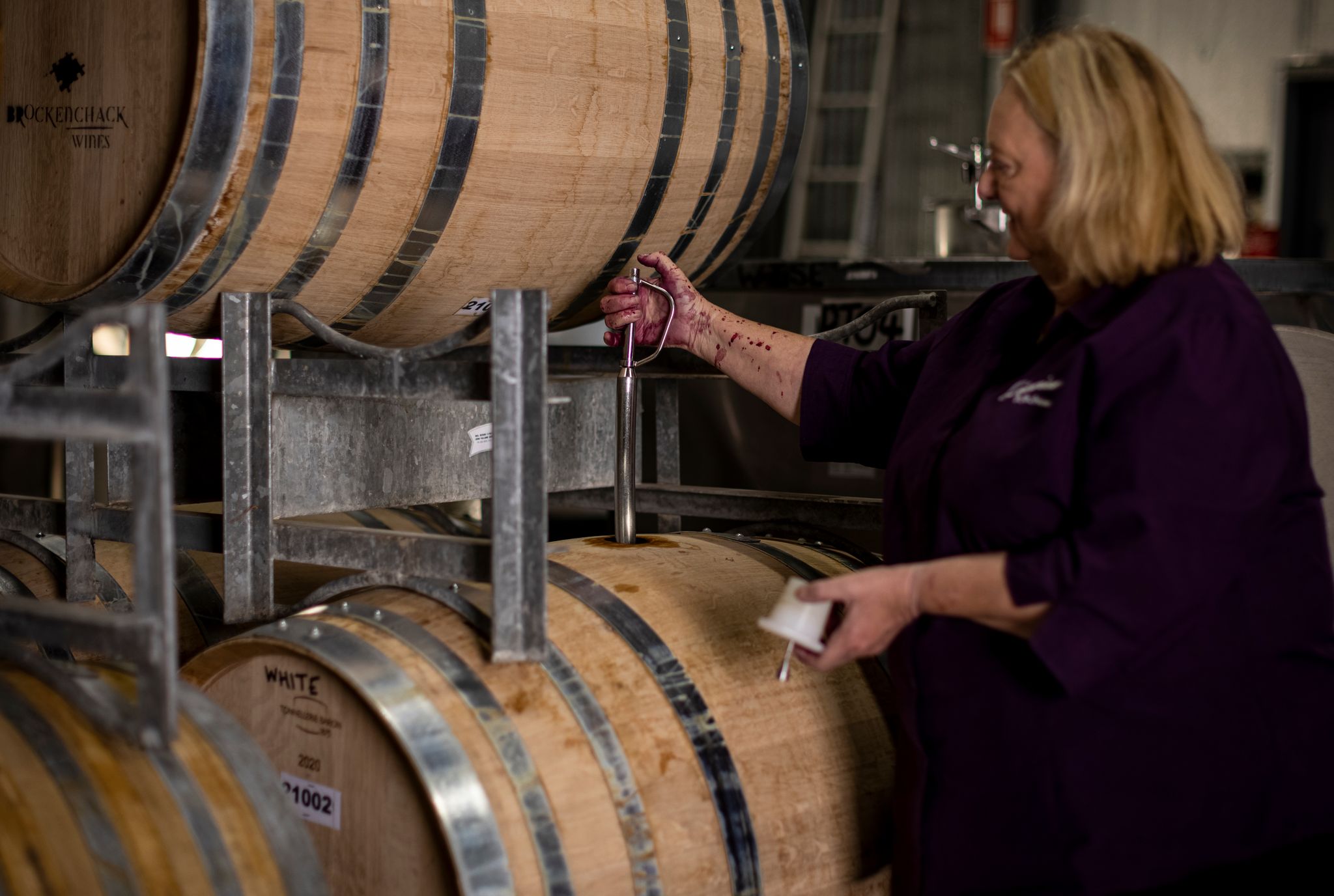 In 2003 I started my own wine consulting business and in 2010 with my partner, Peter and two young boys, established "Wine Wise", a 500-tonne purpose-built, small-batch processing facility in the Barossa Valley. "Great wines are created by synergy and attention to detail both in the vineyard and in the winery" and I am passionate about the quality of the wines that I produce for my clients. By providing specialized small-batch winemaking facilities to many smaller producers I am able to create unique wines from their vineyards.
It is every winemaker's dream to own their own label and in 2017 that dream came true with the release of my wine "Lévrier by Jo Irvine". Lévrier, a French word meaning greyhound, combines my love of winemaking and the advocacy I have for my greyhounds who have been a major part of my life for over 20 years. The love and respect I have for these gracious animals has led me to support the Greyhound Adoption Programme and adopt two greyhounds called Georgie and Daphne who man the office daily.
The first wine released was my Lévrier by Jo Irvine Meslier Sparkling Rosé. This was an exciting release for me as Meslier is considered one of the rarest Sparkling varieties. Our Meslier Brut Rosé is the only single varietal Meslier Rosé produced in the world. I also have another five wines in my Mosaic Collection, an Alsatian-style Pinot Gris, Shiraz, Cabernet Sauvignon, Zinfandel and a nine-year-old Mistelle Semillon.
To compliment my Mosaic Collection, I have released the Art Collection for everyday enjoyment. This collection includes a Chardonnay, Cabernet Franc, Merlot and a Merlot/Cabernet Sauvignon/Cabernet Franc blend.
I hope you enjoy my luxurious Lévrier wines as much as I enjoy creating them for you."
Wines
In an interview with Joanne, on asking about the brand identity, she says "Levrier is part of my history, it's a French word meaning 'Greyhound' and greyhounds have been part of my life ever since my winemaking career started. My first accidental encounter was with "Chilli" the greyhound.
Accidental because I was on my way home from the Riverland and picked up an injured greyhound off the side of the road, took him along to the vet, thinking he wouldn't be around long, but in the end, the vet saved him and Chilli and I were companions for eight years.
That is where my passion for these dogs started, they are loyal and kind, gentle, forgiving, and loving. So ever since then about 18 years ago, I've had three greyhounds now and they are all gorgeous. I get my dogs from the Greyhound Adoption Program so they are ex-racing greyhounds, adopted, and given a nice second home. They have a tough life to start with, but I give them a new one.This is why there is a combination of fine winemaking and history coming together with my Levrier wine collection as a complete desirable work of art, using the ancient mosaics of the dogs on my labels. My Wines are named in honor of these famous dogs. Sorter, Argos, Anubis and Peritas.
Importantly, part proceeds from my wine sales go to the Greyhound Adoption Program of South Australia"
For more info - Lévrier By Jo Irvine
Connect them on social media: