Early Deadline
December 20, 2023
Enter Now
The Zest is Yet to Come at Krug with Manuel Reman
An ode to timelessness, sip a bottle of Krug on a special occasion, or when you feel like making an occasion memorable says dynamic CEO, Manuel Reman
Manuel Reman took over the reins of Krug in April 2022 as the youngest CEO of the company at the age of 44. He has spent over two decades with Moët Hennessy in different roles. With a true passion for wines and now being at the helm of one of the oldest and most prestigious Champagne houses in the world, let's hear from Manue about the legacy he's maintaining with the newness he brings in.
In your year as President at Krug, what changes have you brought about at the company?
Krug is a House where everything changes and nothing changes, as we continue to be guided by the founding philosophy of Joseph Krug. Being true to this Vision in a constantly evolving environment is our challenge. Cellar Master Julie Cavil says "It would be easy to change something – anyone could do that – whereas the true challenge is keeping alive Joseph Krug's philosophy from 180 years ago, to perpetuate the same dream, Cellar Master after Cellar Master, and the same level of excellence blend after blend." That being said, the last 12 months have been very intense for the House.
Krug co-created an immersive symphony with the beloved late Ryuichi Sakamoto, we are about to open our new winery, a milestone for the House, which just celebrated its 180th anniversary, the winery will be completely eco-designed and bring us closer to our goals both in terms of sustainability and winemaking.
We also took strong commitments to sustainability. We are also making it easier for Krug Lovers from all geographies, and communities to enjoy Krug, opening Ambassades in China, and Thailand, and shipping our first bottles to Chile.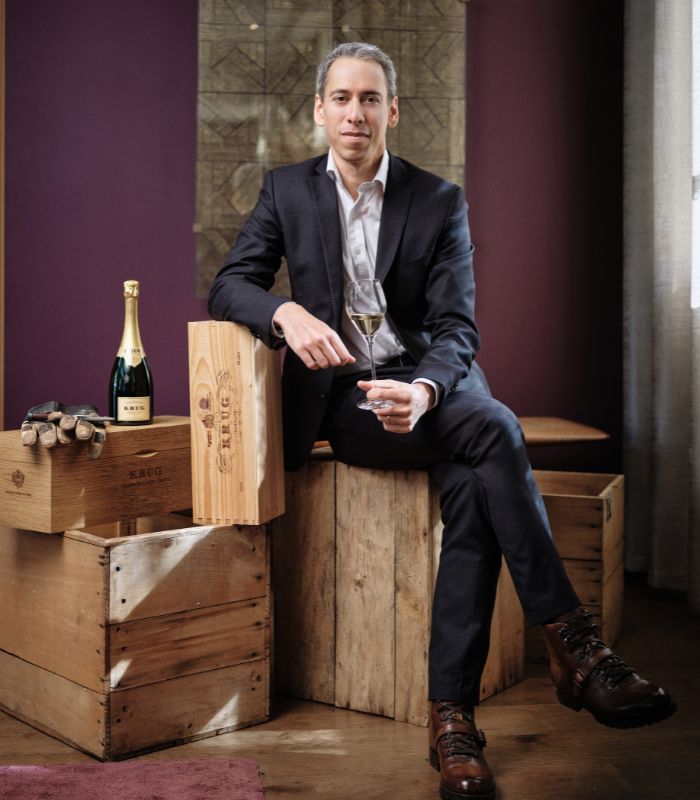 One thing that Krug does that is so unique and special is music pairings. You mentioned in a podcast that this began in the 1970s. How are these musical pairings done now?
That's true, and even before the 70s, music was an integral part of the Krug, as the Krug Family House in Reims was the first in the area to feature a salon de musique, or music room. In keeping with this tradition, today we connect with Krug Lover artists and invite them to the House to discover our champagnes through an extended tasting with Cellar Master Julie Cavil. The two discuss their respective crafts, as well as the sensations they perceive during the tasting. The artists then translate their experience into music, what we call Krug Echoes. Each composition is unique, as no two people will experience a glass of Krug the same way.
How are you maintaining the balance between limited supply and fulfilling the increasing demand for Krug worldwide?
We are delighted that so many people love Krug and we are constantly doing our best to meet demand. But unfortunately, we can't fulfil every demand. We also invite Krug Lovers into our world in other ways, such as through digital experiences, events, and pop-up Krug Studios.
I understand that you don't want to be part of greenwashing but consumers also want to know what Krug is doing to become more sustainable. I understand that Krug is highly sustainable and also aligns with LVMH's high standards of sustainability. Could you take us through some of the efforts Krug is taking in this aspect? Do you plan to make more of this information available on your website?
We are doing so many things – it is a topic that moves so quickly at Krug! We encourage biodiversity by planting hedges and cover crops. We use zero herbicide in our vineyards and our new winery, opening this year, is being built to High Environmental Quality standards. All our energy is renewable, and we do not use air shipping. We are part of the LVMH Life360 initiative whose objective is to reduce the Group's carbon footprint by 50% by 2026.
We do address sustainability on the website, but as it is such a dynamic area for us, we would have to update it constantly to keep up with everything we are doing. A major event for us is coming though, with the opening of our new winery next year. Situated in the Clos d'Ambonnay, it will co-exist in harmony with the environment and allow us to push the boundaries of our craft, in the true spirit of Joseph Krug.
Tell us more about Krug Rosé 27ème Édition, a blend of 38 wines from 9 different years.
With Joseph's non-conformist spirit at heart, in 1976, the 5thgeneration of the Krug family gave birth to a new composition, a bold rosé inspired by the House's reputed art of individuality, to be re-created each year – it was first presented in 1983. This year's Édition marks the 27th time that the dream of the 5th generation of the Krug family has been re-created. To craft it, Cellar Master Julie selected 38 wines for their delicacy or remarkable elegance. The youngest wine is from 2015 and the oldest is from 2005. It was completed with 10% traditionally macerated Pinot Noir of the year blended from plots in Aÿ and Mareuil-sur-Aÿ, to add a unique spiciness, colour and structure. Krug Rosé 27ème Édition was composed around the harvest of 2015, a year marked by unprecedented heat and drought that prevailed from the end of May to mid-August, slowing grape development. Fortunately, rains and reasonable temperatures in the second half of August allowed the berries to grow in optimal conditions. The harvest took place under the rain between August 31 and September 21, with great heterogeneity from plot to plot. Krug Rosé 27ème Édition is a composition that succeeds in marrying wines with very contrasting profiles, creating a perfect balance between substance and finesse.
How was this year's single ingredient 'Lemon' chosen?
That is a good question. It was a bold choice and led to fantastic creativity from Chefs!
Each year, in tribute to individuality, the art of understanding that each plot, through its wine, is a single ingredient in Krug Champagnes, we select a humble culinary ingredient and invite Krug Ambassade Chefs to unleash their creativity upon it by imagining pairing recipes for Krug Grande Cuvée and Krug Rosé. The single ingredient is always humble, unexpected, and readily available around the world and throughout the year. We chose lemon because we had never chosen a fruit before and because its flavours and aromas are mirrored in the tasting room. Furthermore, the many varieties of lemon offer limitless options for our Chefs to craft inspiring pairing recipes, as it pairs beautifully with the freshness of our Champagnes, and provides a wide range of flavours and aromas with which to play.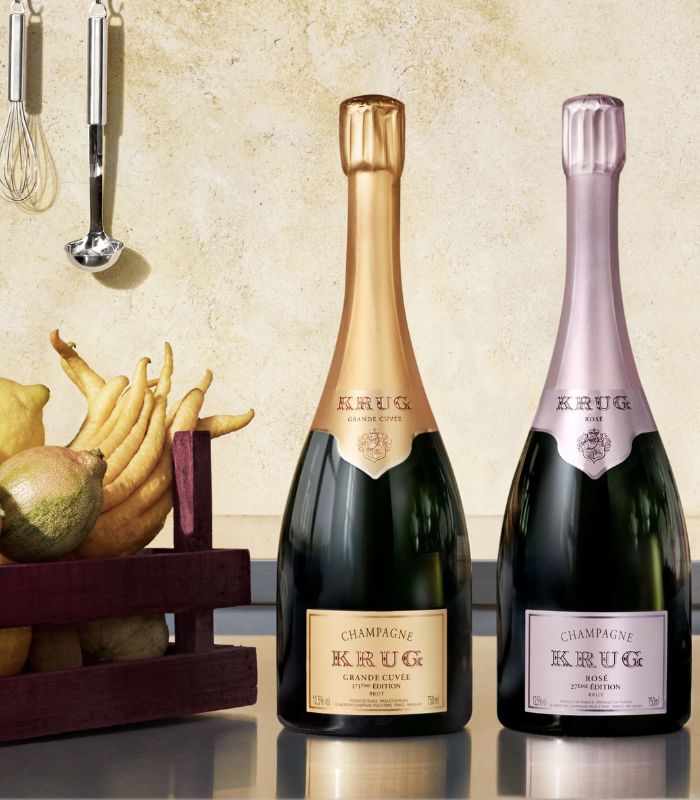 Where is Krug headed after Brazil? How are you selecting the countries for this journey?
Krug x Lemon events and dinners will continue throughout the year and around the world. As far as the trip is concerned, the destination is selected for its ties with the ingredient. Only time will tell where we head next!
[[relatedPurchasesItems-50]]
What is your favourite lemon recipe?
Not an easy one to answer because there are over 100 recipes, from highly talented Chefs in our Krug x Lemon cookbook, The Zest is Yet to Come, and I have not yet tried making them all, so I may discover a new favorite, but I must say I am partial to the Chef Arnaud Lallement's lemon illusion, which he calls "Lemon, like a real one!". It is a sumptuous dessert by the Chef and Owner of l'Assiette Champenoise*** who also happens to be the Master Chef of the Krug Family House. This recipe is, like Krug, an ode to patience: it requires 2 days of preparation!
Seeing Sound, Hearing Krug - what a special experience. How did this come about?
Long story short, it all started in NYC in 2019 when we invited the late Ryuichi Sakamoto, who had known Krug for decades, to experience an immersive music pairing with a glass of Krug Grande Cuvée. He was both surprised and fascinated by our musical approach, and it was clear we had shared values, so we decided to take a journey together through collaboration. The pandemic delayed things but also enabled us to take our time and get to know each other better. The result was a magnificent symphony in 3 movements: Suite for Krug in 2008, which you can discover online. We are honored to have been able to work with such an inspiring musical genius and deeply saddened by his passing.
What will the new Krug ID include?
Since 2011, the House invites Champagne lovers to enter the Krug iD – six digits printed on the back label of every Krug bottle – in a dedicated section of the Krug website, using the Krug App, via Twitter or Google, to take their experience one step further. The Krug iD reveals a detailed story of the Krug bottle, the Cellar Master's impressions of the year, Krug Music Pairing suggestions, food pairing inspiration, as well as recommendations for ideal storage and service to enhance every tasting of Krug Champagne. Through the revamp of this project, the Krug iD itself will not change, but it will have a totally new application with an improved user experience for Krug Lovers. It will also finally be available on Android (in addition to iOS), have a new interface, a more powerful Krug iD scanning tool, and content only accessible via the application.
What is your vision for Krug in the coming years?
Our vision – to be a champagne of undisputed quality - remains since the House was founded by Joseph Krug in 1843.
His dream was to craft the very best champagne he could offer, every year, regardless of annual variations in climate. As we perpetuate his legacy, I hope we will reach more Krug Lovers, through immersive and digital experiences, continue our efforts to limit our environmental impact and give back to the terroir, as well as continue to create playful experiences of sharing, which is the true essence of Champagne.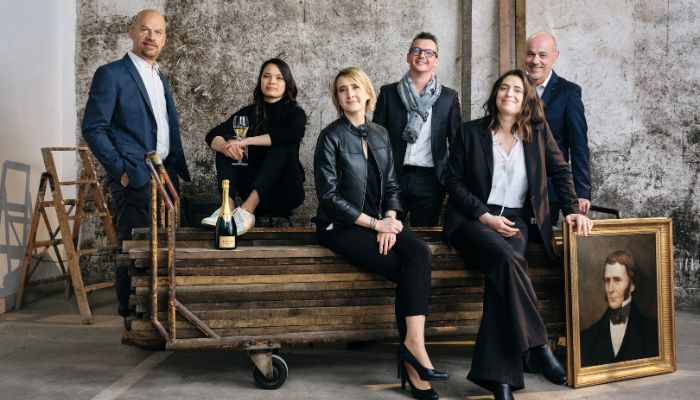 What can we find you sipping on a Friday evening? What music would it be accompanied with?
My guilty pleasure, especially in summer, is to share a magnum of an older Édition of Krug Grande Cuvée with my childhood friends and our families, as we enjoy a Mediterranean meal!
In conversation with Malvika Patel, Editor and VP, Beverage Trade Network