Early Deadline
December 20, 2023
Enter Now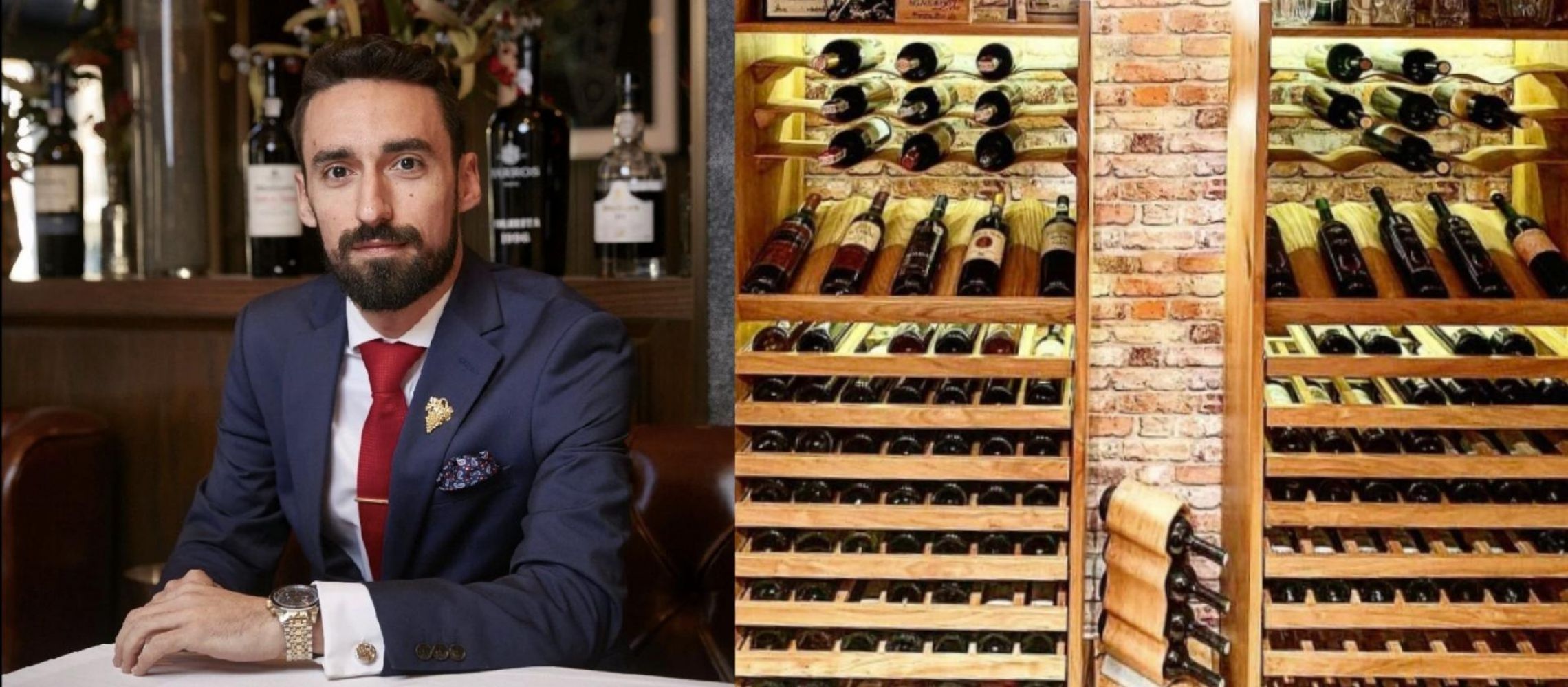 Prokopios Mountrichas On Being An Effective Sommelier
The love of my wife Alessia that is my rock after bringing in this world my two kids (Ariana and George) is the biggest achievement and happiness in this life and has totally conquered my world
Your current place of work?
Mister Nice: An elegant French restaurant in the heart of Mayfair. I could say that is a home away from home providing an exclusive, undeniably tempting atmosphere.
Tell us about yourself.
Hello, difficult to talk about yourself. I have to admit that is the only question that I had to erase the answer to again and again. So let's start from the basic. I am coming from Greece and since I started my university as a civil engineer I always worked in hospitality, following different roles. I could say that I was always in love with the industry, something that was making me feel that is not a real job, as the guest experience was always triggering my mind. For the last 5 years, I am in London where I can say that I was "reborn", having the opportunity to test my limits in several work environments and open new horizons in my career. The love of my wife Alessia that is my rock after bringing in this world my two kids (Ariana and George) is the biggest achievement and happiness in this life and has totally conquered my world.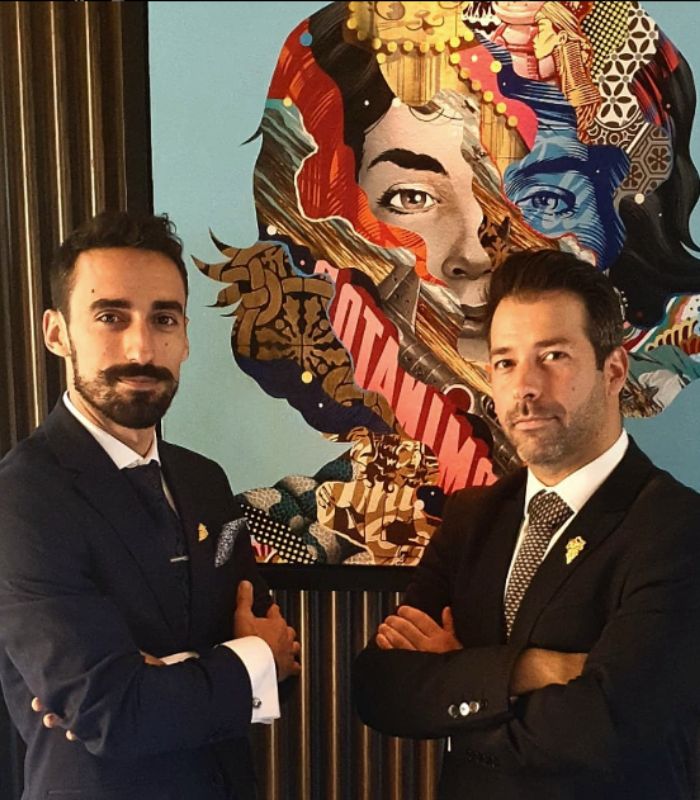 Image: Prokopios Mountrichas (left), Anastasios Karakasis (right)
Why did you want to become a sommelier?
It all started with a glass of Opus One in 1991 which was the year I was born.
What do I look for in a new brand before taking it to my restaurant?
There are a lot of aspects to consider, but it all starts based on the concept, the crowd and the location. At the end of the day, we work for our guests. Of course, the quality and the price point of the product is not the only important characteristic, but also a nice label during these days we live. I can admit that I feel slightly old-schooled, as I am not always following the trends and I try to stick to my vision.
What sources do you follow to stay on top of industry trends and new launches worldwide?
Mainly I follow relevant accounts on social media. I have chosen to follow some people whose taste is quite similar to mine, so I am able to do my own research, through their reviews on new products or new vintages. That's the most accurate way to update trends and new launches.
Questions you would ask a customer who doesn't know anything about wine?
I always start asking what they usually like to drink. Being able to go deeper in more details, always depends on the mood of the guest. So I could ask more questions, such as what're their favourite fruits or even talking to me about a special unforgettable moment that was connected to a glass of wine.
What are some of the most important skills for a sommelier?
The difference between service and hospitality is the key factor. Hospitality makes you special and this is how you can give a great experience to a guest. The reading of a guest, a quick psychological approach to the moment is something that could level you up. Based on me, I could say that during the years there were moments when I was more focused on studies or more focused on tastings. Balance is always important, never stop learning and keep tasting and sharing opinions about wine.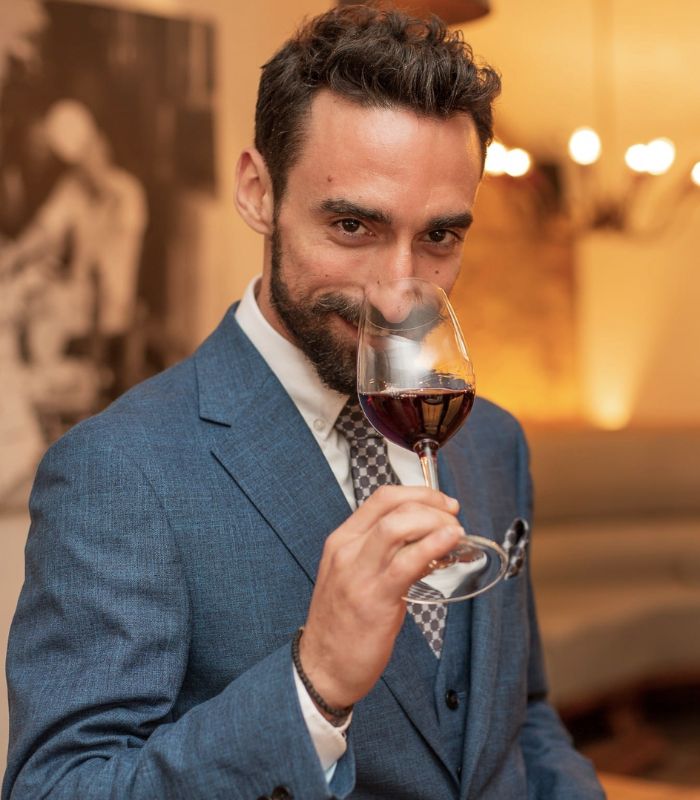 How I would train my new staff member in their first 7 days of them joining.
The first day would be a freelance approach. With NO pressure, I would recommend just staying on the floor and doing your best. Afterwards, in a day-to-day approach, I would try to give extra hints on how the performance could boost the team and the individual, by making small comments during or after the service. After a couple of days of observing, I would try to set the rules with respect to the new input, without sabotaging his/her confidence and character.
What methods do you use to grow wine sales? Please explain with examples.
In my point of view, the most important method to grow wine sales is by investing in the members of your own team. Knowledge and confidence are the key factors. Also, is very important to create an honest approach with the guest, listen carefully to their needs and create "regulars" as we use to say, which allows you to build trust and grow sales. An extra method is the extensive list of wines by the glass ( we offer a beautiful selection of almost 80 bins all across the world ). Last but not least, a glass of champagne on arrival and a dessert wine at the end of the meal should be a must.
What methods do you use to grow profits?
Communication and Organisation. These are the key facts to be able to boost the results of the team. I believe that the growth of the profits is a combination of every single member of the team. Splitting properly the duties and making every single individual feel valuable and level up the performance and knowledge by accomplishing different tasks apart from service. The sequence of placing orders according to how busy you are, the period of the year and always keeping an eye on small changes based on the needs of the guests. Avoiding wastage is something that my experience has taught me that is a massive part of the growth of profits. Last, I love to organise wine events and get in contact with winemakers in order to create particular concepts with their wines every week.
How do you self-learn and improve your skills?
Reading books and listening to podcasts is something that makes me feel free and enjoy my time. This is the main way I keep learning. About improving my skills? I am always open to learning new ideas, observing people how they do or talk about wines and trying to add things to my "repertoire". Always in my own way and character. I left the most important for the end, as I am a big fan of blind tastings, something that makes me take my job as a healthy competition. I use to do a lot of blind tastings especially at home from my own cellar.
What's the best part of your job?
The freedom and the happiness to do something that you love. Meeting new people, exploring new cultures, and "travelling" the world not only by visiting the vineyards but also by learning so many things about places you have never been. Most important for me and what was always triggering my mind? The tasting of rare wines and the aging potential, trying to see how the wine could develop and change through the years.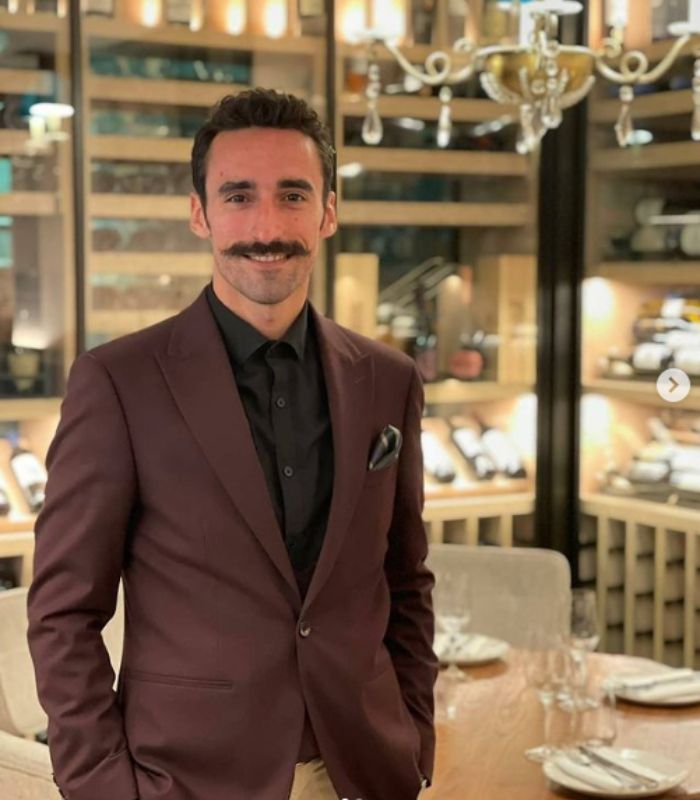 How do you elevate the guest experience? Please give 4-5 examples and insights here.
Elevation of the guest experience from my point of view starts and ends with the reading of the guest. Is all about the guest, the moment, the company and the way he wants to enjoy. Elevation is the perspective of offering the guest what he wants, based on the needs of the visit. Is not every day the same even for our biggest regulars and spenders. There is a different approach when is a date, different on a family dinner and different on a business meeting. Is important to analyse in seconds how you should be without changing your style and character. I always used to say that our job is similar to an actor's, there are so many roles you have to play during every single shift. I am a fan of the way people use to nod, the way people smile and the greetings at the end of the meal when you are reassured that everything was relaxing and smooth. A real handshake is an actual accomplishment.
Your favourite TV show right now?
I will make you sad but I don't watch TV. I was never a fan and also my daughter would change the channel in a second in order to put on kid's programmes.
An unforgettable wine experience for you - tell us the whole story!
The best wine experience is back in 2019 when I crossed alone the whole of Italy in a car. Visiting so many places, tasting so many wines and talking with so many producers was a way to change my opinion about what is called nowadays "big wine". I also love Argentina, in a trip to Mendoza I managed to understand how you can enjoy life in the most simple way, the asados and the pleasure of the wine. The most remarkable experience was in Santorini and in Hatzidakis winery when I was much younger, discussing with Mr Haridimos that has now passed away ( I will never forget his words ).
What are the biggest faux pas that customers tend to make when ordering and drinking wine?
-Asking for sauvignon blanc - offering Sancerre - listening to "I order a sauvignon blanc" -Ice into the glasses I could talk about several occasions but this is what makes this job particular, the moment you can entertain your guest by sharing your knowledge for some basic things that could be useful on a next visit to any restaurant or choosing some wines for his own pleasure at home. Of course, there are moments when you just say "Absolutely sir/madam" and you move on.
Your favourite restaurant in London right now?
Al Forno in Kingston. A small traditional Italian restaurant with amazing pizza.
Any favourite food and wine pairing suggestions for London drinks enthusiasts?
Food and wine pairing is the ultimate interest of this job. I loved this concept and I tried to work on it while I was in Marcus at Berkeley. There are different techniques, under my point of view the most important is a chat with the chef, listening to what ingredient he wants to point out of his creation, and then taking a decision on how you can level it up. I always prefer the "not safe mode". I am a big fan of trying new ways to enhance every single flavour of the dish. I could say that my favourite food and wine pairing is a scallop ceviche paired with an assyrtiko from Anhydrous Winery in Santorini.
Your favourite book?
The Heavenly Prophecy by James Redfield.
Name 3 sommeliers in the UK you like.
- Gareth Ferreira
- Anastasios Karakasis
- Matteo Furlan
What's your personal career goal? And how are you investing or planning to get there?
My goal is to operate as a wine director, something that I hope will happen soon. Long term goal is to step back from the floor, something closer to a consultant, create wine lists and buy wines for several venues. I am a fan of new openings so this is something that I could say was always my dream. About how to get there? Consistency is the key, to studying and learning always in any single way. Also am planning to start very soon for the "Advanced" on the CMS.
Give us one good story that you remember of a customer and you.
Something that happened recently with a well-known sommelier in the industry and a good friend of mine. He visited my restaurant to say hello, so he asked for a glass of La Rocca-Pieropan. I put in his glass a different wine, if I am not mistaken was a Riesling from Germany, just to see his reaction. The rest of the conversation is off the record...