Early Deadline
December 20, 2023
Enter Now
Georgios Iordanidis, Head of Wine at Annabel's On Sommeliers Role
"I look for quality, uniqueness, a positive reputation, compatibility with our concept and target audience, and favorable business terms"-Georgios Iordanidis, Head of Wine at Annabel's
Your current place of work.
Head of Wine, Annabel's- Birley Club.
Tell us about yourself.
My love for wine started at a young age in Georgia, grew in Greece, and blossomed in London. I feel fortunate to have worked with amazing people in top establishments, enriching my wine journey. It has been a privilege to be a part of this world, and I'm excited to share my passion in this interview.
Why did you want to become a sommelier?
I became a sommelier because I love wine. The way it pairs with food, the different types of grapes, and the stories behind each bottle intrigued me. I wanted to learn more and share that knowledge with others. Being a sommelier lets me turn my passion into a job I enjoy.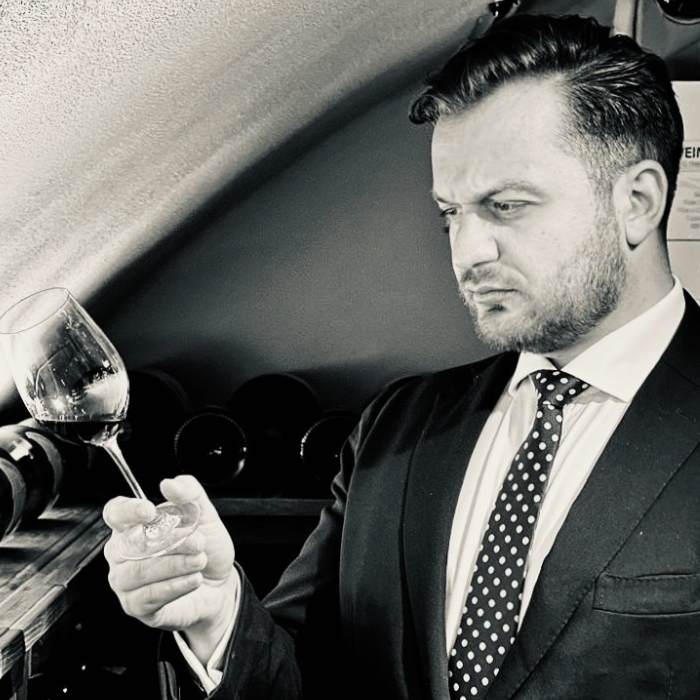 What do I look for in a new brand before taking it to my restaurant?
I look for quality, uniqueness, a positive reputation, compatibility with our concept and target audience, and favourable business terms.
What sources do you follow to stay on top of industry trends and new launches worldwide?
I stay on top of industry trends and new launches worldwide by following industry publications, blogs, and reputable sources.
Questions you would ask a customer who doesn't know anything about wine?
What is his favourite food?
What are some of the most important skills for a sommelier?
A sommelier should possess wine expertise, tasting proficiency, food and wine pairing knowledge, excellent communication and customer service skills, organizational abilities, and be detail-oriented. They should continuously learn and stay updated, have sales abilities, and be adept at working as part of a team.
[[relatedPurchasesItems-50]]
How I would train my new staff member in their first 7 days of them joining.
In the first week of a new staff member's joining, we would provide comprehensive training and support. This includes orientation, shadowing experienced team members, product knowledge, service standards, systems training, wine service practice, and ongoing support. The goal is to ensure they feel confident, knowledgeable, and equipped to deliver exceptional service.
What methods do you use to grow wine sales? Please explain with examples.
To grow wine sales, focus on staff training, food and wine pairing suggestions, promotions and special events, online presence, and building relationships. These strategies enhance product knowledge, create engaging experiences and prioritize exceptional service, resulting in increased wine sales.
What methods do you use to grow profits?
To grow profits, you can use strategies such as cost control, menu engineering, effective pricing strategies, strategic partnerships, and maximising efficiency.
How do you self-learn and improve your skills?
We try to organise or attend tastings as much as we can. Meeting the winemakers and understanding in first hand then style vintage etc. Overall the best way to learn is to taste and listen.
What's the best part of your job?
People.
How do you elevate the guest experience? Please give 4-5 examples and insights here.
To elevate the guest experience, focus on personalized service, attention to detail, effective communication, creating memorable moments, and continuous staff training. But again you need the right people. People are everything in our industry.
Your favourite TV show right now?
Oh, man!! I watch everything and nothing But let's go with Rick & Morty.
An unforgettable wine experience for you - tell us the whole story!
So many, it would be unfair to choose but really enjoyed Stellenbosch with Areni last year.
What are the biggest faux pas that customers tend to make when ordering and drinking wine?
Jumping to conclusions about a wine based on the first sip can be a mistake. Wine can evolve and reveal different characteristics as it breathes and interacts with the air. Take your time to explore the wine's complexity before forming an opinion. But this is very common in the sommelier world as well.
Your favourite restaurant in London right now?
Yes of course !!! Matteo's at Annabel's.
Any favourite food and wine pairing suggestions for London drinks enthusiasts?Any favourite food and wine pairing suggestions for London drinks enthusiasts?
Champagne with anything.
Your favourite book?
Wine War by Don Kladstrup beautiful and strong read.
Name 3 sommeliers in the UK you like.
- Daniele Palomba
- Giuseppe D'Aniello
- Matteo Furlan
But there is so much talent out there I could list you 50.
What's your personal career goal? And how are you investing or planning to get there?
Obviously, all of us want a great pension, but ideally would love to contribute to the future of hospitality, to make it attractive and friendly again.
Give us one good story that you remember of a customer and you.
That's classified. See, I could tell you. But…